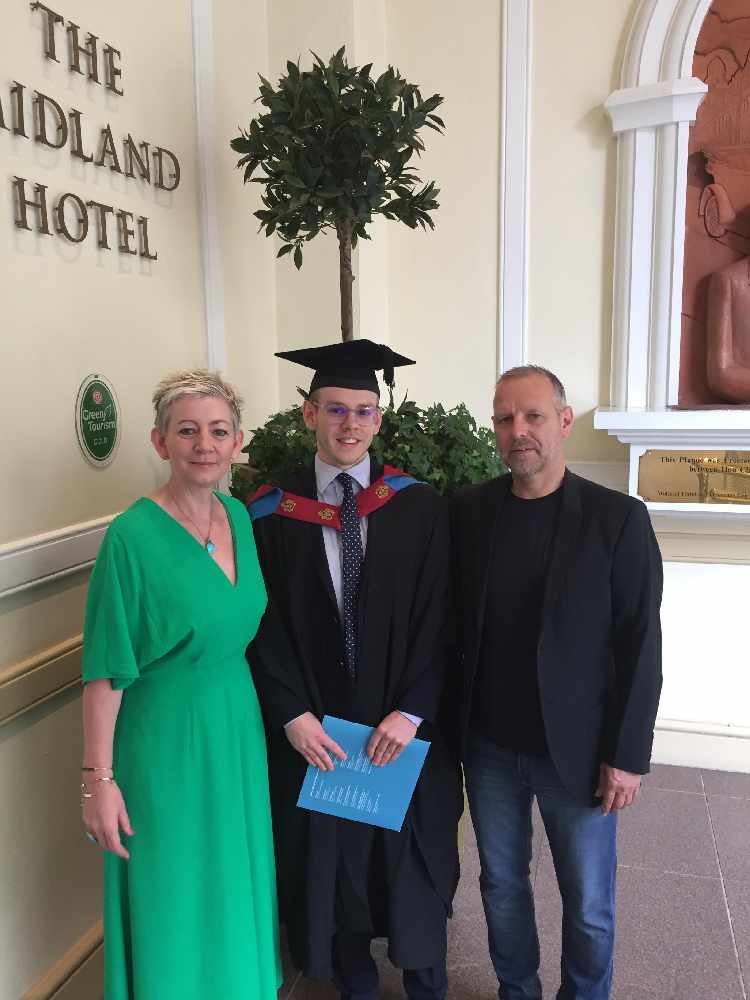 A dad from Chadderton had a double celebration when doctors told him he was cancer free the day before he turned 57. 
Mark Taylor (pictured, right) had surgery at North Manchester General Hospital, after it was discovered that he had a 7cm cancerous tumour in his colon.
Speaking on World Cancer Day on Tuesday (February 4), he feels his positive attitude has helped him cope.
Mark said: "After receiving excellent care, I was discharged from hospital on Friday 25 October. Three weeks later, I was given the news that the biopsy of 45 lymph nodes was clear. I was free of cancer and no further treatment was required.
"This was the day before my 57th birthday – a double celebration. It was the best news to get – it was fabulous. I think for me the thing that helped the most was my positive frame of mind and taking every stage one at a time."
Mark now has a five-year care management follow-up plan, which includes having blood tests, CT scans and colonoscopies.
He was diagnosed with the heart condition angina in 2018 and had a test called an angiogram back in February 2019. It led to extra medication being prescribed, which caused him constipation.
When a further change in medication caused a further a change in his bowel habits, he was sent for another check - known as a colonoscopy.
The tiny camera that is used in the procedure helped the consultant identify that Mark had a malignant tumour. A CT scan at Royal Oldham Hospital confirmed the tumour was cancerous.
Mark, who is now back working as an operations manager for a building firm, added: "When I was told about the tumour, there was initial shock and a few tears followed by a quiet journey home to inform our son and close family.
"When I returned to see my consultant at Fairfield, they confirmed the tumour was cancerous, approximately 7cm in length and had been residing in my colon for approximately two years.
"Apparently, if you're going to get bowel cancer this is the best place to have it, which was some comfort at least."
Mark was given a lot of information about what to expect and some of the surgical options. Also, in preparation for the operation, he went to 'surgery school' where patients are encouraged to eat well and exercise ahead of surgery and given breathing techniques; preparing them mentally and physically for what is to come.
"I can only thank all the staff of the NHS for the care and treatment that I received from diagnosis through to the present day for their professionalism and dedication in dealing with my cancer," Mark said.
"Not one individual made this happen - it was a team effort. Just simple things mean a lot, such as the smile of an auxiliary bringing you dinner – it's the people behind scenes, like the cleaners, who make your overall experience a positive one."
Mark wanted to tell his story to mark World Cancer Day (February 4). Macmillan has lots of information on their website at www.macmillan.org.uk to help support patients through a cancer diagnosis and also has an office at North Manchester General Hospital, where people can find out more information on a raft of topics.