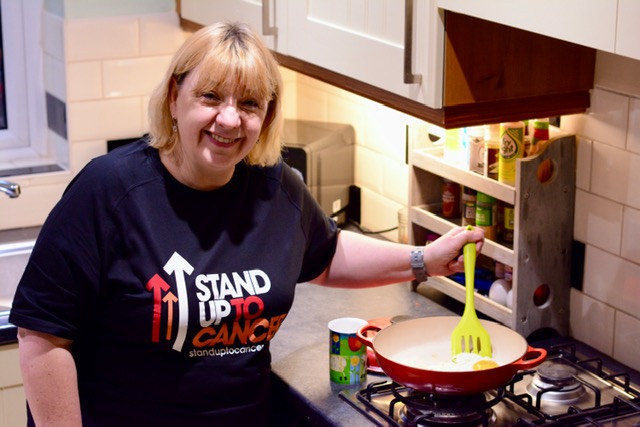 A Chadderton cancer survivor is turning up the heat on cancer this October as she prepares to serve up a fundraising feast.
Sharon Quennell is calling on people across Oldham to cook up some cash with a special Sunday Brunch for Stand Up To Cancer.
She's urging foodies and fundraisers alike to create a restaurant-style experience at home by hosting a brunch bonanza for their household – with family or housemates donating the bill to life-saving research.
Stand Up To Cancer is a joint fundraising campaign from Cancer Research UK and Channel 4, which aims to get new cancer tests and treatments to people who need them the most.
Sharon is stepping up to the stove because she knows first-hand how important new discoveries and breakthroughs are to help more people like her survive.
The 56-year-old is marking a significant milestone in 2020. It is 20 years since she was diagnosed with cancer.
Sharon was only aged 36 when she was diagnosed with breast cancer after noticing a lump on her left breast.
She underwent surgery followed by 12 weeks of chemotherapy treatment. Sharon, who works at North Manchester General Hospital, made a good recovery. She has been a loyal supporter of Cancer Research UK ever since.
Sharon is a single mum to Ryan, aged 26, who has autism and learning disabilities.
She said: "It's thanks to research and treatment that I'm still here today and I can look forward to a future full of special moments with my loved ones.
"The experience of being diagnosed and treated for cancer has helped me appreciate how crucial research is, so now I'm determined to help more people survive. With charities having been hit so hard by the coronavirus outbreak, it feels more important than ever for everyone to do what they can."
In the North West, around 41,000 people are diagnosed with cancer every year. That's why Sharon is calling on people across the region to sign up for a free fundraising kit now with everything they need to turn their home into an exclusive brunch spot.
Supported by Channel 4 show Sunday Brunch, an array of celebrity chefs - including co-host Simon Rimmer - have donated recipes. From Davina McCall's kedgeree, to Jamie Oliver's super spinach pancakes and Asma Khan's courgette sabzi – there's something to suit everyone's taste buds. Or participants can simply choose to conjure up their own culinary creations.
Jane Bullock, Cancer Research UK spokesperson for the North West, said: "We're grateful to Sharon for helping us to continue our mission. Cancer doesn't stop in the face of a pandemic. It can affect anyone's life, at any time so we only have one option: accelerate life-saving research.
"Thanks to the extra time spent at home lately, many of us now know our way around the kitchen much better than before. So why not put these new-found culinary skills to use while inspiring guests to dish up the dosh for a great cause.
"Cooking a special Sunday brunch for your household is a safe and simple way to show support during these challenging times. By taking part you'll be rewarded with more than just empty plates. The donations your family or housemates make in support of your efforts really could save lives."
For added inspiration, during October four special episodes of Sunday Brunch will be shown on Channel 4 showcasing some of the delicious Stand Up To Cancer recipes.
Get a free fundraising kit at su2c.org.uk/brunch. A Sunday Brunch mug is also available from Stand Up To Cancer's online shop.