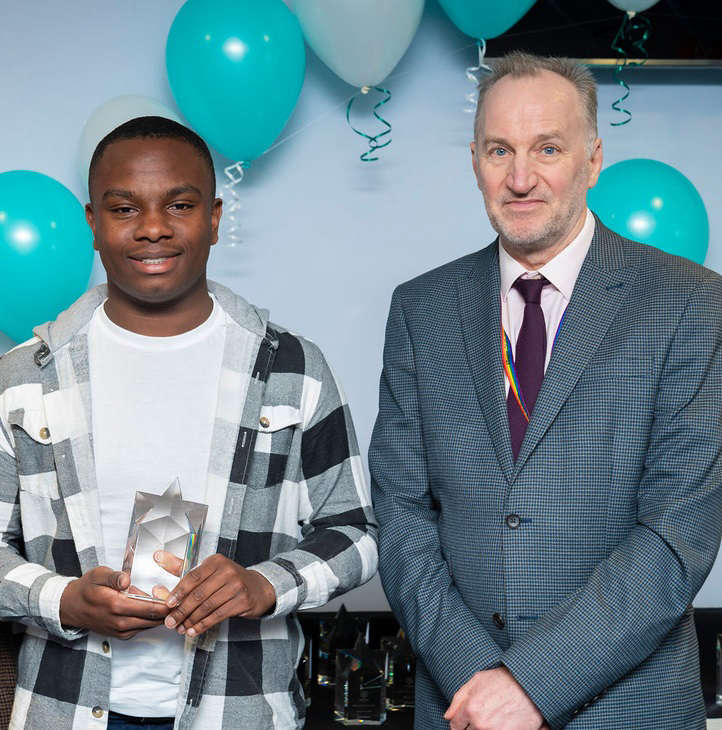 Tyler (left) and Gerard Jones, Managing Director for Children and Young People at Oldham Council (right).
Oldham has celebrated the achievements of its children and young people who are looked after.
Some of the best and brightest young people in Oldham gathered at Boundary Park recently to have their successes and achievements celebrated.
The Stars in Their Eyes event, run by Oldham Council, usually takes place every year but had been recently postponed due to the Covid pandemic.
The gathering meant that the nominated young people could finally come together to have their achievements properly recognised.
With real shining examples of excellence in attendance, the evening's awards ranged far and wide. There were many achievements recognised on the night, from those who had helped with vaccine take up efforts to aspiring artists and those on the path to excellent educations.
The winners were presented with trophies with over 25 awards given out throughout the event.
Gerard Jones, Managing Director for Children and Young People at Oldham Council, said: "I'm delighted to be able to gather in person to properly recognise the achievements of our young people. The resilience that so many of them have shown throughout the Covid pandemic is inspiring and all of us could not be prouder of them.
"Everyone in attendance tonight has shown real commitment in whatever they've set out to do and they've achieved so much. I hope that for our next event we can celebrate even more of our young people so they can get the recognition they truly deserve."
Following last year's nominations, the event was smaller than originally planned after the Covid delays. All of the children and young people nominated are being invited to a larger event in the summer where a bigger celebration will be taking place.
Read more from the Oldham Reporter