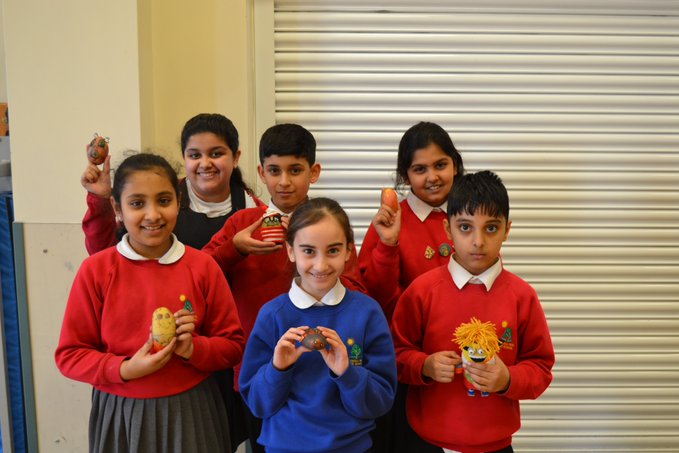 Alexandra Park Junior School in Oldham was a hive of activity last week as it held a dedicated Book Week.
Not content with just one day of fun, the Brook Lane school organised a whole week filled with activities for its pupils.
It started off with a big launch assembly, learning about the favourite book of staff members.
The theme carried on with a big book hunt around school, guessing what staff members liked to read when they were young.
On Wednesday (March 4), there was a special book lunch with a Mad Hatters Tea Party, Gruffalo Cake and Custard, A Very Hungry Fruit Salad, Taming Dragons Tacos and Cloudy with a Chance of Spaghetti and Meatballs!
There was also a potato book character competition, where the children were asked to be creative and make their very own book character using potatoes!
There were some amazing entries - including Where's Spuddy?, Winnie The Spud, Captain Potato Pants and more.
School admin assistant Mrs Lynch was in charge of choosing the year group winners, but competition was hot!
On Thursday, which was World Book Day, parents joined pupils to make costumes with the children out of bin bags - which the school also did last year to ensure all children were included in dressing up, not just those who wanted to go out and buy expensive costumes.
On Friday, there was a costume parade - where there was lots of really creative entries.
Pupils also took part in DEAR (drop everything and read) time during the week, where staff rang a bell to tell all pupils to just stop what they were doing to do a bit of reading.
Samantha Nicholson-Hickling, PSHE Leader and Assembly Co-ordinator, said: "It's been fabulous to see our children get creative this week. They've loved every moment of their book week journey, and have gone away from it with some new 'favourite' reads to get tucked into.
"Book week is about inspiring children to read, not about buying expensive costumes, and it was amazing to see the grins and smiles from our homemade costumes. It's also a great way to get parents involved in school. Everyone gets stuck into the creative process, and it's fantastic to see so many people in our school.
"Events like this would not be possible without the amazing team here at Alex Park: Mrs Griffin our writing lead & deputy head, and Mrs Giles our reading lead & LKS2 leader. We also have to thank our judges: Father Nicholas, Councillor Jenny Harrison & Miss Simone Corry from our office. They had the hardest job as we could have given away a book to each of our children.
"As a writer myself, I am so pleased to see a love of books and reading being passed and encouraged in this generation. That's what book day is about!"
It comes as pupils have been increasing the number of words they are using, as the school staged a first 'Vocabulary Parade' which proved to be a huge success.
READ MORE: Oldham school have a way with words