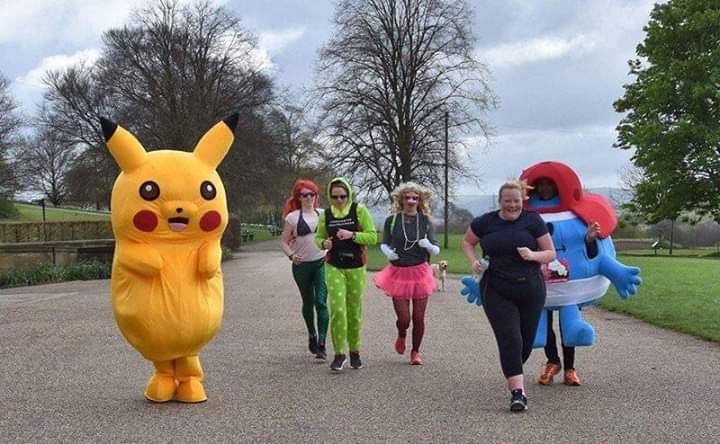 Summer Bimble in the Park takes place on Sunday July 28 in Alexandra Park.
Bimble in the park is encouraging people to come together and get active whilst also raising money for good causes this summer.
Created by Royton resident, James Wright, the Bimble in the Park events were inspired by his love of fun running.
James said: "I am a runner and I take part in lots of different events, but I have a real love of fun runs. I tend to wear costumes to raise awareness and money for charity. The big thing behind getting a local event going was giving people a fun experience for their money and encouraging people to participate in activity whilst raising money and awareness for good causes.
"Exercise and activity is really important to overall health, it is good for you mentally as well as physically and it would be great to promote that to people too."
The Adults Bimble is 5 miles and the kids Bimble is 1 mile.
Last year's Winter Bimble in the Park raised £1450 for Children with Cancer UK and the raffle on the day which raised £400 was split between four local causes.
The Bimble is still a fairly new event, but James is hoping it will continue to grow as it puts the community spirit and fun into exercise.
Summer Bimble in the Park takes place on Sunday July 28 in Alexandra Park. It is raising funds for Children with Cancer UK and the Alzheimer's Society.
James said: "Anyone is welcome to take part whatever level of fitness they are at. You can walk it or run it and fancy dress is encouraged. It is just the taking part that matters."
James is no stranger to fancy dress and is renowned for running in a Mr Bump costume as well as a Pikachu one. He has finished a variety of events including the London Marathon where he ran as part of the Children with Cancer UK team.
James, who is a member of the Royton Road Runners, said: "I love running, but I get as much pleasure helping someone who is struggling or a charity than I do getting a PB or crossing a finish line and I think lots of other people feel the same way so this event brings all that together.
"We want it to be as accessible as possible and eventually have events both locally and nationally."
Local Deputy Head and teacher, Steve Hill MBE, will also be taking part and supporting on the day.
Everything raised will go to charity with expenses covered by sponsors and James himself. James would also welcome people who want to raise money for their own favourite charities through the event.
He said: "People obviously can't collect on the day of the event, but if they have a charity they want to support that are not the ones the event is raising for on the day, they are more than welcome to collect sponsorship for taking part to give to the charity of their choice. We would also love to see people running in their favourite charity t-shirts, we want to raise as much awareness for good causes as possible."
The Bimble event is still looking for sponsors and asks anyone interested to get in touch.
For those unfamiliar with the term 'bimble', James explains: "It is a bit of a Northern term, it means going for a bit of a chilled out run, you are going for a bimble, the fun side of running. The course is great in that way as it is possible to take it easy or walk it, but if you want it to be it can be quite challenging for serious runners too."
For more information or to sign up visit www.bimbleinthepark.co.uk