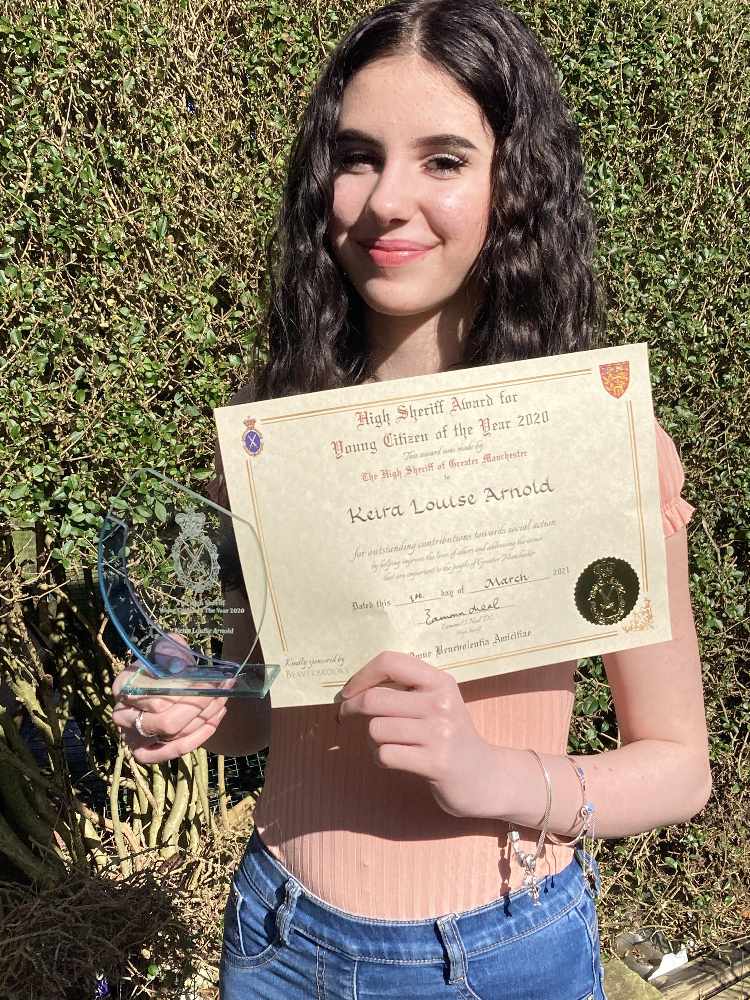 A determined fundraiser has been awarded the Young Citizen of the Year Award 2020 for Oldham by the High Sheriff of Greater Manchester and The Mayor of Oldham's Appreciation Award for her incredible fundraising for Dr Kershaw's Hospice.
Keira Arnold, 13, has been fundraising for the Royton-based hospice for over four years raising money for 'Keira's Wishes' - her very own fundraising initiative which provides patients with their last wishes whilst at Dr Kershaw's.
Earlier this year, Keira's fundraising reached £35,000, whilst she was also named as Oldham's Young Citizen of the Year 2020 for her passion and determination in supporting her local hospice.
Keira started her fundraising journey for Dr Kershaw's after her dad was cared for there, and her sole aim has been to help make special forever- memories for the hospice's patients and their families.
Her fund 'Keira's Wishes' has enabled patients to enjoy special moments with their loved ones with precious weddings, early Christmas days, trips to the seaside, and patients have even just been given the chance to enjoy their favourite tipple or a chippy tea.
Most recently, Keira also kindly used some of her funds to buy smart TVs for each of the 12 patient beds in the hospice's new In-Patient Unit, enabling patients to relax and enjoy their favourite programmes from the comfort of their own rooms.
Keira's fundraising activities have seen her organising hugely successful virtual markets during the pandemic, supporting both small local businesses and the hospice. She's also organised many celebration day raffles asking local businesses to support with prizes, and her craft skills have seen her make and sell anything from cards and baubles to dream catchers, wreaths and bookmarks, with all the proceeds going to 'Keira's Wishes.'
In recent years, Keira has received a number of awards for her extraordinary support and fundraising efforts for Dr Kershaw's, being named as National Young Fundraiser of the Year in 2018, followed by being presented the Mayor of Manchester Special Recognition Award and the prestigious Diana Award.
Dr Kershaw's Community Fundraiser, Lillie Winterbottom, works closely with Keira.
She said: "We are so grateful for the support we have had from Keira, that's why we nominated her for the High Sheriff of Greater Manchester, Young Citizen of the Year Awards 2020. There were over 200 nominations for just 10 awards (one for each borough) and Keira won! The award is well deserved, the time and effort Keira puts into fundraising is inspiration in itself. She always has the next big project in mind and it never ceases to amaze me how she can inspire so many others to get involved!"
The Young Citizen of the Year Awards celebrate kindness, thoughtfulness, bravery and actions that made a difference to our communities, with nominations considered for young people aged 11-18 who have done something exceptional in the last year.
Keira was presented with the award for Oldham by the High Sheriff of Greater Manchester, Eamonn O'Neal DL, and received a trophy, a certificate and a cheque for £50, as a thank you for all she does for others. The award that she received has not been given out in 20 years, and Keira is one of only 10 Young Citizens who have been presented with the award.
The High Sheriff of Greater Manchester, Eamonn O'Neal DL, commented: "Keira's nomination stood out for the judges. She has a remarkable capacity to care for others and is innovative, inspiring and determined. She is very deserving of her Young Citizen of the Year Award and I'm sure she will continue to influence and inspire all those around her."
Keira was also recently honoured with The Mayor of Oldham's Appreciation Award.
Mayor Cllr Ginny Alexander said: "I was honoured to meet Keira in 2019 and amazed at all her hard work non-stop fundraising for Dr Kershaw's. She had just been awarded the prestigious Diana Award at the age of 11, which honours young people who work to improve the lives of others, and I knew then, without a doubt that as I came to the end of my Mayorship. I would be giving this wonderful inspirational girl my Mayor's Appreciation Award."
Keira commented: "I was so surprised but honoured to receive both awards, and shocked but delighted to have raised £35,000 for Dr Kershaw's Hospice. Thank you to our amazing community for their support as none of this would have been possible without them. It was so nice to donate the TV's to the new Hospice ward, knowing that they bring a little bit of normality into peoples lives in difficult times makes me feel happy."
Anyone interested in following in Keira's footsteps and taking on their own fundraising challenge for Dr Kershaw's Hospice should contact the hospice's Fundraising Team on 0161 624 9984 or visit www.drkh.org.uk.
Read more from the Oldham Reporter