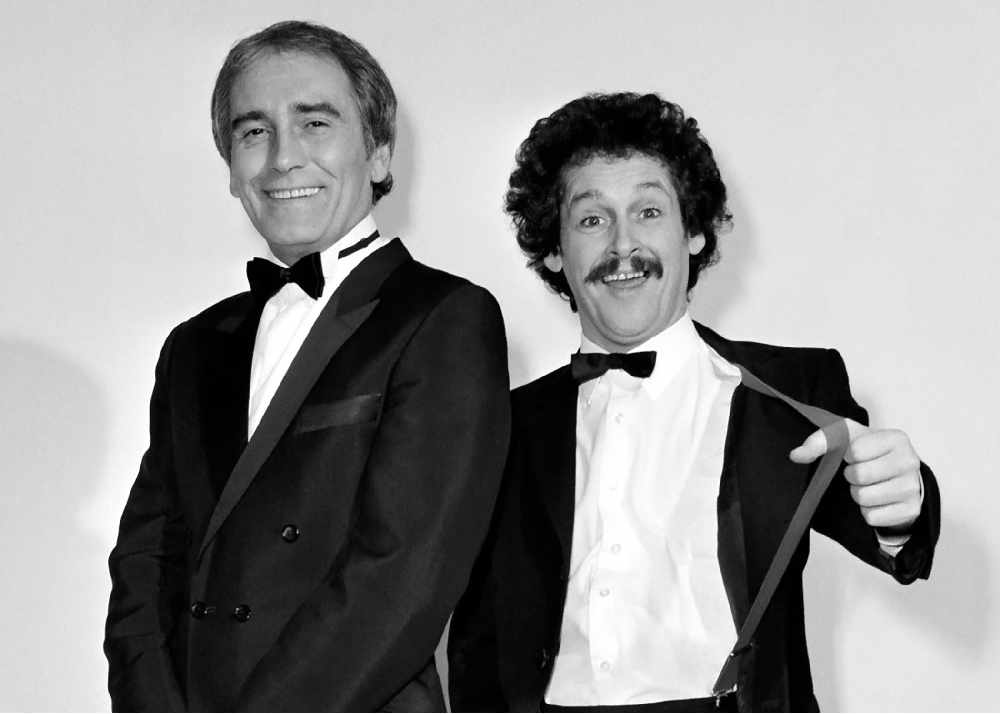 With the sad news last week of the death of Bobby Ball caused by Covid-19, local writers and Reporter contributors Philip and David Williams pay their own tribute to the legendary Oldham-born comic who was a favourite on the Tameside stage...
We are sorry that we never saw Cannon and Ball when they were taking the northern club circuit by storm.
We would loved to have seen them in that era and environment. The first time we did manage to see them perform live was in 1978 on their first nationwide tour supporting American singer Gene Pitney; that was from the stage of the Tameside Theatre.
Around three years later at the same venue we had the pleasure of meeting Bobby Ball for the first time when, along with David Riley, editor of the Fez (a fan-type publication for the Sons of the Desert - the Laurel and Hardy Appreciation Society), we were to interview the comic duo.
We say interview, but we hardly managed to get a word in as Tommy, and especially Bobby, had us in fits of laughter.
What did become apparent however, was the admiration they had for Laurel and Hardy.
Tommy told us: "We are both big fans. You see there's only one Laurel and Hardy, you could never have another. They were terrific."
"They were funny suited men, they suited one another," quipped Bobby.
In our opinion it is that which helped the two Oldham friends Thomas Derbyshire and Robert Harper to achieve their success, they were suited to each other.
The pair worked together at Boden's Trailers in Oldham as welders and became friends through a love for singing.
They eventually formed a double act appearing as The Harper Brothers at the factory's social club and their genuine friendship and respect for each other ultimately led to them finding fame. Add to that, the fact that Bobby was a natural… a genuinely funny man.
As the Harper Brothers they initially found some success performing on the northern club circuit, but trying to transform that into wider public appreciation proved difficult.
Bobby recalled a disastrous 1968 appearance on Television's 'Opportunity Knocks' which could have been described as opportunity flops – they came last with the famous clapometer hardly moving.
Shortly after though, came their change of name to Cannon and Ball and in 1974 they were given a spot on Granada Television's 'Wheeltappers and Shunters Social Club'. In 1976 they were featured again in series five of the show and once more the following year.
On February 5, 1979, the boys appeared in the fourth show of a regional series from Southern Television, 'Star Treatment'.
This programme, often repeated on Talking Pictures TV, was aimed at giving upcoming entertainers the full production treatment to showcase their talent.
Their big TV break however, according to Bobby, came thanks to a show in which they were scheduled to appear as regulars, but in which their material always ended up on the cutting room floor.
The programme was 'Bruce Forsyth's Big Night', ITV's ill-fated attempt to capture the Saturday night rating from the BBC.
However, for varying reasons something always seemed to come up preventing the airing of their material.
This however, gained them so much publicity in the press that Michael Grade, chief executive at ITV, viewed a clip of their act and immediately offered them their own show.
'The Cannon and Ball Show' first aired on Saturday, July 8, 1979 and at its peak was one of the most successful light entertainment programmes on ITV, attracting Saturday night audiences of up to 20 million people with the series running for a total of ten years.
In March 1982 they even hit the big screen with the film 'The Boys in Blue' which had its premiere in Manchester prior to its successful national release.
The film was a remake of the old Will Hay comedy 'Ask a Policeman', to which the boys also recorded the theme tune which was also released as a single.
Other television series followed including 'Plaza Patrol' a sit-com where they played shopping centre security guards. The duo also featured as guests in dozens of other shows.
Later, while still appearing in shows with his partner, Bobby turned to acting and featured in many programmes including 'Heartbeat', 'Last of the Summer Wine' and 'Casualty', more recently he was a series regular in Sky TV's 'Mount Pleasant' and also starred as Lee Mack's dad in BBC's 'Not Going Out'.
Lee once said of Bobby: "He has a magical sense for comedy that nobody has been able to replicate, that gift was key to an act following in the tradition of Laurel and Hardy, with Tommy as the straight man exasperated by his silly sidekick Bobby."
Although at one time Tommy was chairman of Rochdale FC both he and Bobby had a love for their home town team Oldham Athletic.
Prior to the Latics' 1990 league cup final appearance they recorded a version of the 'Boys in Blue' alongside the Oldham playing squad, which is still played at home games today.
In September 2003 speaking on BBC Five Live Tommy said that he was desperately hoping the Latics could emerged from the gloom. Seventeen years on and Latics' fans are still hoping that gloom will lift.
The boys appeared several times at the Tameside Hippodrome with the last time being on their 'Funny Guys Tour' in 2005.
Bobby's sons Rob and Darren carry on in their father's footsteps and perform in a double act as 'The Harper Brothers' and appeared as a support act in this same show.
Whenever we met Bobby he would say "It's them brothers". Unfortunately, when we were invited to meet Su Pollard at Manchester's Opera House in 2014 while she was appearing with the duo in 'Ha Ha Hood', a spoof on Robin Hood and Maid Marion, we didn't get to meet Bobby.
However, while on stage talking with Su before the show, we could hear a voice from back stage crying out "It's them brothers".
Regretfully, we had not seen Bobby for a while, something which we were hoping to rectify later this month when the boys were scheduled to appear at the Coliseum in Oldham, a stop on their 'An Evening with Cannon and Ball' tour.
With the announcement of Bobby's death, Tommy Cannon in a statement quoting his partner's catchphrase 'Rock on, Tommy,' said: "Rock on, my good friend, I can't believe this, I'm devastated."
On the ITV Good Morning programme speaking through his tears, he said: "I can't believe he's passed away. I miss him terribly. I loved him to bits. We had a great career. Great memories to look back on and I know one day I'll meet him again… so, rest in peace lad."
Bobby will now be up there with the other comedy greats making all the angels laugh. It's their gain and our sad, sad loss.
Rest in peace Bobby.
Robert Harper
January 28, 1944 - October 28, 2020.