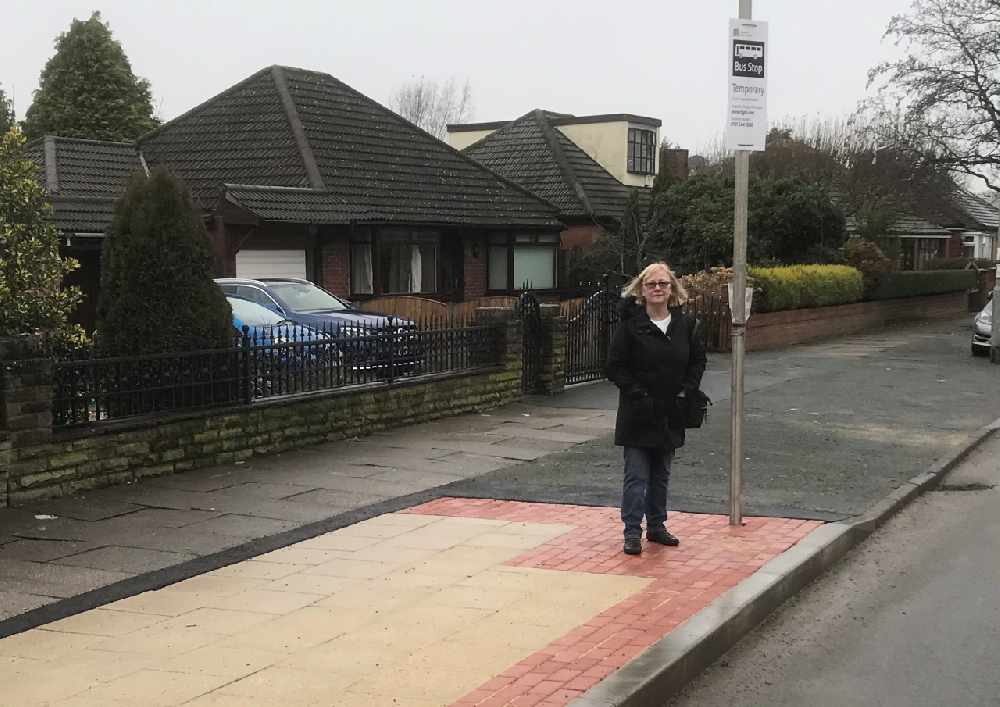 Bus stops in Failsworth are among 45 across Oldham receiving, or set to receive, upgrades to improve accessibility for the disabled and those with mobility problems.
Stops along Hulmes Road, Lord Lane, Ashton Road East and Ashton Road West are seeing upgrades as part of the government's £130 million 'Growth Deal 3' investment package for Greater Manchester.
The improvements include raising the kerb at bus stops by 160mm to improve step free access to buses, replacement of the existing paving at bus stops with coloured flags to improve visibility, and the painting of a 'bus stop clearway' on the highway to keep the road at the stop clear so buses can pull right up to the kerb.
Failsworth West councillor Elaine Garry (pictured) has long campaigned to improve accessibility of public services for the disabled, elderly and those with mobility issues.
Cllr Garry's work has included campaigning as a member of the council's Overview and Scrutiny committee to make Oldham more dementia friendly and working with Age UK and Action Together on projects that saw Failsworth West designated as one of Oldham's three 'age friendly' neighbourhoods.
Commenting on the bus stop improvements, Cllr Garry said: "In 2021 public transport must be accessible for all and that means there should be step free access. These improvements build on the work that has made Failsworth an age friendly community and mean that buses are easier to use for local elderly and disabled people.
"I'm delighted to see this investment in our town's infrastructure. 'All aboard' genuinely will mean all aboard following these changes."
The Growth Deal 3 is the third tranche of a £663 million investment in Greater Manchester's skills, transport and business support infrastructure. It is now in the final year of delivery following its allocation in November 2016.
The number of bus stops to be improved in Failsworth is 16, with the other 29 located in Chadderton and Shaw.