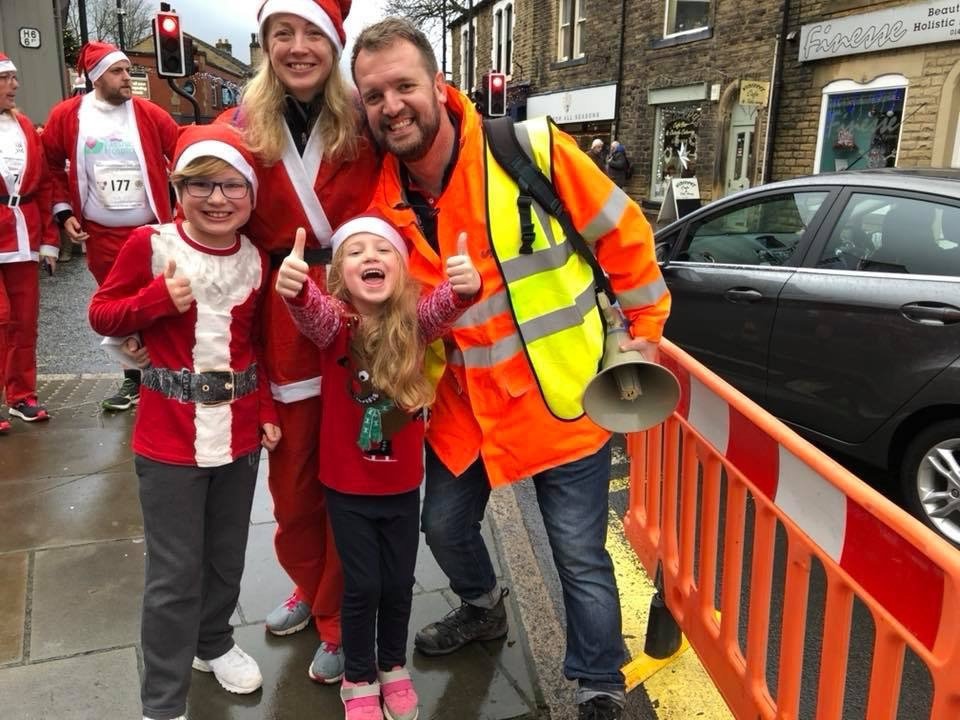 Uppermill is bracing itself for a deluge of fun-loving fundraisers taking part in Saddleworth's very own Santa Dash on Saturday.
In all, this year, up to 1,700 Santas are expected on the iconic annual dash though Uppermill into Greenfield and back to Uppermill park.
Dashers can choose to take either the amended 2km or 5km route on the day, depending on how adventurous they are feeling.
But organisers Saddleworth Round Table (SRT) are reminding all participants it is not a race but a fun run, and all are welcome - whether you have babies in carriers, toddlers in buggies or pets on a lead.
Now in its fifth year, SRT aim to raise more than £10,000 from this year's event, with all funds quickly reallocated to local charities and worthy causes.
Andy Rothwell, SRT current chair, added: "Over the past 18 months, we have donated to more than 20 good causes, ranging from children's charities to local sports teams and local institutions that need a leg up like the Saddleworth Olympics.
"For further information on where the money goes to, please pick up a free Santa Dash programme at one of the many stalls held in the park."
Steve Shepherd, who manages the expanded SRT Christmas markets this year, said: "A record number of stall holders will feature at this year's dash and Winter Wonderland extravaganza.
"The stalls include plenty of crafts to keep the children entertained as well as hook a Santa, face painting and street food including a mouth-watering Hog Roast, provided by our main sponsor Albion Farm."
And if you are thirsty, SRT's bars manager James Uttley reminds everyone the bars this year will feature local craft ales from the award-winning Donkeystone Brewing Co, local artisan gins from Grail Distillery and traditional mulled wine, a winter warmer. Water and soft drinks will also be available for children.
This year's Santa Dash Route has been amended - and the start and finish will be the King George V park in the heart of Uppermill.
The park offers a much larger space and, being off the main road, is a much safer environment for everyone to gather.
Unfortunately, due to a sink hole appearing at the top of the 5km course in November, there is a slight adjustment to the route for 2019 as the usual path has been closed by Oldham Council on health and safety grounds.
SRT reviewed the route and came back with an exciting new 5km course, now linking with the 2km route to create a more connected Santa Dash.
Mr Rothwell said: "We hope this route will also create less disruption to traffic in the villages. The finish line will be at the entrance to the park off Wade Row.
"Route maps and routes will be clearly marked and marshalled by our amazing volunteers, who give up their time for free to ensure all Santas are kept safe and don't get lost!
"Once the Santa Dash has finished, we urge you all to stay and enjoy a full programme of entertainment on the stage."
Event manager Ed Burbidge added: "This year's event will finish in the park in front of the main stage where you can listen to live festive music from some of our local brass bands and exciting local talent.
"Santa himself will make his usual appearance with a procession through the village pulled by the Saddleworth Morris men. Santa will be joined by a few famous characters from a future classic Disney film, think 'Do you want to build a snowman', I've said enough...
"Come and support the event even if you aren't doing the dash, it's free to enter the Christmas markets area, and we've got lots of festive food, drink and other treats."
Santa will be strolling through the village to switch on the Christmas lights and sing carols. This will include a temporary switch-on in front of the library.
SRT's resident 'sparks' Malc Kilpatrick said: "We've worked hard to get the lights switched on in the park in honour of Paul Lowcock, our village butcher and SRT member who sadly passed earlier this year.
"This year we have a special switch-on to be seen in front of the library and entrance to the park."
Saddleworth lights committee are looking for ideas and further funding to make this switch-on in the park permanent in 2020.
And a reminder: don't miss the fireworks, to be seen from the park, over the village.
The evening will end with a few Christmas classics from the stage in the park.
Tickets for the event are still available and can be purchased on the Eventbrite website at https://www.eventbrite.com/e/saddleworth-santa-dash-2019-tickets-70830954291. They are £15 for adults - which includes a Santa suit, running number and bespoke finishers medal - and £5 for children - which includes a Santa hat, running number and finishers medal.