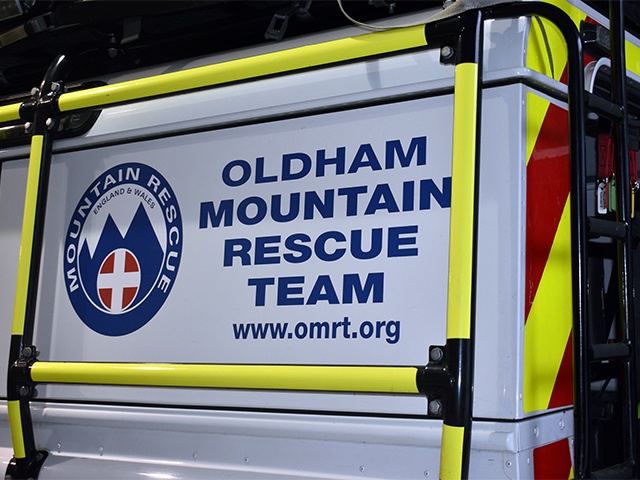 The local unsung heroes of dramatic rescues have received a significant government boost to their funds for vital rescue support.
The stalwart Oldham Mountain Rescue Team is one of 50 charities to receive a share of £1 million, announced by Transport Secretary Grant Shapps.
OMRT will collect £23,049.44 after completing an application last autumn to the DEFRA/DfT Flood Rescue Grant.
The team's chairman Justin Parkinson said: "The fund will be used for much-needed equipment to train more team members to be Swiftwater Rescue Technicians supporting our community and our friends in neighbouring teams or nationally, should the need arise.
"Decisions on the amounts awarded were delayed due to the general election, but we're delighted to have been awarded £23,000."
Justin, who is also the team's Water Rescue Officer, added: "This is especially welcome as we embarked on a fundraising appeal to replace our ageing control vehicle, and as a result of the grant award, we can ensure all monies raised go directly to replacing the vehicle.
"The grant has been running five years with £1m available to rescue services including Mountain Rescue, Lowland Rescue, RNLI and others.
"With incidents like flooding in Mytholmroyd and the Toddbrook Reservoir failure, flooding is becoming an all too familiar occurrence, so being able to train more people and buy more equipment to respond to such incidents is very welcome."
Rob Tortoishell, OMRT leader, said: "The grant money is a welcome boost which will allow us to respond to flood events with better efficiency than ever before. And the public response to our replacement control vehicle fundraising has been overwhelmingly generous, from both individuals and businesses.
"I'd like to thank each and everyone of them for their valuable contribution."
From rescuing people stranded by raging floodwaters to helping locate high-risk missing persons, search and rescue teams across the UK carry out life-saving work every day.
Another charity to receive money is Berkshire Lowland Rescue, the oldest Lowland Search and Rescue team in the UK, who will receive more than £38,000 for vital equipment including a thermal imaging camera – to aid efforts in recovering missing persons.
Other volunteer teams around the UK including Freshwater Independent Lifeboat on the Isle of Wight, and Maryport Inshore Rescue in Cumbria, have been given funding for new lifeboats - ensuring rescue teams can respond to situations quicker and more safely.