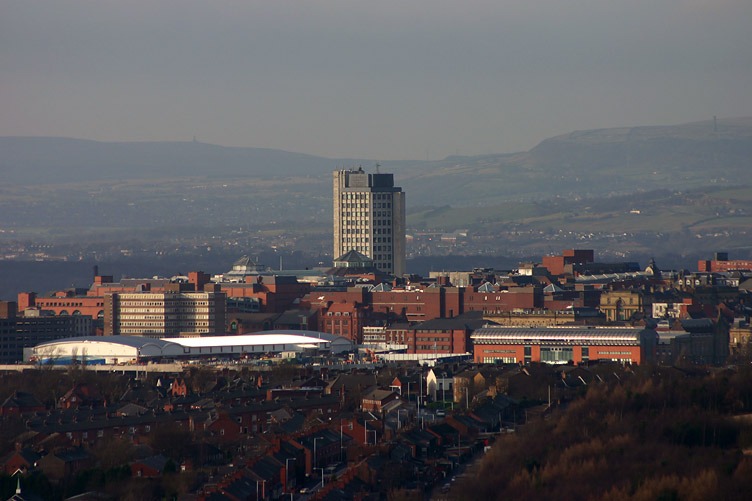 View of Oldham. Photo: Matthew Rees/Wikimedia Commons.
Twenty years ago, Oldham was shaken by one of the worst race riots witnessed in Britain.
On May 26, 2001 a crowd of around 500 Asian youths became locked in a battle with police, which saw bricks and petrol bombs thrown and dozens injured.
It was the darkest day in Oldham's history and has left a lasting legacy, living on both in the memories of residents and in the public perception of the town.
However leaders locally say it has also had positive consequences, serving as the catalyst for a drive to bring different organisations and communities together to create a more cohesive society.
"We learnt our lesson, as a town, as a council, as a borough, everyone learnt our lesson. We lost our innocence but we gained our maturity," Councillor Riaz Ahmad says.
The widespread violence occurred after weeks of spiralling tensions and violent tit-for-tat attacks between Asian and white communities in the town.
This included a nationally condemned assault on 76 year-old war veteran Walter Chamberlain at the end of April by a group of Asian schoolboys.
The attack provoked far right extremists from other parts of Britain to become involved in a war of rhetoric, and the-then head of the British National Party (BNP), Nick Griffin, pledged he would stand in Oldham's general election.
Supporters of Stoke City football club making racist chants and a demonstration by the National Front only further inflamed tensions in April and early May.
But the flashpoint for the riots came after a group of Asian teenagers, who were playing cricket near the Good Taste chip shop on Roundthorn Road, got into an argument with two white boys on May 26.
The altercation escalated into a fight which ended up on the doorstep of resident Sharon Hoy, who called her brother Darren, who was out drinking, with the message that 'a P*** had kicked the door in'.
Soon after, two carloads of white men arrived and began attacking Asian people and properties at random.
The home of the Azam family, whose daughter Fareeda was 34 weeks' pregnant, was besieged as bricks were thrown and she was taken to hospital suffering from shock.
A shopkeeper was also forced to escape through the back door as the windows were smashed.
Police arrived and arrested several white people, but also a number of Asian men allegedly involved in reprisals.
To many Asian residents, it seemed to confirm their long-held perception of bias against them, and they vented their anger on the officers.
Just after 11pm, the white-owned Live and Let Live pub was attacked. A firebomb was thrown before rioters stormed in and attacked drinkers.
A standoff between police and up to 500 Asian youths continued until the early hours. Officers faced a hail of petrol bombs, bricks and bottles from rioters hiding behind barricades of furniture, wooden pallets, and burning tyres.
In 2001 Mr Ahmad was a Labour councillor for Alexandra ward, the political area that covered Glodwick and was due to take up the mayoralty the following year.
He appealed in vain for peace on the night of the riots, and six days later saw his family home petrol bombed in an attack which police said was racially motivated.
Coun Ahmad, who now represents Waterhead, points to a number of incidents which brought the tension in the town to fever pitch ahead of the riots.
"We used to get visits from the BNP who marched through the town and dialled the temperature up," he says.
"I think there were so many contributing factors that it had to come to a point where it just exploded on the night where it did.
"There was a lot of divisions, misinformation, there were a lot of myths and also a lot of provocation as well by the far right and that all added up to a civil disturbance that day.
"We were not prepared for it, we never thought it would get this bad and then it did."
Coun Ahmad described the attack on the Azam home as the 'last straw that broke the camel's back'.
At around 4pm he went to Glodwick to try and reason with the Asian youths who were planning on marching to the town centre police station to protest.
However, unlike previous occasions, 'they were having none of it and it was the first time that they didn't listen to me', he says.
"We were liaising with the police but it just didn't work and by 6pm we had a full scale riot on Waterloo Street," Coun Ahmad adds.
Chris Gloster was the Greater Manchester Police Divisional Inspector on duty on the night of the main riot on Saturday, May 26.
Mr Gloster, who is now retired from the force, serves as a Liberal Democrat councillor for Shaw ward.
A police officer with extensive experience of public order disturbances, including the Messenger Print dispute at Warrington and miner's strikes, Coun Gloster still remembers the ferocity of the Oldham violence.
"It's the only night where I have been petrol bombed, bricked and shot at all in one night," he says. "It's quite sharply focused in my memory."
A male with a handgun had appeared to fire four shots at officers during the riot, forcing him and police to withdraw to the outskirts of Glodwick before firearms support arrived.
It was later revealed when shell cases were found that the gun was firing blanks – 'but we weren't to know that at the time', Coun Gloster adds.
Coun Gloster had been in the town that day with three vans of around 20 officers to monitor the situation, aware of rising tensions between groups.
He says the rioting was first picked up on town centre CCTV, and they were dispatched to contain it, and later an operation response was put in place which called officers from all GMP divisions to assist.
"We went to Glodwick and there was a large crowd that had developed on the Glodwick side of Oldham Way," he adds.
"In order to prevent them getting back into the town centre we deployed there, and subsequent to that we then got a sustained barrage of bricks and bottles at us for a significant period of time.
"I would say the attack that we suffered on Waterloo Street was probably the most ferocious one I've ever experienced in relation to sustained public order, it was a riot.
"There were quite a lot of officers that suffered injuries as a consequence of being hit by bricks."
Council leader Arooj Shah was living at her family home in Glodwick, then in her twenties when she was aware of something serious happening in the neighbourhood.
"The riot actually took place at the bottom of my street," she says.
"People I went to school with, went to college with got caught up in it and didn't actually know they were getting into a riot and their lives have been shaped since because of it.
"I saw a congregation of people and police vans, I remember my parents saying 'stay inside, there's something going on'.
"I remember looking out of the bedroom window seeing people running down the street. But it ended up being something so serious."
The disorder lasted until daylight, Coun Gloster says, and while following nights saw 'sporadic' outbreaks of violence, it was 'nothing on the scale that we saw on that night'.
These included an Asian supermarket being set on fire, the offices of the Oldham Chronicle being fire-bombed, and a violent confrontation between Asian and white youths on May 28.
But in the immediate aftermath of the riots, and in the years since, organisations began to implement changes to make sure they wouldn't happen again.
Coun Ahmad says: "It was a very bad experience but it did lead us to better working together for Oldham, not just for one section or part of the borough.
"We all realised that there are problems all over the place with every agency and every section of the community.
"I think it's been a success story, although it is a moving picture because other problems come along, austerity comes along, and we've got poverty and Covid-19 so it's not a static picture and it's a moving target.
"But in future I think we will deal with issues like this in a much more mature and reasonable way than we did in 2001."
Coun Gloster says from a policing perspective the riots saw the positive introduction of neighbourhood policing, then known as 'township' policing.
Prior to 2001, although places had their own area officer, the system operated as what he described as 'fire brigade policing'.
"This was where you'd deal with an incident, go and react to it and then there was never any local joined up thinking in relation to issues that particular areas dealt with," he explains.
"Not the type of community policing and partnership engagement that exists now.
"So from a policing perspective, the changes that the Oldham riots made was they went to township policing which had a fundamental effect with regards to the relationship with the police and the community.
"The police became more visible and more identifiable and there were significantly more local officers dealing with a particular location which was of great benefit to the community and also of great benefit in relation to reducing crime."
Police also began working with officials in both health and housing to get a better picture of the issues in different parts of the borough that extended beyond simply the committing of crimes.
"Rather than each particular group working separately and blind in the majority of cases to each other's work," Coun Gloster adds.
"Without a shadow of a doubt the legacy for the town is that agencies across the spectrum work together far more closely and we're able to deal more effectively with problems in the early stages rather than having to wait until something significant occurs."
Coun Gloster also believes that police forces are now much better equipped, and have the legislation behind them to deal with an influx of 'far right extremism' in places like Oldham.
Could Oldham ever see a repeat of the riots that filled the sky with smoke twenty years ago?
"I see currently little evidence of community tensions of a type that occurred 20 years ago but that's not to say that there couldn't be a catalyst to provoke something similar," Coun Gloster says.
"Lots of the rioters at that time were disenchanted young males who are now adults, parents, and even grandparents.
"They understand the issues in relation to communities working together and living side by side and coexisting peacefully for the benefit of the town."
Coun Ahmad agrees.
"There were a number of incidents, a number of provocations where it could have happened but didn't, and I am confident we will never see anything like that again," he says.
"Communities are much more alert now to the troublemakers and the myth spreaders, and that is a much more positive legacy.

"And that's shown also in that none of these far right organisations have managed to find a political foothold in Oldham."
Coun Shah, who is the first Muslim woman to lead a council in the north west said the borough has fundamentally moved on in the last two decades.
"It had a lasting impact on the reputation of the town," she says.
"But as an Oldhamer, I resent that the riots are a point of reference for Oldham all the time, we've moved on. We're a place of diversity.
"The reference to 'no go' areas, that's no longer the case it's just not a thing and it's moved on so much.
"Now when you walk through Oldham town centre, you don't see just a group of Asian kids or a group of white kids, you just see kids.
"There is a strong positive shared vision for the town, the pandemic itself really saw that – we saw people coming together.
"I'm not pretending there are no problems here, there are and we're working really hard to address them but these problems aren't the same issues that led to the riots.
"What is an issue isn't race, it's poverty in places like Oldham. We can't hide from the fact that there are socio-economic inequalities that were here 20 years ago and that still haven't been addressed and we need government to do that."
Read more from the Oldham Reporter