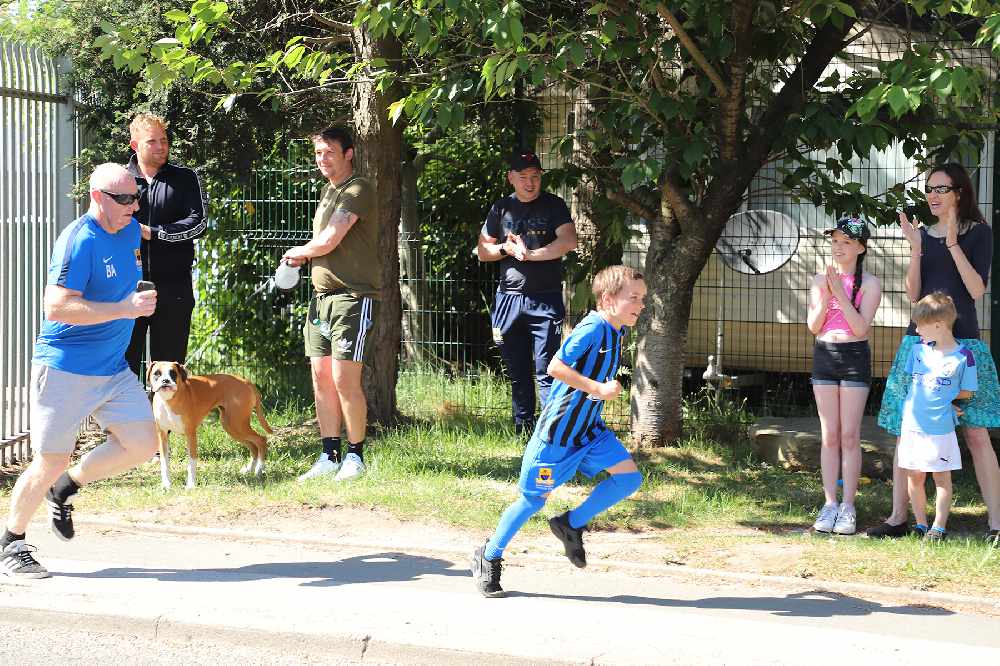 A budding young footballer paced the streets of Glossopdale last weekend to raise hundreds of pounds for his grassroots football club. 
Eight-year-old Mason Hinchley-Arrowsmith, from Hollingworth, took on a sponsored 5k run to support Tintwistle Athletic Football Club - where he has been playing for two years, having previously spent two years at the club's Soccer School for younger footballers.
Supported along Brookfield by many members of the "Tinny Army" who came out in force, Mason successfully completed the run - with his dad Brian, who coaches Tintwistle's Under 8s and Veterans teams - in just over half an hour in the glorious Sunday sunshine.
He has so far raised over £780 for the community charter standard club, who are set to miss out on vital funds this year after their summer tournaments and other fun events at their first-class West Drive centre have had to be cancelled due to the coronavirus pandemic.
Huge Everton fan Mason - who is in Year 3 at Whitfield St James' CE (VC) Primary School - initially thought he would attempt a 5k with a football but decided it might be a bit tricky! So he instead decided he would do a run, inspired by some of Tintwistle's adult players who did the same to support the NHS.
Mason's proud mum Hannah Arrowsmith told us: "The run went amazingly. Mason had a lot of his 'Tinny Army' on Brookfield supporting him and clapping him along. He ran past us all and turned around at Dinting School and ran back past everyone - some of his teammates and other coaches were there to support. Mason also said he had a lot of beeping horns as he did his run.
"The route was down Taylor Street in Hollingworth towards Woolley Bridge, then along Brookfield to Dinting School and back along the same route.
"His dad - who goes by "Arra" to everyone - was there with him running behind. He coaches a team of Under 8s, very soon to be Under 9s, and also the Vets team who did brilliantly well prior to the lockdown - they were at the top of their league.
"Mason surprised everyone with the time he managed to run the 5k - doing it in 31 minutes. I thought he might have wanted to lay on the sofa for the rest of the day but once home he had a drink and went riding on his bike!"
Like many other youngsters throughout the area, aspiring midfielder Mason - who normally plays football every Saturday for Tintwistle's Under-8s team, who are part of the East Manchester Junior Football League Division One - is looking forward to getting back out on the pitch and watching his beloved Everton in action.
Hannah added: "We've just had the great news that Mason is able to get back to his football training with Tintwistle Athletic, returning on Wednesdays in very small groups and sticking to strict guidelines, but he is very much looking forward to being reunited with his Tintwistle family after so long.
"Ourselves and everyone at Tintwistle Athletic are immensely proud of Mason for all he has managed to raise for the club and the amount exceeded all expectations. The funds will definitely help the club hugely in this tricky time. Mason is a really kind and thoughtful boy who came up with the idea on his own.
"No doubt Mason will be glued to the TV watching his team Everton once they are back towards the end of the month. He's quite optimistic for his team to do well in the coming season under their fantastic new manager Carlo Ancelotti."
Hannah would also like to thank one Glossop business for making Mason's day on Sunday by giving him a generous gift.
"After Mason did his run, local business 'Glossop Pick N Mix' had heard of his achievements and contacted me via social media. They gifted Mason a large box of sweets as a well done for his efforts.
"We thought this was a really nice kind gesture and they were thoroughly enjoyed by Mason. I explained to him when he was puzzled as to why he had received the gift that when one person does a kind thing, it's spreading that kindness to others. So thank you to Glossop Pick N Mix for making his day!"
Tintwistle Athletic posted on Facebook: "Fantastic achievement Mason completing your 5km challenge and a massive thank you for raising much needed funds for our club. Can't forget to give a clap to our U8s & Vets coach Arra as well for running alongside / behind!"
Mason smashed his initial fundraising target of £150 and has received donations from more than 70 different supporters.
His Just Giving page will remain open for another week or so. If you would like to donate, visit https://www.justgiving.com/crowdfunding/mason-hinchley-arrowsmith.
Images by Nigel Wood