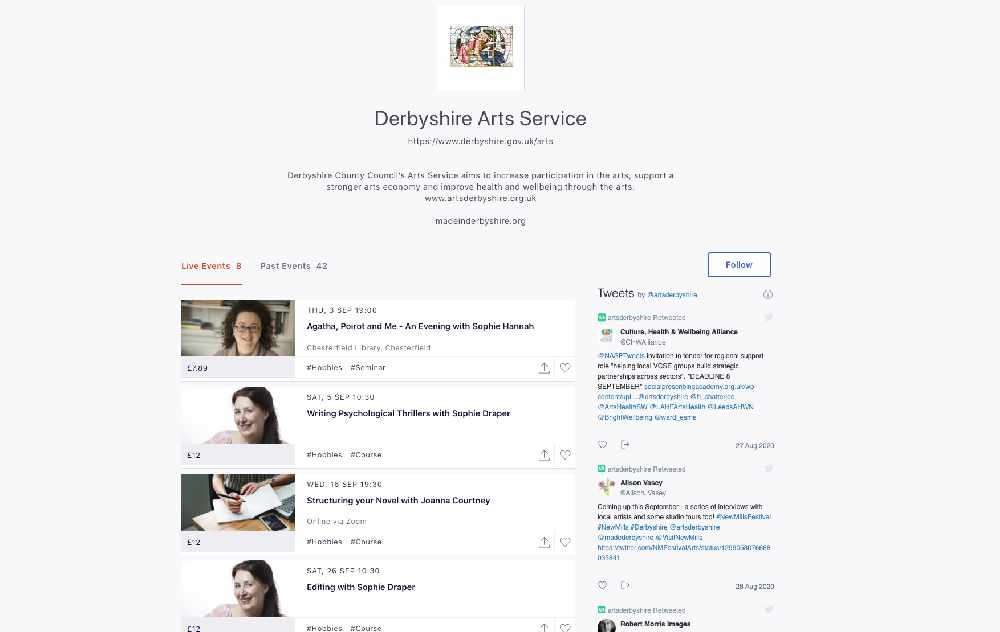 Writers in Derbyshire are being offered the opportunity to sign up for online workshops this autumn.
The workshops have been organised by LoveLit - an Arts Derbyshire project funded and supported by Derbyshire County Council.
LoveLit brings opportunities for writers to access high quality workshops aimed at expanding their writing skills and helping their professional development.
The autumn programme aims to support writers writing for fun or profit and offers a range of subjects ranging from writing a ghost story to plotting a novel or how to gain an agent to represent you. Workshops are priced at £12 to £14 and last between 90 minutes and two hours.
Councillor Barry Lewis, Council Leader and Cabinet Member for Strategic Leadership, Culture and Tourism, said: "This is a wonderful opportunity for experienced or aspiring writers to take their writing further with expert help. We are delighted that we can foster local talent in this way, even during a time of pandemic and social distancing."
Tutors include talented local writers Sophie Draper, Alex Davis and Joanna Courtney. Details of the workshops, including how to book, can be found on the Derbyshire Arts Service Eventbrite page https://www.eventbrite.co.uk/o/derbyshire-arts-service-15254148784. Early booking is advised as workshops get booked up quickly.
Workshops on offer include:
5 September 2020, 10.30am to 12pm 'Writing Psychological Thrillers with Sophie Draper'
16 September 2020, 7.30pm to 9pm 'Structuring your Novel with Joanna Courtney'
26 September 2020, 10.30am to 12pm 'Editing with Sophie Draper'
30 September 2020, 7.30pm to 9pm 2020 'Putting the Story into History – Writing Historical Fiction with Joanna Courtney'
8 October 2020, 7pm to 9pm 'Writing Ghost Stories with Alex Davis'
17 October 2020, 10.30am to 12pm 'Submitting to Agents with Sophie Draper'
21 October 2020, 7.30pm to 9pm 2020 'The Art of a Good Plot with Joanna Courtney'
Alex Davis said: "October is the perfect time for ghost stories, and I'm really excited to be running this online session for Derbyshire Arts Services and LoveLit. I'm a lifelong fan of the form, so can't wait to share a range of examples, tips and exercises to get participants writing their own terrifying tales!"
Sophie Draper said: "I'm delighted to be working with LoveLit to offer workshops this autumn. Writing a novel is such a lonely process, and workshops are a great way to connect, to meet other writers and learn about publishing."