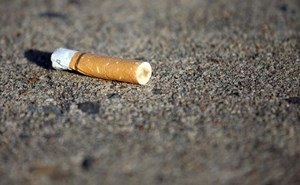 Dropping a cigarette end on the ground has cost a woman from Buxton £400.
Mary McEwan, of Alma Square, was seen dropping the litter in Spring Gardens on 14 May year by an enforcement officer for High Peak Borough Council.
The fixed penalty notice issued to her at the time went unpaid, despite two reminder letters being issued, so the case went to court.
Magistrates at Derby Justice Centre fined her £220 for the offence and ordered her to pay costs of £150 and a £30 victim surcharge.
Councillor Jean Todd, Executive Councillor for Climate Change, Environment and Community Safety, said: "Some people might think £400 is a high price to pay for dropping a cigarette but the cost of clearing up litter – however small the item discarded – falls to the Council and, ultimately, tax payers.
"Keeping the High Peak clean matters to our communities and we want to support everyone in achieving this so we will not allow the actions of the minority of thoughtless of indicarviduals to go unchecked and we will take action against anyone seen dropping litter.
"I hope the fine imposed by magistrates on this occasion acts as a warning to others that dropping litter has consequences and a reminder to dispose of litter responsibly."