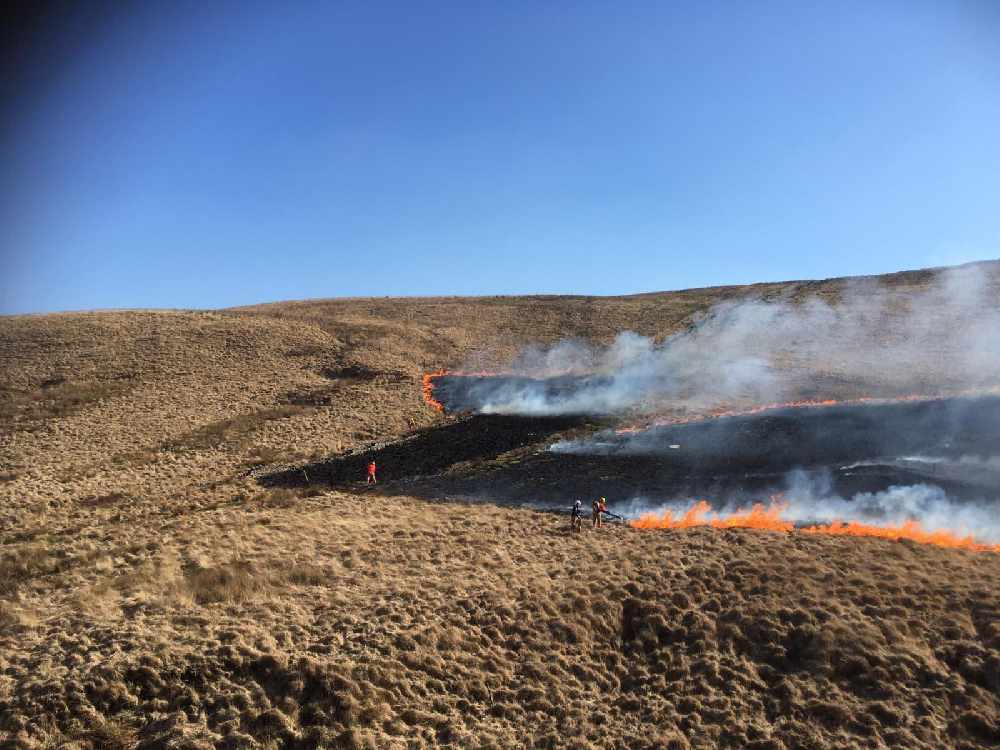 Fire crews tackling a moorland fire last year.
As we return to some kind of normality and the weather gets warmer, we're being urged to look after our countryside and not cause accidental fires which can devastate the moorland.
The plea comes from Derbyshire Fire and Rescue Service.
Station Manager Steve Ratcliffe said: "As life goes back to 'normal' and the summer holidays approach we're expecting most people to head into the Derbyshire countryside to relax and explore.
"However, like many changes in activity, it can bring risks. If you're intending to take out your tent, ready your rucksack or get your caravan back on the road, you should go armed with some safety advice before heading for the great outdoors."
The advice includes:
• Allow at least 6m spacing between tents and caravans and ensure they are away from parked cars to reduce the risk of fire spreading.
• Don't smoke inside tents.
• Never use candles in or near a tent – torches are safer.
• Keep cooking appliances away from the tent walls and never cook inside a tent or near flammable materials or long grass; they can all set alight easily.
• Never take a BBQ into a tent. Even when you have finished cooking with it, it can still give off fumes that can give you carbon monoxide poisoning.
• Make sure you know how to escape by cutting your way out of the tent if there's a fire.
• Make sure everyone knows how to put out clothing that's on fire – stop, drop and roll.
• Fit and test a smoke alarm in your caravan.
• Take special care when cooking – don't leave pans unattended.
• Like tents, never take a BBQ into a caravan to avoid CO poisoning. Always leave it outside.
• Turn off all appliances before you go out or to bed.
• Make sure ashtrays are made of a material that can't burn and position them securely so they can't topple over and never smoke in bed.
• Don't dry clothes over the stove.
• Remove any litter and rubbish near the caravan to reduce the risk of fire spreading.
• Make sure the caravan is ventilated, and never block air vents, to avoid a build-up of carbon monoxide.
Steve goes on to say: "Wildfires spread rapidly. Never throw cigarette ends out of a car window – they could start a fire and ruin surrounding countryside. Don't leave bottles or glass in woodlands. Sunlight shining through glass can start a fire. Take them home or put them in a waste or recycling bin. Never have a BBQ or campfire on the moors.
"If a fire should breakout leave the area as quickly as possible, call 999 and ask for the fire and rescue service – you can use What3Words to provide your exact location. If necessary give a map reference. If this is not possible a landmark such as a farm or pub will help us locate you. "
Steve says it's important we respect the countryside. Fires whether started accidentally or deliberately can cause severe damage, killing local wildlife or causing hundreds of creatures to lose their habitat.
For more information, visit Derbyshire Fire and Rescue Service's website or follow them on social media @DerbyshireFRS.
Read more from the Glossop Chronicle
Click here for more of the latest news
Click here to read the latest edition of the paper online
Click here to find out where you can pick up a copy of the paper