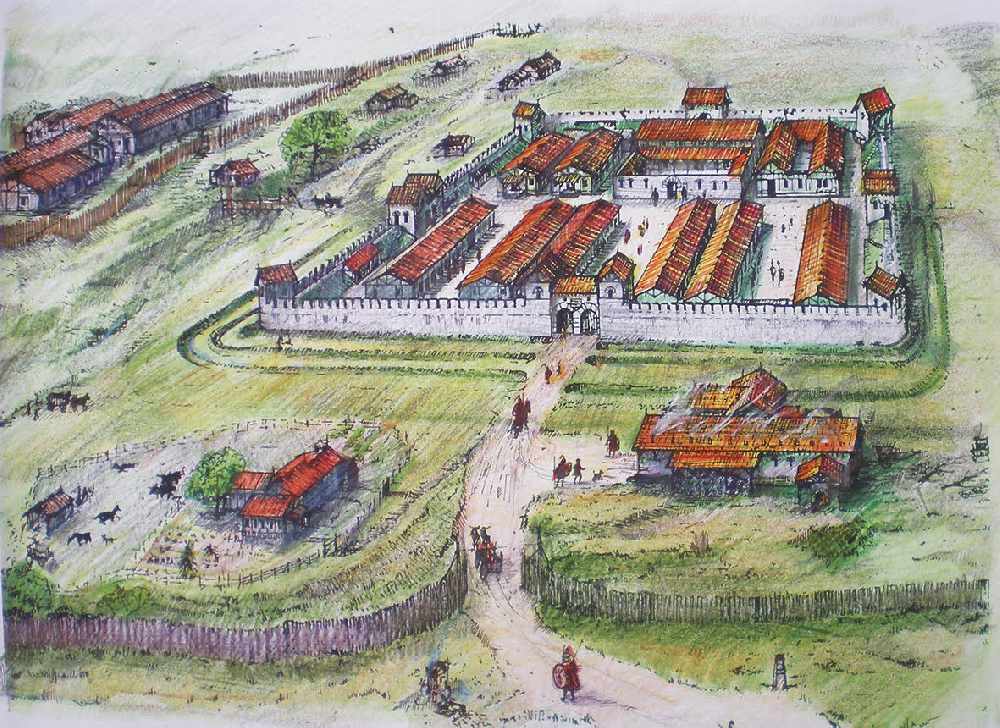 Melandra Castle in Gamesley is now little more than a grassed mound and scattered stones which once belonged to a Roman bath house.
It was once however part of a strategic chain of forts there to quell any sign of insurrection.
Hadfield historian Declan Doyle, who has studied Melandra, writes: "The present site gives little clue to its Imperial Roman heritage.
"Melandra is a late first century Roman fort. Measuring 358 by 328 feet, the original construction of wood, which was rebuilt in stone during the second century, was of classic Roman 'playing card' shape and would have garrisoned about 500 men - roughly one Roman cohort.
"The original name exists in various forms, Ardotalia, Zardotalia and even Zedrotalia.
"The word Zedrotalia is thought to be linked to the word Etherow, the name of the river flowing through Longdendale.
"The present name is first recorded in the 18th century and probably derives from the Greek Melandry, meaning 'heart of oak', so named by the Romans due to the trees that grew in the valley at the time.
"Longdendale was subjugated in the 70s-80s AD by a Roman general named Agricola, and a detailed account of the occupation is available from the writer Tacitus, who was in fact the son-in-law of Agricola himself.
"The fort was probably constructed as part of this campaign.
"According to inscriptions found at the site, it was manned by the Cohors Primae Frisiavorum, and a certain Valerius Vitalis is mentioned as a centurion stationed there.
"The Frisians were reinforced by the III Bracara Augustani, an auxiliary unit of Celts from Spain, who were tasked with monitoring the local Brigantes tribe. Coins found at the site minted during the reign of emperor Domitian (81-96AD) also date the first timber fort to this period.
"Around a kilometre away lay the native power base of Mouselow hillfort.
"It may seem unusual to have two forts so close, but Roman policy was to erect forts in close proximity to local strongholds to keep an eye on the potentially rebellious subject population.
"The Romans seldom occupied existing strong points such as hill forts, preferring instead to construct their own fortifications suited to the way they conducted warfare.
"Military strategy in the first and second centuries AD relied on soldiers sallying forth to meet threats in the field," Declan told us.
"Although historians are unsure when Melandra fell into disuse, local legend relates that the fort was manned for a short time after the Roman withdrawal (AD410 onwards) by a warlord named Lewin and his men.
"Recycling of stone means there is little left of the site at present, however many artefacts can today be seen in Buxton museum."
Main image:
STEPPING INTO THE PAST: What Melandra Fort would have looked like.