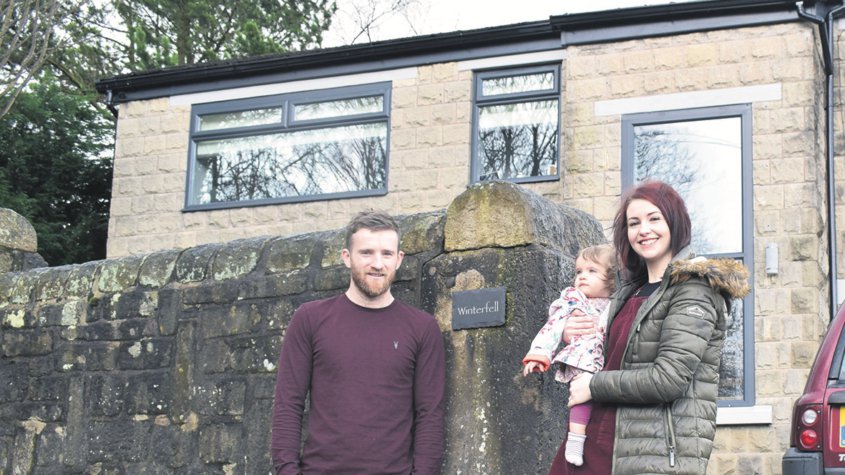 With the final series of Game of Thrones finally underway, we can exclusively reveal that the real Winterfell is closer to home than you might think.
With the final series of Game of Thrones finally underway, we can exclusively reveal that the real Winterfell is closer to home than you might think.
For a local couple have legally changed their home's name to the ancestral castle home of the Stark family in homage to their favourite TV-show.
Twenty-eight-year-old Jessica and Tim Grahamslaw along with their 16-month-old daughter, Ivy, bought their home in 2017, which was originally built during the Cold War and designed to withstand a nuclear blast as Tim, 31, explained.
"The building was constructed in the 1960s and built to nuclear regulations after the previous owner seemed adamant Britain was descending into nuclear war," he said.
"So instead of timber, the building's ceiling is made of concrete – and all the walls are double-skin solid brick."
By trade, Tim, who is now referred to as 'King of the North' in his friend's Whatsapp group, is a Steel Fabricator and Bespoke Furniture Maker, and created all of Winterfell's interior furniture from scratch, while his wife Jessica commutes to Salford as a Social Worker.
Master-craftsman Tim stated how his father Robert has been in the metal fabrication and welding industry for 40-odd years, so as soon as he finished his Business Management degree at university, Tim teamed up with his dad to help take the family business to the next level.
He added: "I work at my family's steel structural business Metal Fabrication Glossop, but I started working with wooden furniture as a part-time hobby, which motivated me to set up my own small business."
Working together, Tim and Jessica stripped the house to an empty shell and patiently assembled their dream home piece by piece. After a year, the house was at a liveable standard.
Jessica said: "We've had a delivery driver who thought we'd put a joke name when we ordered something.
"The driver actually threatened to take our parcels back to the depot, but we spoke to them and straightened everything out by telling them the building's name has been legally changed to Winterfell.
"Other than that, we've not had a negative reaction.
"It's not like we could have called it a common house name because its interior and exterior is unique-looking – from a distance, it actually looks like a fort.
"Most people think it's really cool and we end up getting into conversations with visitors about how the final season will end. As you'd imagine it's the ultimate conversation starter."
The process of changing the building's name was less complicated than the couple imagined.
Tim added: "It was pretty easy. We just requested to change the address's name on the High Peak Borough Council's website and paid a £60 admin fee. We applied online and the council check that another building within the area doesn't have the same name or that the name isn't offensive.
"We weren't sure whether they'd approve it or not because it's related to a TV show, but we received an email stating 'your house is now called Winterfell'."
Financially, Tim agreed the name change could even add value to the property if the couple ever wanted to sell up.
He added: "I've had the house valued and it's worth a lot more than when we bought it – but we're definitely staying put."
Now that the dust has settled, and most of the hard work is over, the married couple even had time to make their family of three into a family of four again after their first cat died not long after moving in.
Jessica said: "We recently visited an animal shelter and adopted a ginger-coloured cat, which we've named Sansa – because she's female, ginger and she's been neglected, and we want to give her a good home. She's great."
The couple have even considered the possibility that Winterfell, which nestles in the countryside of Padfield near Glossop, could compete against the likes of countries such as Croatia, Morocco and Northern Ireland to become England's first official mini tourist spot for GoT fans.
"We did it just for a laugh and a homage to the show, but I think when the house is finished, maybe we'll allow visitors to have pictures outside if they want," concluded Jessica.