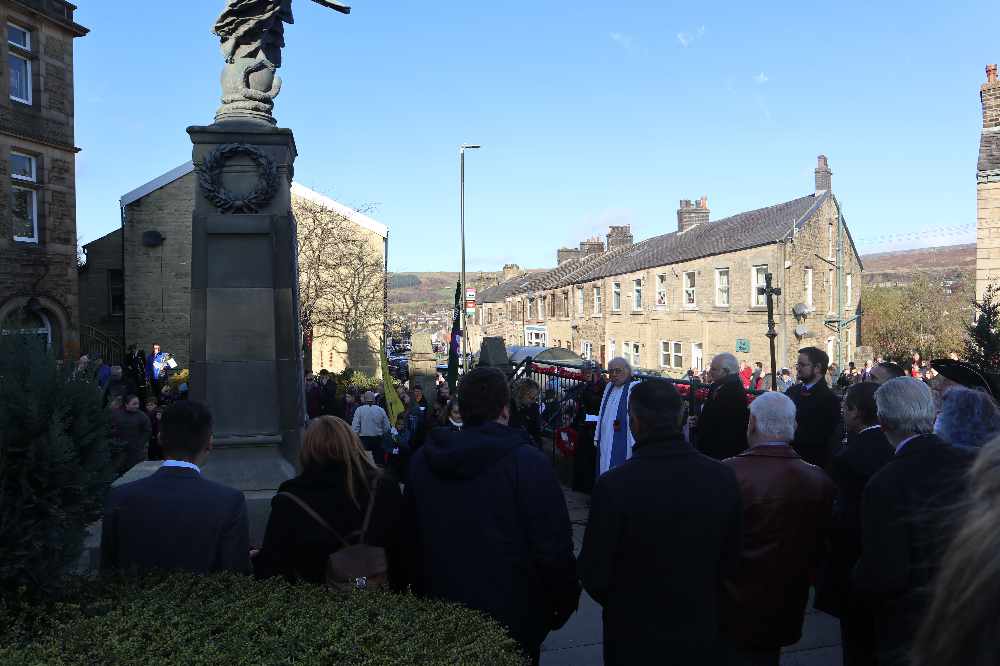 Crowds of people spilled out around Hadfield's cenotaph and onto Station Road last Sunday to pay their respects at the village's remembrance event, which first started with a service at St Andrew's Church from 10am. 
The main road, which was closed for the ceremony, allowed a procession led by the Mayor of High Peak Cllr Ed Kelly to walk down from the church to the cenotaph - where the service took place.
Hadfield Hall and Library was decorated with garlands of knitted red poppies spelling 'remember', complete with recycled bottles doubling as the blooms hanging from the trees and copies of the poem 'In Flanders Fields' attached to the railings.
Local shops such as D and D Newsagents and the Palatine pub also paid their respects by decorating their establishments with poppies and flags with the words 'Lest We Forget.'
The service, conducted by John Roberts and David Phillips, with accompanying music from Glossop Brass Band, was well attended, with representatives from The British Legion, local council, organisations and schools laying their wreaths at the monument and participating in the two minutes' silence.
Many members of the public also placed tokens such as bunches of flowers and wooden crosses for their loved ones at the site - with many taking the time for a moment of reflection.
Following the service, refreshments were served in the Community Room at Hadfield Hall and at Hadfield Methodist Church on Station Road.