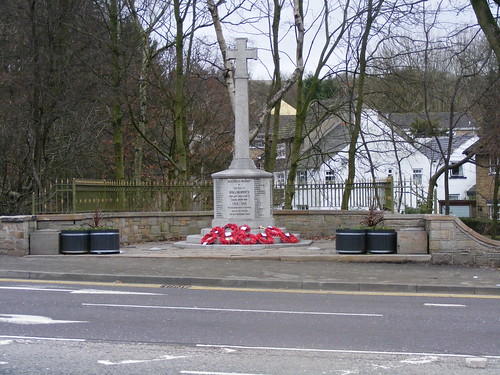 It's been described as a simple cross of Cornish granite.
Hollingworth war memorial is not among the most imposing in the area, but it represents one village's sacrifice in the First World War.
That stirring story is now to be made available to everyone.
A book, 'Lest We Forget – Hollingworth 1918-2018' compiled by the people of Hollingworth as part of their project to commemorate the 100th anniversary of the 1918 Armistice is to be presented to the Civic Mayor of Tameside, Cllr Leigh Drennan, so that their findings can reach a wider audience.
The Friends of Hollingworth scheme, which was made possible by a grant from the Heritage Lottery Fund, involved the entire community and was at the heart of the village's Armistice 100 events.
As well as the book, which recorded details of all 89 Hollingworth servicemen who laid down their lives, there was a poppy trail and map, a website, a poppy cascade for the rededication of the war memorial, and plaques for the homes of the fallen.
Tameside Local Studies aided research by hosting special Making Friends with the Archives sessions.
Cllr Leanne Feeley, Tameside Council's head of heritage, said: "I am pleased and proud that this very well-researched piece of work is being presented to Tameside Council so that it will be available to everyone.
"The Lest We Forget project was such an innovative way to bring the whole village together.
"All generations were able to take part and make a contribution to make sure that the sacrifices of those 89 brave men continues to be remembered as the First World War moves deeper into history.
"I must also thank the Heritage Lottery Fund, and all those who play the National Lottery, for their much-valued support."
The presentation of the 'Lest We Forget' book takes place at 11am next Thursday, October 24, at Tameside Local Studies and Archives Centre, Cotton Street, Ashton.
To find out more, you can call 0161 342 4242.