David Jones says he's been humbled by the lovely messages he's received from many people since the news of his retirement was made public.
We announced in the 27 May edition of the Chronicle that David has finally closed his notebook and put down his keyboard to enjoy a well-deserved retirement, after 58 years of serving our local communities.
Such is the high regard in which he is held, the 77-year-old has since been inundated with kind-hearted messages, comments, letters, emails and cards from Chronicle readers, locals, people he's written stories about, friends and even strangers.
To express his gratitude, David has issued a message to say thank you to everyone who has taken the time to pay tribute and wish him well.
He said: "I would like to thank everybody for the messages they have sent me - it's really lovely of people. I feel that I've been very, very fortunate - I've been doing a job that I wanted to do when I was at school.
"I was about 14 years old, I always wanted to be a reporter and my mum paid for me to have private shorthand lessons. I tried to get onto a paper when I was 16, 17 and 18. I did, in a way, dead-end jobs because there was no vacancies - then luckily I started at the Glossop Chronicle in May 1963. I then moved onto the North Cheshire Herald and then back with the Chronicle.
"I've been quite humbled by what people have said - really, really nice messages, I've had plenty of cards and plenty of comments on Facebook and of course in the newspaper itself.
"I would like to thank everybody who has taken the trouble to send me something. I've had letters, emails from sports clubs and people who I've written stories about over the years. People have even stopped me in the street and said 'well done', 'have a happy retirement' and 'enjoy your life now you have retired'."
David plans to spend more time with his family and make the most of his free time, as he enters a new chapter in his life.
He said: "I'm concentrating now on family life - I've got a wife, two sons and three grandchildren - and I'm enjoying my leisure time. I'm taking my grandchildren out to different places and I'm liking the freedom of not having to get up in the morning at a certain time and do a certain amount of work.
"I'll still take a massive interest in Glossop, the High Peak and Tameside where I've made many friends. I've also made lots and lots of friends at the Reporter and Chronicle newspapers. I'll miss them immensely - I really, really will. I've often said that they are my second family.
"All the best to everyone - people at the newspaper, people on Tameside Radio and again to everyone who has taken the trouble to pay tribute which is nice of them. I'm sure I'll see you all around very soon."
We will be holding a Q&A session with David soon so you can ask him any questions you may have about his long and distinguished career in local journalism. Keep an eye on the Glossop Chronicle Facebook page for details about this so you can submit your question for David.
Watch David's message in the video at the top of the page.
David Jones retires
Chronicle editor retires after 58 years
Messages and tributes to Chronicle editor
When David stood out on the big stage
From junior reporter to 'Mr Glossop' in 58 years
LISTEN: When Ian Cheeseman interviewed David about his career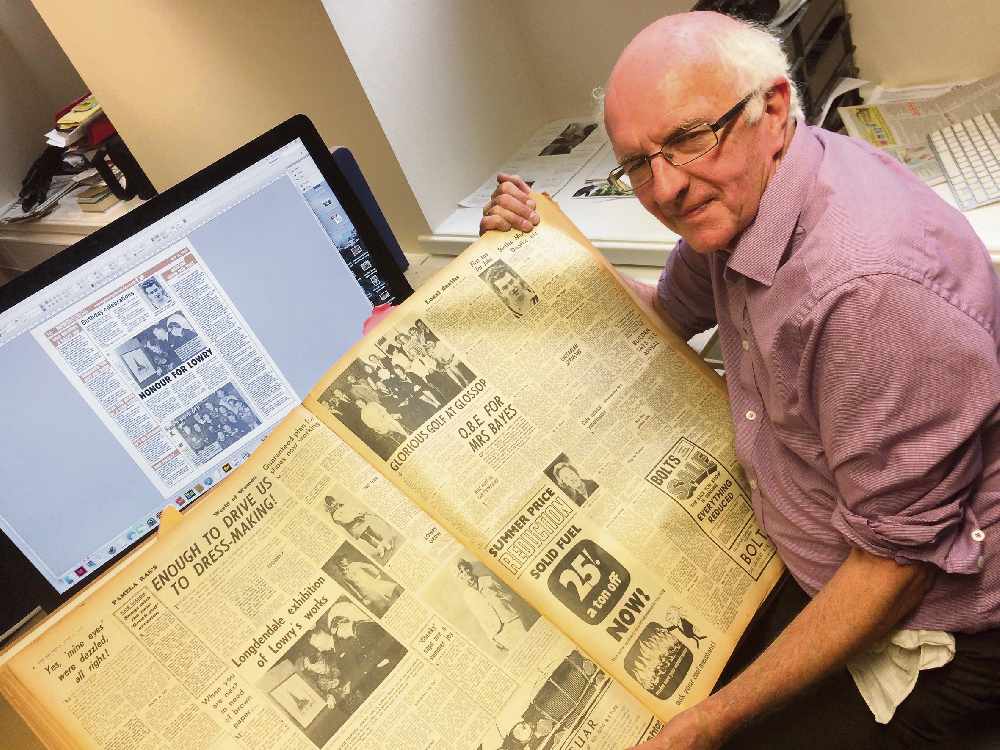 Read more from the Glossop Chronicle
Click here for more of the latest news
Click here to read the latest edition of the paper online
Click here to find out where you can pick up a copy of the paper