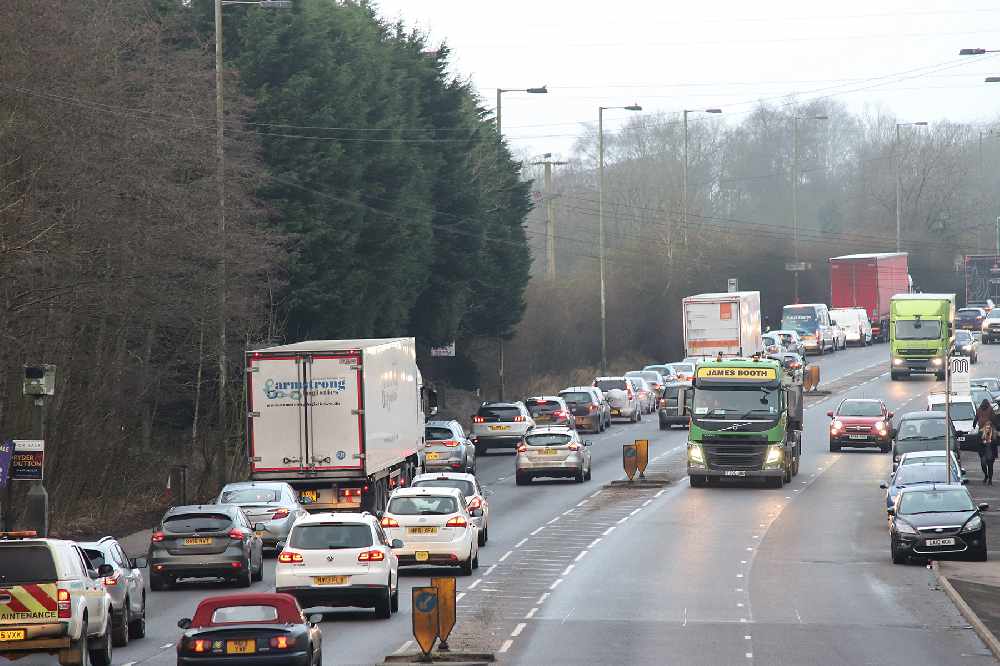 Vehicles on Mottram Moor. Image: Nigel Wood.
Local residents are being warned that further travel disruption is expected due to essential gas works on the A57 Mottram Moor.
Cadent Gas has confirmed that major work to install a new section of gas pipeline on the busy route will start on Monday (4 April) and is expected to take around 20 weeks.
Cadent, which manages the local gas network, say there will be no interruption to gas supply and teams will be working seven days a week to hasten completion. The work area runs from Woolley Lane, to Mottram Moor, to Back Moor, and then into Stalybridge Road.
Roads will remain open but there will be lane closures and temporary traffic lights in place, with motorists warned to expect delays and consider alternative routes. More details can be found at https://tfgm.com/major-works-and-events/highways/lane-closure-on-a-57-mottram-moor
Craig Horrocks, head of Cadent's North West investment planning office, said: "Growth in this area has put a significant strain on the gas network. We are now concerned about meeting demand.
"A local power generation site also urgently needs more gas to create electricity for the same area. Our team has tried, for several years, to negotiate with multiple private landowners to lay this new pipe through fields. We haven't been able to reach agreements and the situation is now such that we need to act, by installing it under roads.
"Installing the new pipe also helps future-proof this part of the network, helping to ensure it's ready to distribute hydrogen when that starts to arrive in the North West soon. Hydrogen is key to securing a net zero energy future.
"This is a busy road and it's impossible not to have any impact on traffic. We've been liaising over many months now with agencies such as National Highways, Transport for Greater Manchester and Tameside Council to minimise disruption."
Advance notice signs have been in place since 28 February, and Cadent's customer teams have sent out information to properties in the immediate area around the works.
Anyone who has any questions about the work can contact Cadent by calling 0800 090 3071, emailing CustomerCareNW@cadentgas.com or getting in touch online at https://cadentgas.com/contact-us/contact-form-nw
The A57 Snake Pass reopened on Tuesday afternoon (29 March) between Glossop and Ladybower Reservoir, after being closed for just over five weeks after heavy rainfall caused several sections of the road to slip.
Long-suffering residents of Mottram and surrounding areas have been waiting over 50 years for a bypass to be built, amid increasing traffic problems on the congested route.
Archaeology surveys have been taking place to prepare for the delivery of the project should Transport Secretary Grant Shapps choose to approve the DCO (Development Consent Order) application.