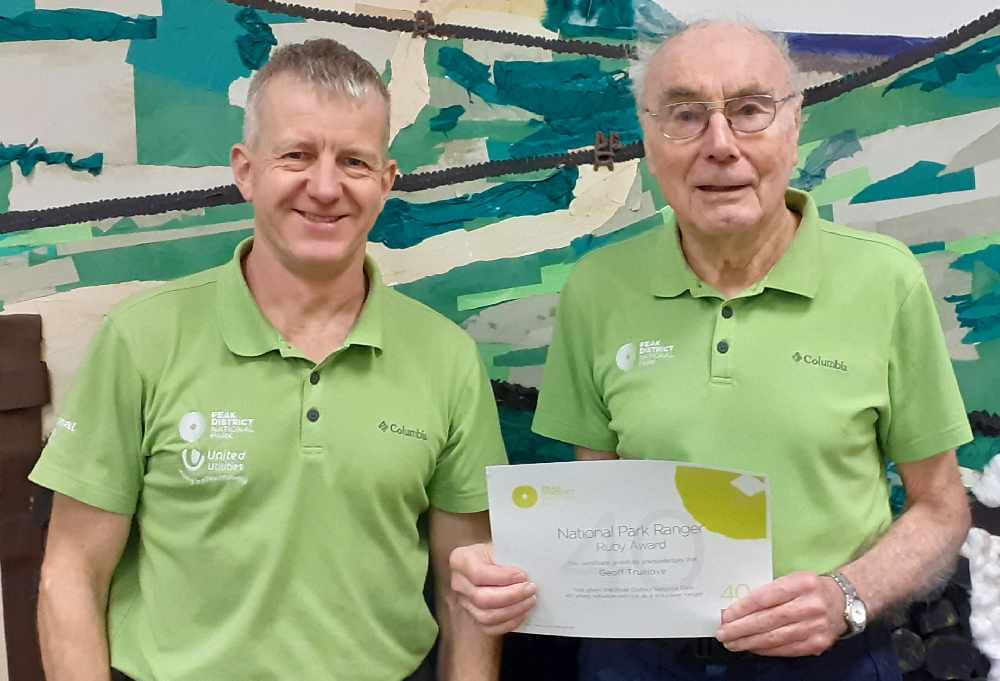 Country-loving Geoff Truelove knows the Peak District National Park like the back of his hand.
It's just earned the 83-year-old from Glossop an award from the park's bosses.
Volunteer ranger Geoff has clocked up more than a thousand days of volunteering and it's brought recognition for his 40 years of commitment to the country's first ever national park.
Geoff completed his ranger training in 1979 and joined the conservation volunteers a year later.
He has volunteered his free time during four weekend days every month, plus midweek days, since then.
Geoff, remembering the first task he worked on, said: "It was building steps to the foot bridge over the River Wye, in Monsal Dale.
"The steps are still there and as good as ever."
Although he worked full-time in the electricity supply industry, for the past 40 years Geoff has managed to fit in his shifts as a ranger and a supervisor to dedicate his spare time to helping look after Black Hill, Bleaklow and the Longdendale area, and help visitors appreciate the National Park landscape.
Over this time Geoff has taken part in literally hundreds of conservation activities including: planting trees, clearing Japanese Knotweed and Himalayan Balsam, creating a viewing platform at Monsal Head, and building two footbridges at Torside Reservoir working with the RAF and Concordia – an international youth group.
He has also helped with Moors for the Future Partnership's monitoring work – obtaining water samples and measurements for Manchester University on Bleaklow and Black Hill.
Geoff said: "I get heavily involved in all the activities and find it rewarding at the end of a task to know that it has been completed according to plan and is a job well done."
Engagement ranger Neil Hanshaw, presenting him with a certificate in recognition of his 40 years' service as a volunteer ranger, said: "Geoff Truelove is an important member of the team at Longdendale.
"The knowledge of the area he has gained over the years is huge and it's great that he can share his enthusiasm with us and help visitors too."
Geoff was attracted to the role having spoken to a National Park Ranger while on a visit.
He said: "I enjoyed walking in the Peak District and thought it would be the best way to give something back to the fabric of this wonderful countryside."
Volunteer rangers carry out a variety of work across the Peak District National Park including leading guided walks, advising the public, as well as conservation tasks such as repairing footpaths and drystone walls.
To find out more about volunteering in the Peak District National Park, visit www.peakdistrict.gov.uk/volunteering.
Main image:
HONOUR: Ranger Neil Hanshaw with volunteer Geoff Truelove.