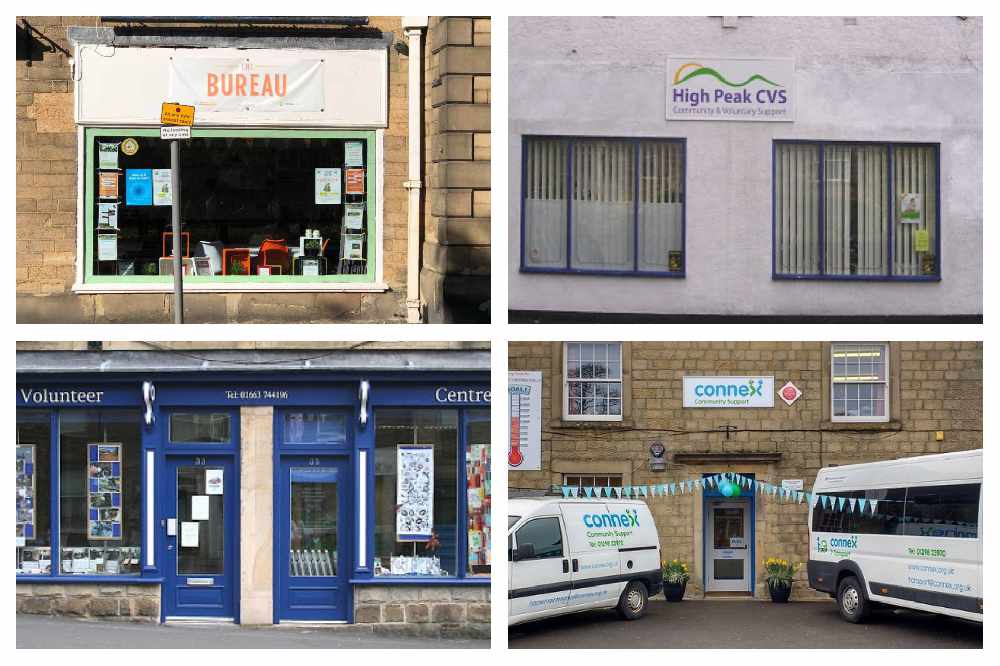 Voluntary and community groups throughout Derbyshire have been left angered and disappointed by the county council's "refusal" to extend or delay a consultation on the sector's future funding amid the Covid-19 pandemic.
A 12-week online consultation was launched in February by Derbyshire County Council, which said at the time it is looking to "develop a fairer more consistent way of allocating money to support the council's ambitions and priorities". It is set to close on Thursday (April 30).
Groups in the High Peak - including The Bureau in Glossop, New Mills Volunteer Centre, Connex Community Support and High Peak CVS - currently receive a share of £73,808, which is the highest amount of any borough or district in the county.
However, under current proposals, the borough would only receive £41,500 from September - losing £32,308, which is the highest reduction of any district or borough in Derbyshire.
The Bureau on Henry Street claims its funding would be reduced by 60 per cent, which could mean 110 fewer volunteers and the loss of services such as befriending, Volunteer Passport and Bureau volunteer placements.
3D - a consortium of VCS (voluntary and community sector) organisations in Derbyshire - submitted a formal collective request to DCC on April 1 to extend or delay the consultation in light of the "extraordinary pressures" they have been under during the coronavirus outbreak.
A source who works in the VCS told the Chronicle that the sector finally received a response from the county council on April 27, which said "we do not feel that it is appropriate to take a decision to close or extend the consultation at this time".
Local councillors have also described the "refusal" as "unbelievable" at a time when the county council is also thanking voluntary organisations for stepping up and going above and beyond during the current crisis.
Padfield councillor Ollie Cross said: "I hoped that common sense would prevail and DCC would extend the deadline in light of the increasing pressure on the voluntary sector as a result of the COVID-19 national crisis.
"Our local communities are relying more than ever on local volunteers and voluntary organisations to provide support to the most vulnerable in our society."
Simmondley councillor Stewart Gardner said: "We are relying on the voluntary sector more than ever during this time of crisis, so it's incredible that DCC are planning to cut their funding."
Whaley Bridge county councillor Ruth George said: "So many volunteers do great work to support people who are struggling, they'll be needed more than ever over the months and years to come but if their organisational funding is slashed, so is their ability to recruit and train volunteers and to organise support services."
High Peak MP Robert Largan commented: "In my view, the Council have got this wrong. At a time when our local voluntary groups are working incredibly hard to support people during the current crisis, this consultation has been a worrying distraction for them.
"Organisations like The Bureau do fantastic work and I will do what I can to support them."
In response, a spokesperson for DCC told the Chronicle: "We appreciate that the pandemic is giving the council and all voluntary organisations new challenges and we appreciate all the work being carried out by groups to support their communities.
"When we launched the consultation earlier this year we wrote to all infrastructure providers inviting them to give their views on our proposals for future funding arrangements which are based on:
• Fairness and consistency
• Outcomes (measurable achievements) and
• Long term sustainability.
"When the consultation ends this week, we'll take into account all the representations that have been made to us, including any calls for an extension or suspension of the consultation, when we consider our next steps.
"We'd like to reiterate that we're still at the consultation stage and no decisions have been taken yet, but would like to encourage everyone to take part in the consultation.
"The current pandemic shows just how important voluntary organisations are to life in Derbyshire, and this will be taken into account as we look at the responses and decide how we move forwards."
You can fill out the questionnaire and have your say at www.derbyshire.gov.uk/vcssupport2020.