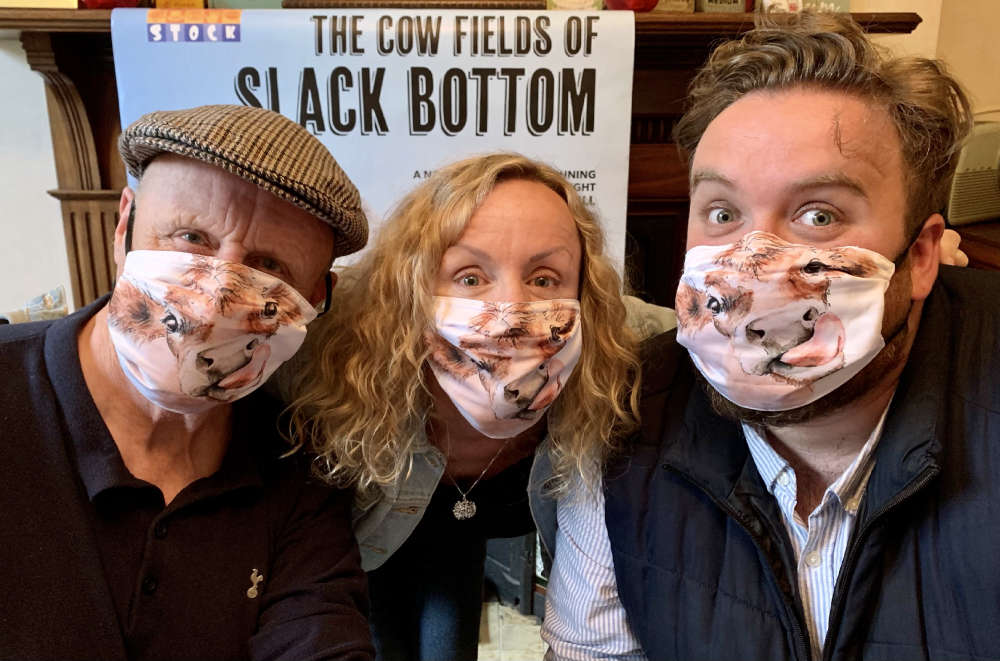 From left to right: cast members Alan Stockdill (Jack), Diane Todd (Susannah) and Todd Wilson (Fred).
Award-winning Yorkshire Playwright, Alan Stockdill of Talking Stock Productions, is bringing his new play, The Cowfields of Slackbottom, to Glossop on Sunday 5 September. 
This will be the first live theatre performance at the Partington Players Theatre since before the first national lockdown. It will be a fundraiser for to help keep this beautiful Edwardian theatre running.
The one-act Yorkshire comedy is roughly based on an original story by Anton Chekhov, the setting shifting from 19th century Russia to early 20th century Yorkshire.
Talking Stock producer Catherine Pasek (formerly Harrison) a former Glossop School pupil, is passionate about community theatre and the arts and wants to keep it alive and kicking in the town where she grew up and learned her craft.
"We're delighted to be bringing this hilarious new play to Glossop," says Catherine. "The fact that we are supporting Partington Theatre as well makes it all the more special."
The play features the Smidgintons and Smacklethwaites have farmed the Scuddleswick valley in peace and prosperity for centuries. But when young Fred makes a request of his neighbour, he unleashes a terrible chain of events with somewhat hilarious consequences.
The Cowfields of Slack Bottom starts at 7.30pm in the Partington Theatre Club Room.
For more information or to reserve tickets please contact Catherine Pasek 07785 530129. You can also book directly with Ryan Meehan from Partington Theatre (07387 835101).
Talking Stock will be bringing the play's sequel – Trouble at Upper Thong – to the same venue on Sunday 14th November.
Check out the website for more information at www.talkingstock.co.uk
From left to right, cast members Alan Stockdill (Jack), Diane Todd (Susannah) and Todd Wilson (Fred)
Read more from the Glossop Chronicle
Click here for more of the latest news
Click here to read the latest edition of the paper online
Click here to find out where you can pick up a copy of the paper