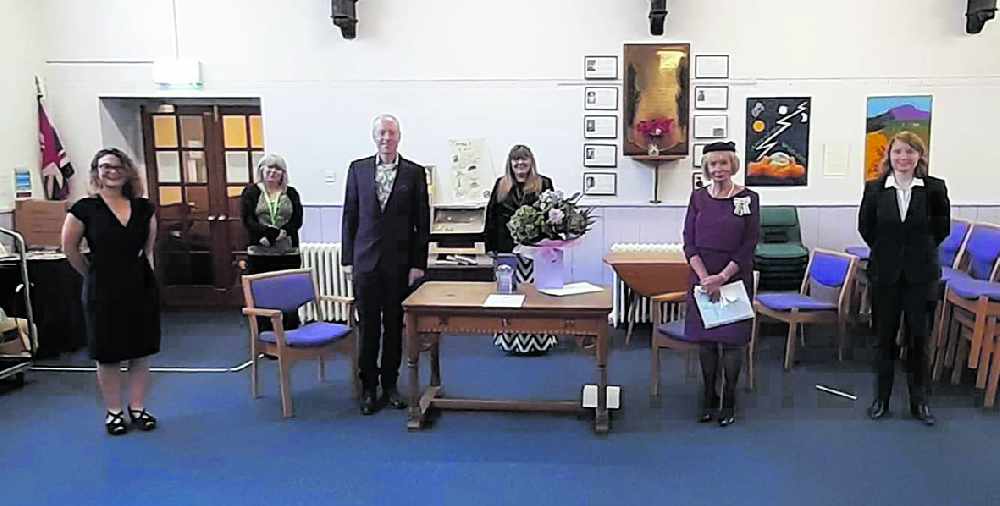 The Queen's representative in Derbyshire has visited High Peak to honour a local charity.
Lord Lieutenant Elizabeth Fothergill was at The Zink Project to present The Queen's Award for Voluntary Service.
She said the awards recognised outstanding work done in communities and is the equivalent of an MBE.
Project CEO Paul Bohan said: "All of us were delighted and honoured to receive this award.
"Our many volunteers and staff deserve this recognition, particularly for the way they have enthusiastically continued to deliver services to help those in crisis in the High Peak and Derbyshire Dales during the pandemic.
"Getting the award has been a real boost for us all during a dark time."
Only six people were allowed at the presentation due to Covid-19 restrictions, but Zink is planning a celebration in 2021 to which all volunteers will be invited.
In May two volunteers will be invited to visit Buckingham Palace to represent Zink at a garden party.
Paul said: "I think we will have to put names in a hat to decide who goes.
"Until then there is a lot to do and the need for Zink's services continues to rise as the unemployment rate goes up and more families are being pushed into poverty."
Zink started as High Peak Foodbank but quickly expanded to support families in crisis to resolve issues that caused them to need a foodbank, through Advice @Zink.
To prevent families falling into poverty-related crises, Employability @Zink was introduced and has supported nearly 400 High Peak people into work.
During the pandemic, Zink has been more active, distributing four times as many emergency food parcels as usual.
Zink's Covid-19 employability service distributed refurbished laptops so participants could look for work or do online training at home.
To find out more about Zink, make a donation, get help back to work or join the charity's lottery visit www.highpeakfoodbank.co.uk
Main image:
HONOURED: Zink CEO Paul Bohan receives the award from the Lord Lieutenant of Derbyshire with volunteers and staff looking on.