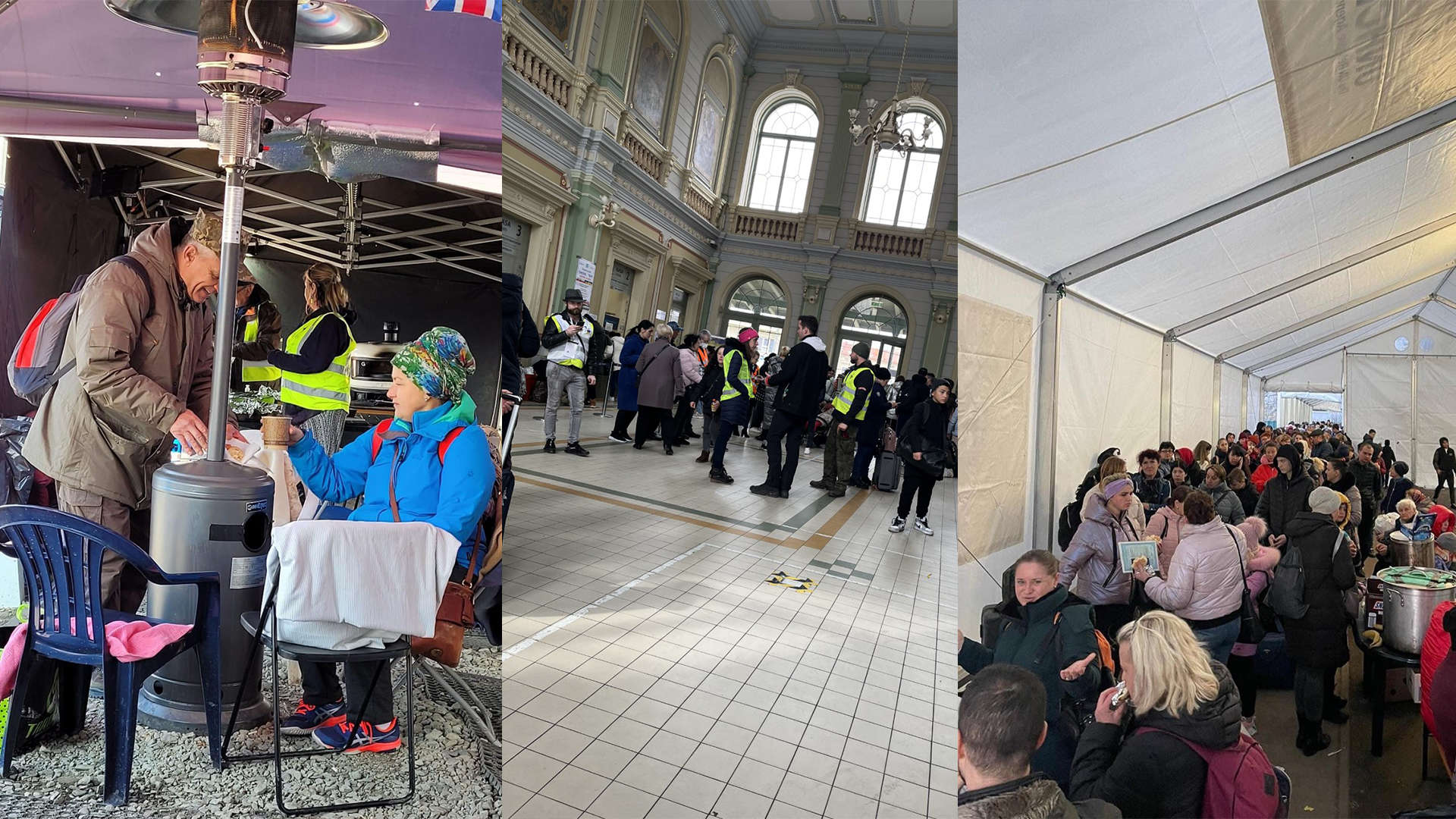 A selfless Tintwistle woman has returned to the UK after spending a week volunteering in Ukraine. 
Nikki Dunbar says she felt compelled to do something after seeing the crisis on TV news and is also planning to return next month.
She told us: "I've just returned from my first week volunteering in both Poland and Ukraine, it's incredibly easy to get involved.
"I found a group on Facebook for independent volunteers to meet, make plans and go out there. That's where I met Natasha and Gill, all from Manchester, they are both nurses. We made plans, booked flights and accommodation – we actually met for the first time in Manchester Airport the day we flew to Poland. But in that week became amazing friends.
"We spent around 100 hours in the company of each other and the most inspirational Ukrainian people and I've come home having completely fallen in love with Ukraine. The reality of the situation is very different to what we have seen on the news. Very few people arrive crying. Most have vacant, blank expressions, an absence of emotion as if they've walked through hell. You put a friendly arm round them and they flinch… clearly someone hasn't been so friendly not so long ago.
"Eventually they will carry on to their next destination in silence or open up completely and tell their story. Equally, many people will smile, share a joke, talk about their life in Ukraine and their future there, that this is all just temporary and they will go home one day. The children still play, laugh and love getting all the chocolate, toys and new clothes they could want - the strength and resilience is inspiring."
Nikki said that Poland has "done an inspirational job" of welcome refugees.
"They [the refugees] arrive in Medyka where they're greeted by a little 'village' of tents belonging to several charities from all over the world, providing everything from food and drink, medical support, help with pets and so much more," she said.
"They even provide a welfare tent for volunteers, a space away from everything, and believe me, it's very welcome after a 15, 16, 17 hour day or night.
"Once they have passed through Medyka, buses arrive every 15 minutes throughout the day and night to take them the short journey to the Przemysl Humanitarian Aid Centre. It's here where they register with their European destination country and are provided with food, a bed, clothing, and activities for the kids until the next bus arrives."
Nikki said she was lucky enough to be given the opportunity to spend time in both Poland and Ukraine.
"I worked at the Przemysl Aid Centre sorting clothing donations and helping families find new outfits for their children, playing board games and colouring books with the little ones," she continued.
"We helped refugees cross the border - in both directions! The reality is there are as many people heading home to Ukraine as there are leaving – in some cases because it's simply too difficult to be accepted into a country in Europe.
"We joined up with the a fantastic charity and travelled around independent refugee centres with a pizza truck, as well as providing tea, coffee, pizza, warmth, hugs and a shoulder to cry on at their tent at Medyka. We helped refugees at various train stations with essentials, directions and luggage, carried out aid drops to schools and refugee centres, and met refugee buses that had often been travelling for 20-30 hours, jumping on to give chocolate and toys to tired, scared, and often teary kids.
"Most speak Ukrainian or Russian, and very broken English, so I spent time before I travelled out there learning Ukrainian so I could speak to people, ask them if they needed help, and give them directions - but it actually gave me the opportunity to hear their stories.
"Most refugees I spoke to were arriving from the South and East - the occupied territories of Luhansk, Kharkiv, Dontesk, Mykolaiv, Mariupol – they either travel directly to Medyka on buses, or make their way to Lviv before heading onto Poland."
Nikki has already bought her ticket to go back and help out some more next month.
LISTEN: Hear Nikki speaking to our reporter Gill Garston below...