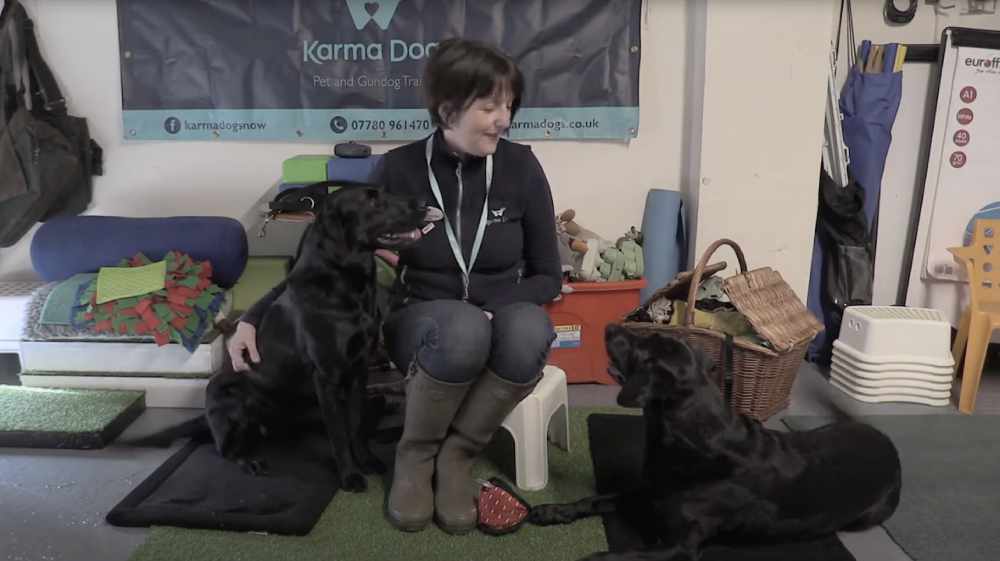 Dog trainer Alison Gilbertson of 'Karma Dogs' has been busy helping owners keep their pups engaged during lockdown - all with the help of 15-week-old Stanley.
It's proving a tricky time for all of us cooped up indoors – and our dogs are certainly feeling it too!
With walks restricted and schedules thrown well and truly out the window, Glossop-based trainer Alison Gilbertson of 'Karma Dogs' took to social media with her new pup Stanley, to create a group where clients and local dog owners could learn how to keep those minds occupied.
With accreditation from the Association of Pet Dog Trainers and the Institute of Modern Dog Trainers, as well as five years of top rewards-based training under her belt, Stanley has been star pupil to those learning with their own pooches at home.
Alison explained: "As many of my clients and local dog owners were struggling for ways to keep their dogs engaged during social isolation - particularly if they have puppies or younger dogs - I decided to set up a free dog training group called 'Stay at Home with Stanley' using my 15 week old puppy to demonstrate lots of different training games."
"It went live on the first day of lockdown and I have been astonished by the response from people, with lots of enthusiastic feedback from local dog owners and messages of gratitude from them about the daily training videos - even so far as Greece!
"We were so touched when we received the most heartwarming feedback from a dog owner in Yorkshire who has a Golden Retriever puppy who they have just discovered had gone blind.
"They were feeling very despondent until they started to follow the Stay at Home with Stanley page and started teaching him tricks to help grow his confidence. "
In nearly two months since the group started (and 70 videos and over 400 followers later) - members have been showing off what their dogs have been learning during the lockdown – from heelwork, mental games and even makeshift obstacle courses!
"I love to help dog owners to gain a better and deeper relationship with their dog. And as we are being told to stay at home, I thought it would be a perfect opportunity to use this time to teach our dogs some useful life skills, and have some fun along the way!"
If you'd like to join in, you can do so here https://www.facebook.com/groups/568533537204868/?ref=share or watch training videos on Youtube here: https://www.youtube.com/channel/UC_ka6V30K-v66MkN9QYCPTA