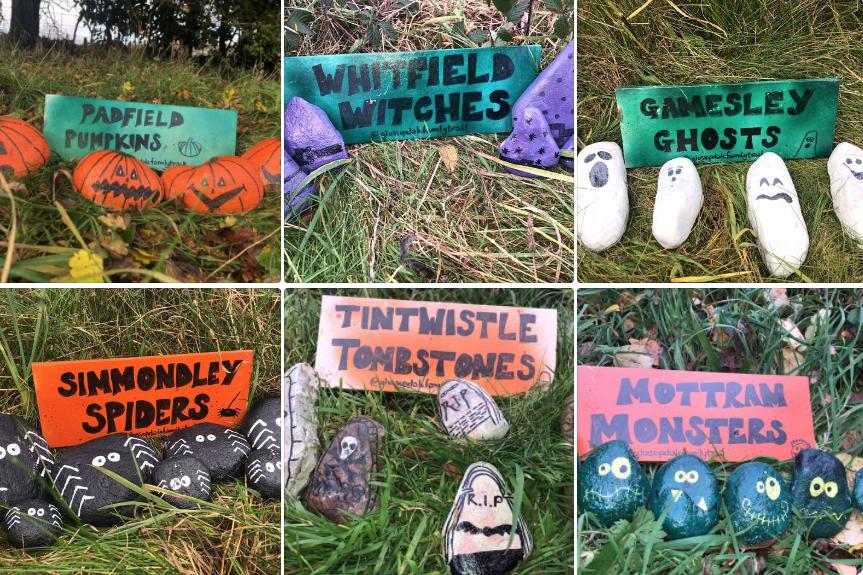 A fun-for-all trail which was launched earlier this year to make families, walkers, runners and riders smile on their adventures has got into the spirit of Halloween. 
Glossopdale Family Trail - created in May by Hadfield residents Gemma Rodgers and Ben Robertson for local people to enjoy - plan to hold limited time themed events throughout the year and are back with a spooky theme.
The trail begins near the Padfield end of the Longdendale Trail, and finishes next to the third bench.
There are six groups of painted rocks for you to spot.
They are: Padfield Pumpkins, Whitfield Witches, Gamesley Ghosts, Simmondley Spiders, Tintwistle Tombstones and Mottram Monsters.
The idea this time is that children paint rocks within the above themes and add them to the trail throughout the week during half-term.
Padfield borough councillor Ollie Cross has already been to have a look and highly recommends a visit.
He said: "A massive thanks to Ben Robertson and Gemma Rodgers for kindly organising and setting up the Halloween Trail. Ben and Gemma organised the hugely successful Glossopdale Family Trail in the summer and it's fantastic to see they're back with another fun filled treat for our local community to enjoy.
"It was great to see many young families thoroughly enjoying the experience and plenty of smiles to boot. I may be slightly biased, but my favourite painted rocks are definitely the Padfield Pumpkins. Although, the Gamesley Ghosts weren't too far behind to be fair.
"We sadly had to call it an innings half way through due to the lousy weather so we're going to have to come back later on in the week to complete it. However, we still had lots of fun even if we did get a tad muddy & wet in the end.
"The Halloween Trail will be open for this week only. I'd highly recommend a visit to any local resident and the trail would make a brilliant addition to any young families' half term itinerary!"
To keep updated with the trail's progress, you can follow and like the 'Glossopdale Family Trail' Facebook page.