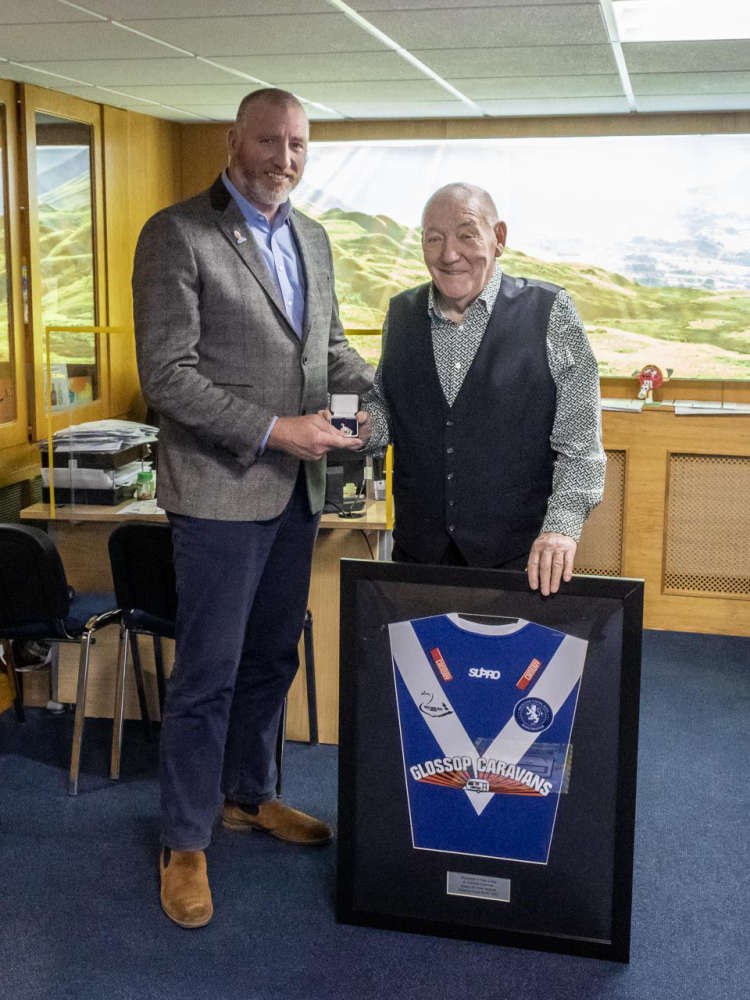 PROUD: Ralph Rimmer presents medal to Stan Laing.
A former Swinton Lions player enjoyed a trip down memory lane recently after being 'reunited' with a sentimental possession.
Stan Laing, the Managing Director at Glossop Caravans, Swinton's principal sponsor, played for the club in the late 60s and early 70s when legends such as Ken Gowers and Alan Buckley were still at Station Road.
His most treasured memory while playing for the Lions was the victory over Salford in the 1970 Lancashire Shield final.
Unfortunately, the medal Stan received following the game was lost in a subsequent house move and he had failed to retrieve the silverware - until now.
Thanks to the efforts of Swinton Lions CEO Steve Wild and fellow director Andy Unwin, along with RFL CEO Ralph Rimmer and Gary Robinson, Stan was given an identical replica model of the lost possession.
Steve commented: "Stan and his family team at Glossop Caravans have been fantastic supporters of the Lions for a number of years, so when we heard Stan's account of the missing medal we were determined to do something about it.
"First of all we tracked down an original medal from the game in question, and for that we need to thank Gary Robinson, whose dad Brian captained the Swinton team when the final was won 51 years ago.
"We then engaged a specialist jeweller to make an exact copy in solid silver, and finally with the assistance of Ralph Rimmer, we were able to 're-unite' Stan with his lost medal.
"It was a fantastic feeling to be able to give something back to Stan as a token of our appreciation."
Ralph added: "I have been a resident of Glossop for a long time, and Stan and I have come across each other several times and discussed our mutual love of the sport over a brew.
"He is a proper character, and I was delighted when Steve at Swinton Lions contacted me to ask if I could pop down and help out. It was a privilege to do so.
"Medals are hard earned in rugby league, and Stan will have fought hard for this one and it's another piece of the rich tapestry of the sport."
Read more from the Glossop Chronicle
Click here for more of the latest news
Click here to read the latest edition of the paper online
Click here to find out where you can pick up a copy of the paper