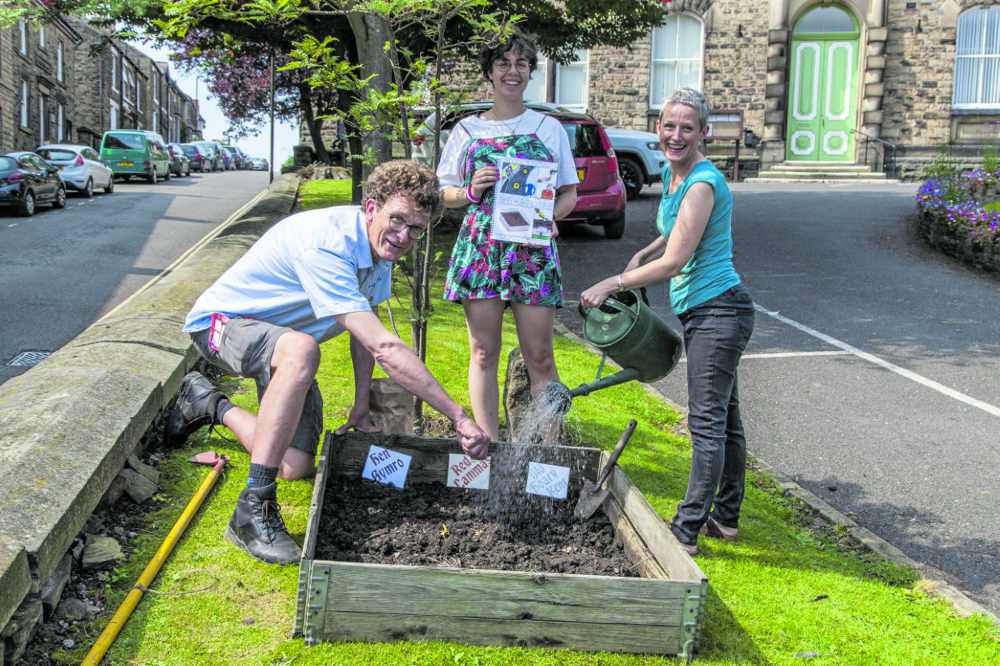 The search is on for a whole new crop of wheat farmers.
People are wanted to plant seeds, help them grow, mill the grain into flour, then bake it into bread for a harvest supper.
But they won't be needing a fleet of farm machinery.
The seeds will only cover a square metre plot after all!
The idea is the brainchild of New Mills Festival director Toby Hardwick.
He wants to turn back the clock and celebrate a local harvest next year.
Toby's 'Home Farm' New Mills project is one of the new ways the festival is coping with Covid-19.
He hopes to encourage communities to look forward to better times by 'planting for a shared future'.
The festival team is inviting everyone to be involved in growing food, sharing work, experiencing the seasons and thinking like a farmer.
To track the project a virtual community field made up of photographs of each plot will be created.
People can share their growing, milling and baking stories using the hashtag #homefarmnewmills.
Packets of 'heritage' winter wheat seeds - free for children with a suggested £1 donation for grown-ups - will be available from New Mills shops during the September festival.
They can be planted in containers or bare soil just after the festivities finish.
Varieties chosen are Red Lammas, Hen Gymro and Old Hoary Kent, which are adapted to grow in poorer soil without any fertiliser and so are better suited to the project.
They are also varieties that were planted 200 years ago when it was recorded that good crops of wheat were grown in New Mills - probably in fields that the modern town stands on now.
The project is directly inspired by the fact that the mills that gave the town its name were corn mills, grinding locally grown barley, oats and wheat more than 700 years ago.
Toby says: "The history of growing wheat locally lasts into living memory, some farmers can still remember wheat being harvested with horses during the Second World War.
"It is the harvest that 'Home Farm New Mills' will celebrate in next year's festival.
"The cutting, threshing and milling will all be shared events (even if they need to be done apart!)."
The idea is - and it all depends if any kind of lockdown is in place next year - that the 'farmers' will take their grain to a small mill in New Mills.
It will be ground into flour with each 'farmer' getting a bagful to take home for a spot of baking
Looking forward to 2021 there are also plans for communal breadmaking and that harvest supper.
At the centre of the celebrations will be the outdoor staging of 'Larkrise', a community musical play set on the first day of harvest a hundred years ago.
Toby added: "The seed planting this year is intended to make all this possible. It is a small action that anyone can make - but by joining together we can all enjoy a shared harvest."
The project has been made possible with the support of Derbyshire County Councillor Beth Atkins and High Peak Borough Councillor Ray Akins.
For more information, growing tips and to register your farm on a map go to www.newmillsfestival.co.uk.
For news and updates follow @nmfestival on Facebook, Instagram or Twitter and if you want to get involved or have any questions email the group at info@newmillsfestival.co.uk or contact them via social media.
Main image:
TEAM WORK: New Mills Festival director Toby Hardwick, media liaison officer Alison Vasey shows her expertise with the watering can and festival designer Polly Bartels adds some moral support.