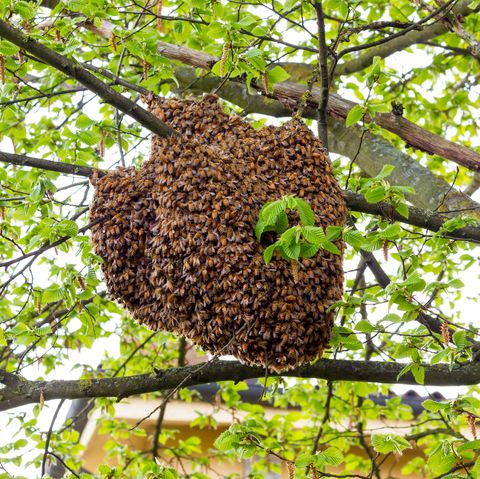 Beekeepers in Glossop are being kept busy after several swarms have been spotted in the town over the last few weeks.
Experts say that a honeybee colony swarming is a natural process. It's the colony reproducing by the old queen leaving with some of the bees.
They leave their hive and find somewhere to hang in a cluster until the scout bees decide on their new home.
This most commonly happens in April, May and June. Bees don't swarm in the rain, so this year it's running late because of the wet weather we've been having.
Several of these clusters have been seen in Glossop, with the latest swarm at Wren's Nest Retail Park earlier today (Thursday).
They form into a clump to protect the queen in the centre. Then when they find a new home they will all disperse.
But bees only post a problem if they take up residence in the walls of your house. Then you need to call a beekeeper who will come and safely remove them.
A swarm of bees sometimes frightens people, though the bees are usually not aggressive at this stage of their life cycle. This is principally due to the swarming bees' lack of brood to defend and their interest in finding a new nesting location for their queen.
This does not mean that bees from a swarm will not attack if they perceive a threat; however, most bees only attack in response to intrusions against their colony.
Swarm clusters, hanging from a tree branch, will move on and find a suitable nesting location in a day or two. Encountering a bee swarm for the first time can be alarming.
Bees tend to swarm near their hives or honeycombs, so if a swarm is visible then a nest is nearby. Swarms are usually not aggressive unless provoked, so it is important to keep a good distance from swarms in order to avoid provoking them.
Read more from the Glossop Chronicle
Click here for more of the latest news
Click here to read the latest edition of the paper online
Click here to find out where you can pick up a copy of the paper