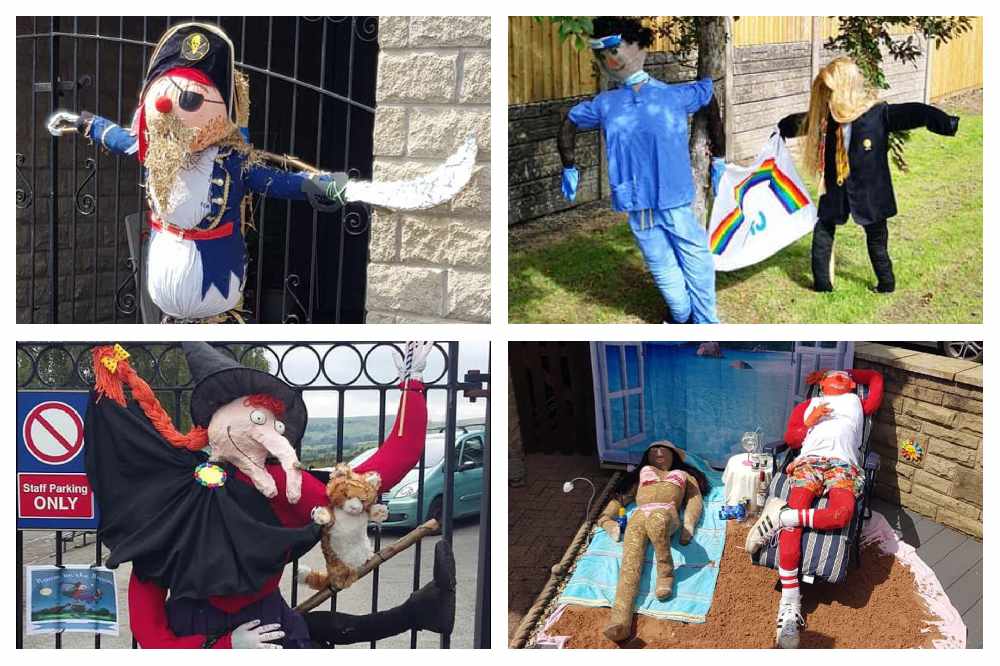 Hadfield and Padfield's first ever Scarecrow Festival has come to an end and it has been widely regarded as a huge success.
Organised by local residents Sandy Henderson and Vicki Howard, there were more than 60 incredibly creative designs and colourful characters on display last week throughout the villages.
There was no particular theme and entry was free. Described by many as a fabulous community event, it proved so popular among residents, businesses and groups alike that it is set to become an annual event.
The winners were announced in a live video on the festival's Facebook page last Friday - as chosen by judges PCSO Brian Buller from Hadfield's Safer Neighbourhood Team, Hadfield South councillor Ed Siddall and Joy Hallsworth - who has lived in Hadfield since 1976 and is involved in several local community groups.
In the main category, first place went to the 'Mad Hatters Tea Party' by Charlotte Emily Greenough (pictured below), second place was 'The Magic Roundabout' by Deborah, and third place was 'Cops and Robbers' by Hannah Scott.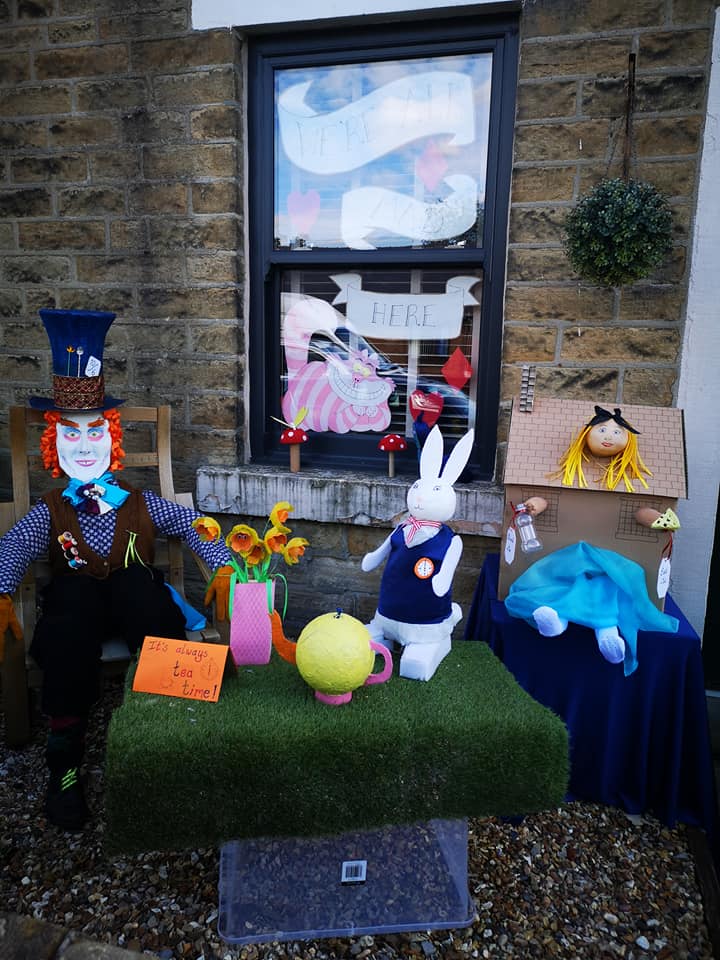 In the category for best team effort for a school or nursery scarecrow, first place went to 'Room on a Broom' by Padfield Community Primary School, Hadfield Infant School came second with their Harry Potter scarecrow, and in third was Hadfield Nursery School with 'Room on a Broom and the Gruffalo'.
In the business category, there were six entries and the solitary prize went to D&D Newsagents in Hadfield for their Harry Potter display (pictured below).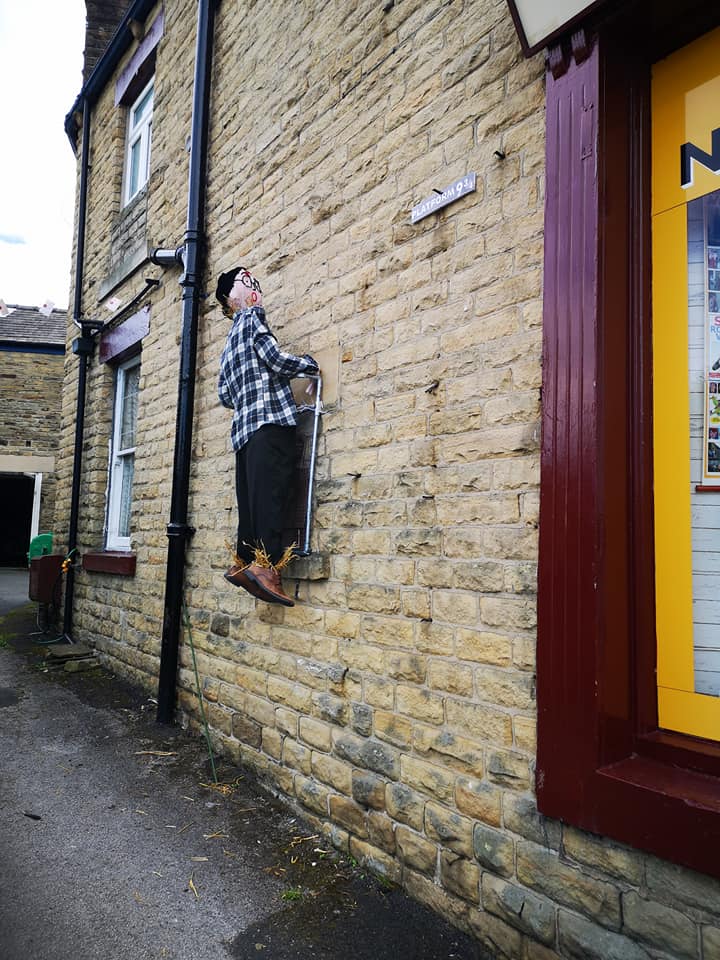 For the best lockdown scarecrow, Marie Evans won first prize for her 'Nurse Nancy' (pictured below), 'Doctor Glossopdale' by Glossopdale School came second, and 'the Midwife' by Sarah Owens. A bonus prize chosen by Sandy and Vicki went to 'Bearing up in lockdown' by Mandi Tamplin.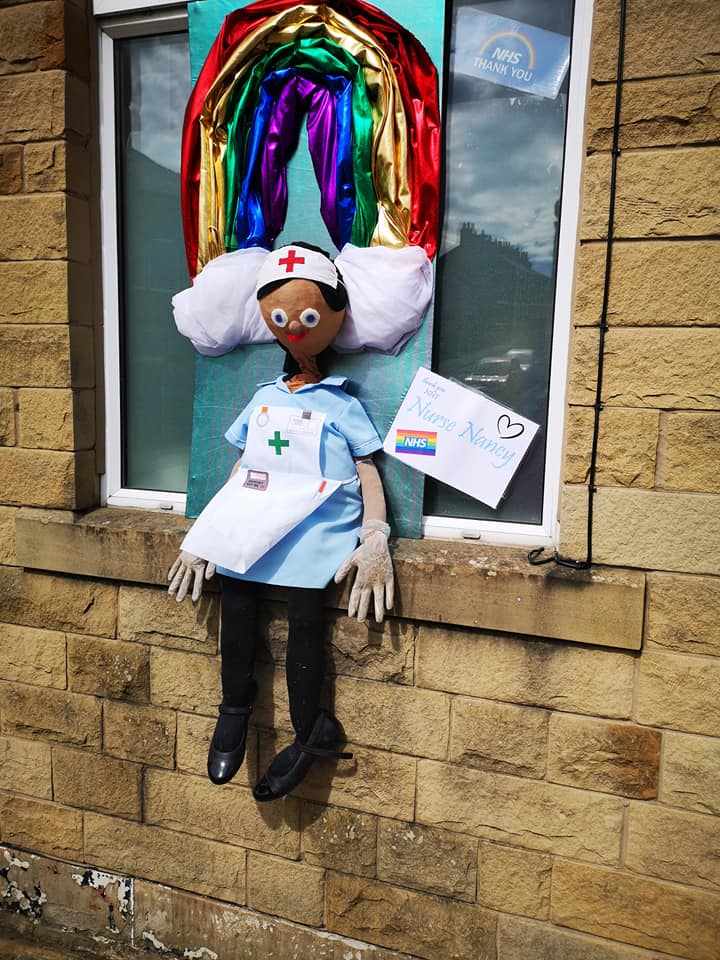 In the children's choice category, the winner was Mary Poppins by Sandy Henderson (pictured below) and second place went to Peppa Pig by Rachael and Maureen Close.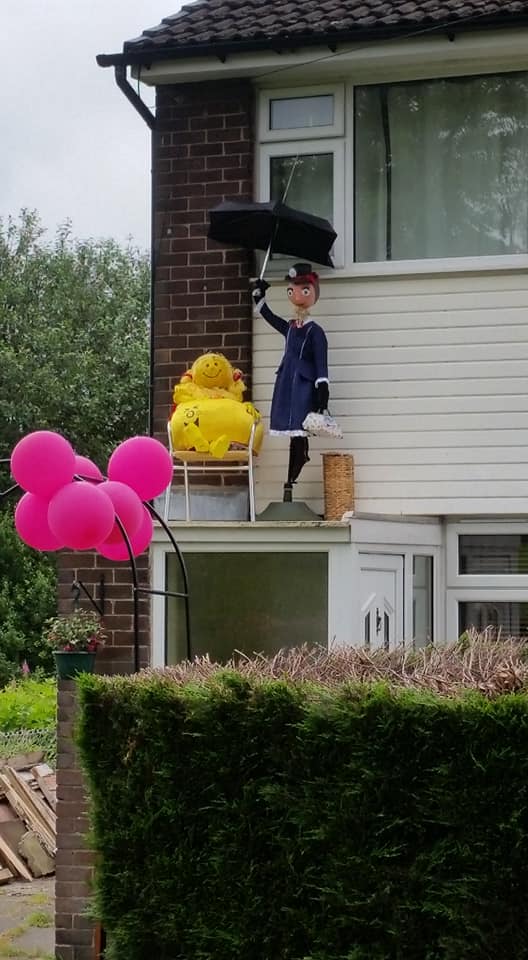 In the adult's choice category, competition was fierce but the judges chose 'Mr and Mrs Thorncliff's Wedding' by Val Wilkinson and Mel Carter as the winner.
In the category for most creative scarecrows, RAF Watkin by Allison Stokes and her sister Amanda Harris (pictured below) claimed the prize.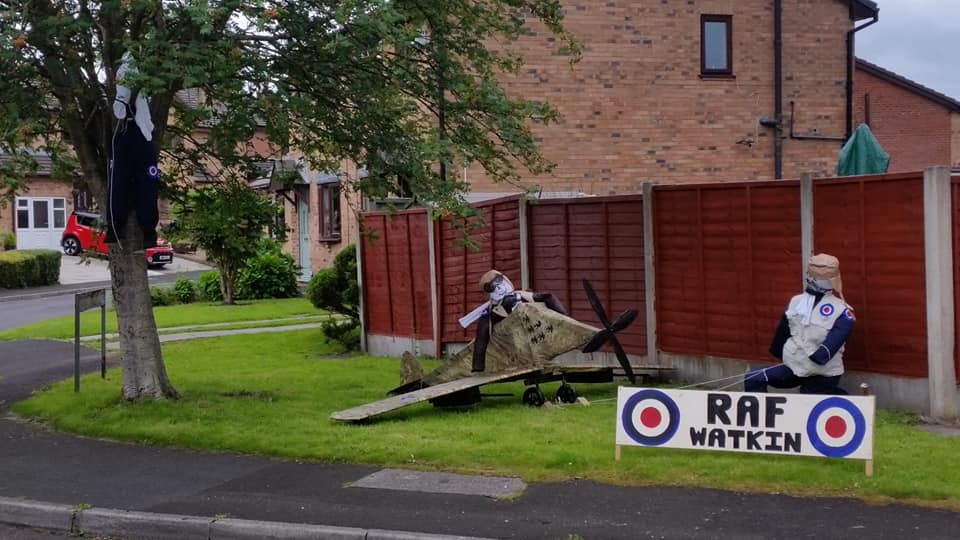 'Brits Abroad' by Dave Massey and Julie Carter won the most hilarious scarecrow.
For the most traditional scarecrow, the prize went to Kate Jeffrey for 'Purdy and me enjoying the garden'.
The final category was Sandy and Vicki's choice, to sum up the community spirit and the message conveyed by the scarecrows. The first prize went to 'Friends Matter' by Micky and Maggie Butler (pictured below), and the second prize went to Hazel McInnes for her 'Alex by Day and Alexis by Night' design.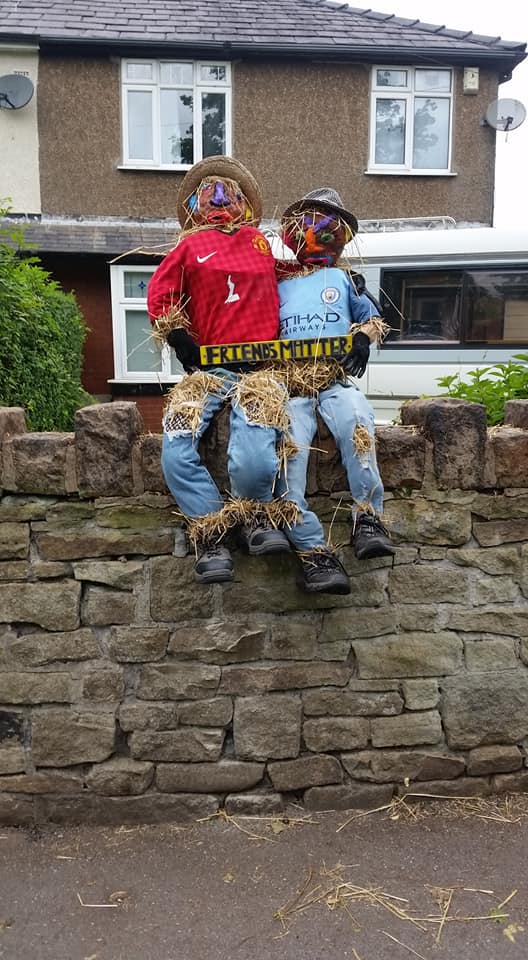 The following people and businesses also kindly donated prizes: Bethany Duffy Embroidery, Fat Daddy Printing, Lauren at Canine Cakes and Bakes, Dave Massey & Sons Basement Construction, Rob at RPC Electrical, Flair Rugs, Danielle at Dolly's Cafe in Hadfield, Tesco Glossop Community Champion Christine Clarke, Stevelcey, Bodyshop, Lauren at FairyDustScents, Kathy Ford, Glossop Caravans, Gill at Hadfield Coming Together, Carpenters, Hoof 2 Woof Pet Services, and High Peak Hypnotherapy.
Nathan and Christine Clarke donated the trophies, and Matt Wilde from Timpsons in Glossop engraved them.
Such as the success it has been, people are already excited about taking part again next year.
Sandy said: "When Vicki and I first got talking about this, neither of us imagined it would get so big. We knew one another but not in a friendship way. This event has made us very good friends and we hope to work together in the future on more community events. Vicki contacted me through Facebook and asked if I would like to do a joint Scarecrow Festival and there we were, thrown in at the deep end.
"Fortunately for us, businesses have been generous with prize donations so we had lots of categories for the scarecrows to go in. We both feel that everybody who took part are winners. They put their all into this and we are very proud of them all.
"We spent hours delivering all the prizes and everybody was chatting and raving about next year - many said they are going bigger and better. A lot of people were also saying it was a massive lift to them to get some kind of normality back and the community having some fun.
"There was no entry fee to our Scarecrow Festival as Vicki said so many people have struggled during lockdown and wanted no one to feel left out by charging a fee. We had an online interactive map, however many requested paper maps so we had some paper maps printed too by Jessica Thompson and D&DS Newsagents printed more as the maps ran out, these were sold by Dolly's Cafe too. The map sales raised £41 which Vicki and I have donated to the Mummy's Star charity.
"We would like to thank all of the businesses listed above, all of our community that entered and the judges - what a job they had. Brian Buller, Joy Hallsworth and Edward Siddall - thank you for all the hours you put in looking at the scarecrows and making those very hard decisions. Joy said she wished she could give everyone a prize because they all deserved one. Vicki and I are so proud."