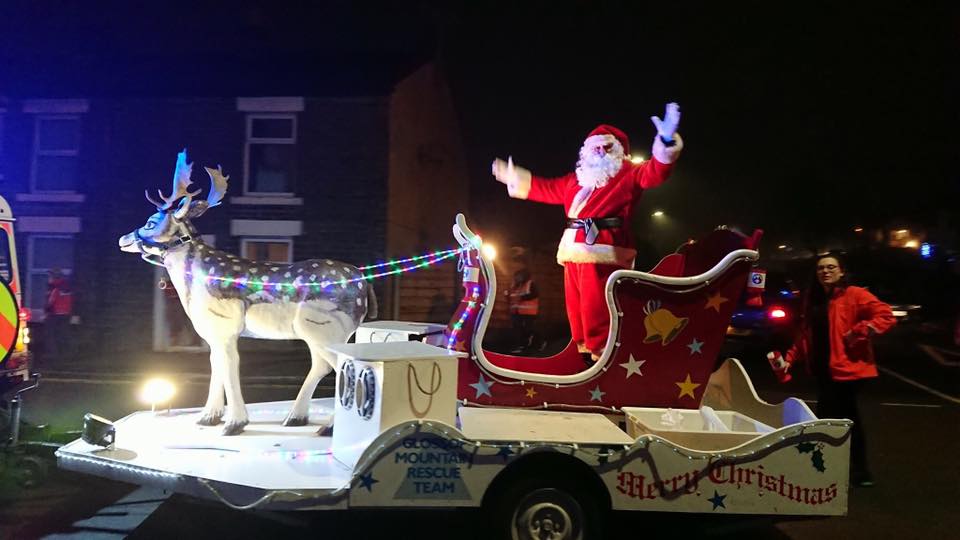 Glossop Mountain Rescue Team will be escorting Father Christmas on his final sleigh ride tour of the town over the next few days. 
Here's where you can see him:
Tomorrow (Friday)
From 6pm: Foundry Close, Shrewsbury Street, Surrey Street, Edward Street, Arundel Street, North Road, Hawthorn Drove, Heath Road including Bowden Road and Ramsden Close, Talbot Road, Dinting Road, Spire Hollin, including Ashleigh Avenue, Lord Street, Fitzalan Street, Talbot Street, Charles Street, Howard Street.
Monday, December 16:
From 6.30pm: Ellison Street, King Edward Avenue including Quarry Close, Norfolk Street, Hall Meadow Road, including Kingsmoor Road, Church Street, Thorpe Street, Bute Street including Kilmory Fold, Blackshaw Road, Hope Street, Shepley St including Mossy Lea Drive, Wesley Street, Well Gate, Church Street, Manor Park Road. Sheffield Road including York Street, Woodcock Grove, Sunningdale Drive, Pyegrove, Queens Drive, High Street including Milltown and Mill Street.
Wednesday, December 18:
From 6.30pm: Corn Street, (Manor Park car park), Shirebrook Drive including Croft Manor and Slant Close, Carr Bank, Hurst Crescent including Hurst Close, Plover Close, King Cup Close and Mayflower Close, Scotty Brook Crescent including Heron Close, Shirebrook Drive, Leicester Drive, Hathersage Drive including Riverbank Way, Shropshire Drive and Hampshire Clod, Hillwood Drive including Appleton Drive.
Thursday, December 19:
From 6.30pm: Glossop Market Car Park, Victoria Street, St Mary's Road, High Street West, Queen Street, Sunlaws Street, Shaw Street, Sumner Street, Tredcroft Street, Princess Street, Mount Street, Hadfield Place, James Street, Hadfield Street, John Street, Hollin Cross Lane, Charlestown Road, Ashton Street, Whitfield Avenue, Hague Street, Whitfield Cross, Gladstone Street, Wood Street, Kershaw Street, King Street, Union Street, Collier Street.
Santa's Sleigh will also be at Glossop Garden Centre this Saturday, 10am to 4pm and Norfolk Square, noon to 5pm, on Saturday, December 21.