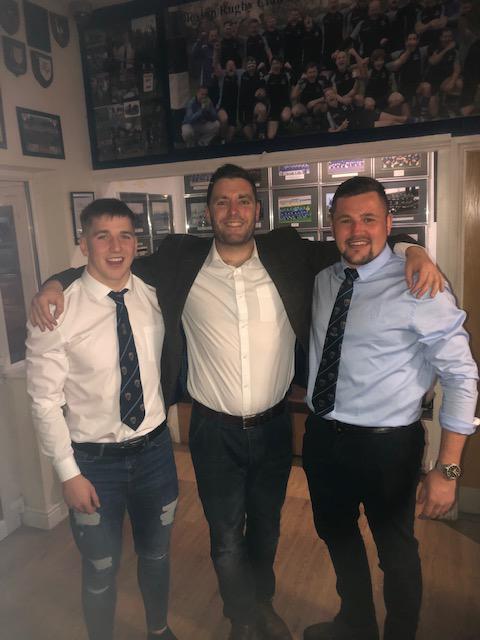 Glossop Rugby Club is celebrating after three its members were chosen to play for the combined counties of Nottingham, Lincolnshire, Derbyshire (NLD).
The selection is much higher than just being picked for your county, as the three players have been chosen to play for all three counties.
Oxfordshire vs Notts, Lincs & Derby played Saturday 4th May 2019 at Oxford Harlequins RFC. It was the first game of Bill Beaumont County Championship.
Both teams featured a number of National league players so the level was very high for the Glossop players. (National League is level 3 or 4 and Glossop play level 7)
Greg Moran started on the left wing, Chabas and Edwards were both introduced in the second half as lock and hooker respectively.
NLD took the early lead before Oxfordshire levelled despite a great cover tackle from Moran.
NLD retook the lead (12-7) then ten minutes before half time Oxfordshire scored two tries in quick succession to lead 19-12 at half time.
The second half was scoreless with great defence shown by both teams. NLD dominated possession and territory but Oxfordshire defended well and kept them out.
There are now two more games to play, starting with Cumbria at home (at Newark RFC) on Saturday 11th, then North Midlands away on Saturday 18th.
Still in with a chance of reaching the final at Twickenham if NLD can win their remaining two games.
It was a very close game but in the end Oxfordshire won 19 – 12. All three lads thoroughly enjoyed themselves.
In the picture from left to right: Greg Moran, Damien Chabas and Josh Edwards are celebrating at the Captains Night last Friday, the evening before they were to travel down to Oxfordshire to play for NLD against Oxfordshire. (By Chris Peate)
Report by Josh Edwards