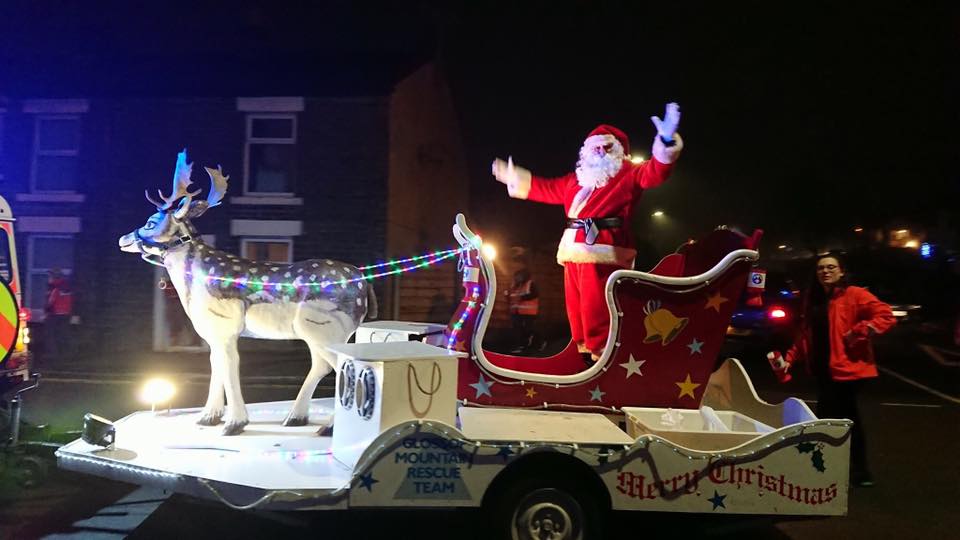 Glossop Mountain Rescue Team have revealed where Santa will be riding his sleigh around Glossopdale this festive season.
The team said the sleigh, covered in lights and playing Christmas music, is calling on places it's never been to before this year.
Santa will be calling on the following streets during December nights from 6.30pm to 9pm.
Mon 2 December - Hadfield North and Padfield:
6.30pm Hadfield Station; Platt Street; Temple Street; Post Street; Malvern Rise including Sutton Way; Station Road; Bankbottom; Vale House Drive; Brosscroft; Peter Street; The Croft; New Road; Conduit Street, West Drive; Manchester Road.
Wed 4 December - Hadfield Central
6.30pm Hadfield Station; Railway St; S Marlow St; Queen St; Stanyforth St; Salisbury St; Kiln La; Paradise St; Bank St; Wesley St; Old Hall Sq; Chapel La; Ridings Rd; Mersey Bank Rd; Etherow Way; John Dalton St; Wooley Bridge Rd; Watkin Av; Hadfield Rd; Higher Barn Rd inc N Brook Rd; Newlands Dr; Newshaw La; Church St.
Fri 6 December - Hadfield South:
6.30pm Shaw Lane including Meadowfield Ct; Shawfield Rd inc Mouselow Cl; Oakfield Rd; Newshaw la; Thorncliffe Rd; Lower Barn Rd inc Pinfold; Tavern Rd.
Mon 9 December - Simmondley North including Primrose Lane:
6.30pm Reliance Garage; Turnlee Rd inc Turnlee Dr; Earls Way and Overdale Dr; Primrose La inc Brookside & Longclough Dr; Simmondley La; Bowland Road inc Burwell Cl and Arundel Grange; Peaknaze Cl; Woodlea Rd inc Moorside Close, High Meadows, Brooklands Dr.
Wed 11 December - Simmondley South:
6.30pm Reliance Garage; Pennine Rd; Werneth Rd inc Cotswold Cl, Tameside Fold & Simons Cl; Longmoor Rd; Simmondley La; R into Hunters La inc Foxlea & Brockholes; Valley Rd inc Kingfisher Way & Kestrel View; Springwood; Green Ln; Green Bank; Storth Meadow inc Storth Bank & Spring Rise; Simmondley New Road inc HighView & The Oaks.
Fri 13 December - North Glossop:
6.30pm Foundry Cl; Shrewsbury St; Surrey St; Edward St; Arundel St; North Road; Hawthorn Dr; Heath Rd inc Bowden Rd and Ramsden Cl; Talbot Rd; Dinting Rd; Spire Hollin, inc Ashleigh Ave; Lord St; Fitzalan St; Talbot St; Charles St; Howard St.
Mon 16 December - Old Glossop:
6.30pm Ellison Street; King Edward Av inc Quarry Cl; Norfolk St; Hall Meadow Rd, inc Kingsmoor Rd; Church St; Thorpe St; Bute St inc Kilmory Fold; Blackshaw Rd; Hope St; Shepley St inc Mossly Lea Dr; Wesley St; Well Gate; Church St; Manor Park Rd; Sheffield Rd inc York St, Woodcock Grove, Sunnngdale Dr, Pyegrove, Queens Dr; High St E inc Milltown & Mill St.
Wed 18 December - Shirebrook:
6.30pm Corn St (Manor Park car park); Shirebrook Dr inc Croft Manor & Slant Cl; Carr Bank; Hurst Cres inc Hurst Cl, Plover Cl, King Cup Cl & Mayflower Cl; Scotty Brook Cres inc Heron Cl; Shirebrook Dr; Leicester Dr; Hathersage Dr inc Riverbank Way, Shropshire Dr & Hampshire Cl; Hillwood Dr inc Appleton Dr.
Thur 19 December - South Glossop, including Pikes Lane and Whitfield:
6.30pm Glossop Market Car Park; Victoria St; St Marys Rd; High St W; Queen St; Sunlaws St; Shaw St; Summner St; Tredcroft St; Princess St; Mount St; Hadfield Pl; James St; Hadfield St; John St; Hollin Cross La; Charlestown Rd; Ashton St; Whitfield Ave; Hague St; Whitfield Cross; Gladstone St; Wood St; Kershaw St; King St; Union St; Collier St.
GMRT's Santa Sleigh will also be in attendance at these events:
Saturday 23 November: Glossop Xmas Lights switch on, 12pm to 8pm.
Saturday 23 November: Lymefield Garden Centre Winter Festival, 11am to 4pm.
Thursday 28 November: Gamesley Xmas Market, 5.30pm to 7.30pm.
Sunday 1 December: Old Glossop Victorian Market, 1pm to 5pm.
Saturday 14 December: Glossop Garden Centre, 10am to 4pm.
Saturday 21 December: Norfolk Square, 12pm to 5pm.
After the Christmas market in Gamesley on 28 November, at around 7.30pm, Santa will make his way around Melandra Castle Road on his way home.
GMRT said in a statement: "Since we have released our dates and routes for Santa, we have had an amazing response from excited families who are eager to see the big man over the next month. We understand that we play an important part of Christmas for many people and make every effort to get around as much of Glossopdale as we can.
"We've also had an overwhelming number of requests for Santa to visit roads or streets that are not on our advertised routes. Believe us when we say that we really would like to visit everyone in Glossopdale, but there are a few things that stop us from doing that. We have to abide by certain times and agreed routes as determined by our collecting licence; all of our collectors are volunteers and we have to fit collections around them and finally, we don't want to exhaust Rudolph before the big day... that wouldn't do at all!
"Having said that, we would like to inform the residents of Gamesley that Santa will be making a change to his advertised schedule on Thursday 28 November at Gamesley Xmas Market. After the market, at around 7.30pm, Santa will make his way around Melandra Castle Road on his way home.
"Merry Christmas everyone and thank you very much for your support."