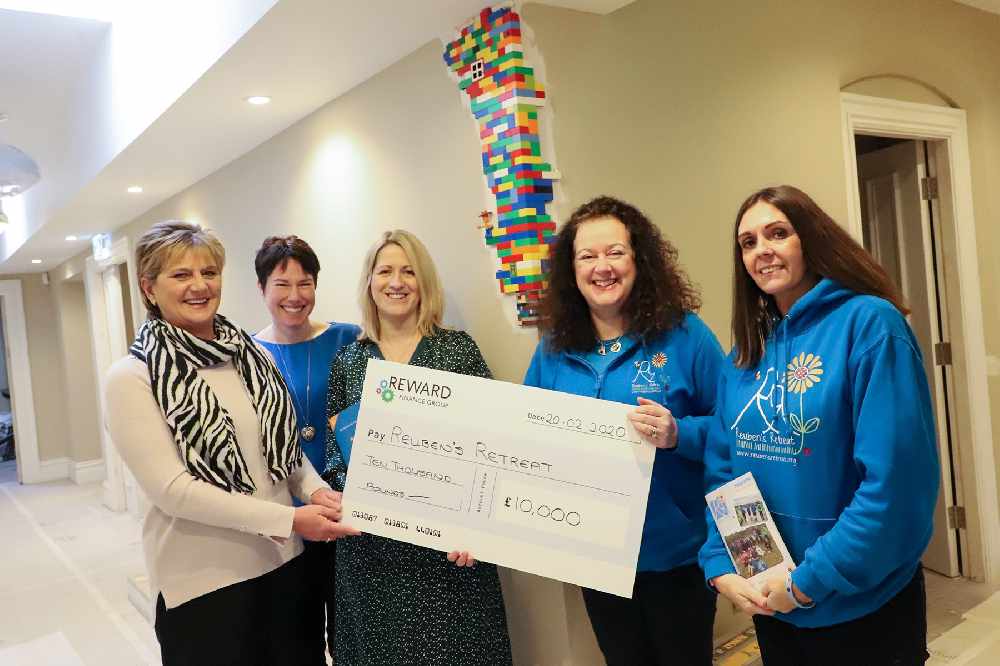 The Glossop-based charity, which provides a sanctuary for grieving families or those caring for children with life limiting disabilities or illnesses, has received a donation of £10,000 from Reward Finance Group.
Over the last 12 months, the team at Reward has undertaken a variety of events, which have received amazing support from its clients, colleagues and friends. Among other things, they have hosted a quiz night attended by over 200 people, run several golf events and held their first darts tournament – all well attended and supported by their key industry contacts. They have also taken part in bake offs, sponsored runs and bike rides.
Through the generosity of clients, colleagues, professional contacts and friends, the team raised £9,937.55 for two chosen charities - Reuben's Retreat and Just 'B' Bereavement Support in Harrogate - which was match funded by Reward to bring the total up to an amazing £20,000, which was shared equally between the two.
Each year members of the Reward team nominate a charity, with all nominations being voted for by the whole team. Reuben's Retreat was put forward by Karen Vincent, as a former colleague had been given valuable support by them during their time of loss. She also knew that, as well as raising the money, awareness of Reuben's would be increased considerably through Reward's large and diverse network of contacts.
Speaking about the donation, Reward Finance Group's relationship manager, Karen Vincent, said,
"Reward committed to a year of fundraising for Reuben's Retreat as it was inspired by the determination of Nicola Graham who wanted to create a retreat following the death of her son Reuben aged just 23 months so that his legacy would live on.

"Less than a year after her tragic loss, the charity had raised enough money to purchase a Victorian building set in a picturesque setting close to Manchester, which has been transformed into a wonderful retreat for families in need.
"Work is now in progress on ambitious plans to build a hydrotherapy pool, sensory and chill zones and fully accessible family break out apartments.
"We are really pleased to have been able to donate £10,000 to Reuben's Retreat as it makes such a difference to the lives of families who visit."
Founder of Reuben's Retreat, Nicola Graham, said, "We thank every single member of the team at Reward Finance Group for being part of #reubensjourney.
"We always say that Reuben's Retreat will be built on an army of love and compassionate hearts and we are truly grateful for every ounce of compassion and love that Reward Finance Group has brought our way. They have been hugely supportive, raised much needed funds and championed our cause.
"We promise always to spend every penny wisely and with integrity, ensuring it goes as far as it can. It has been an honour to have their support and two words that never seem big enough, "THANK YOU!"