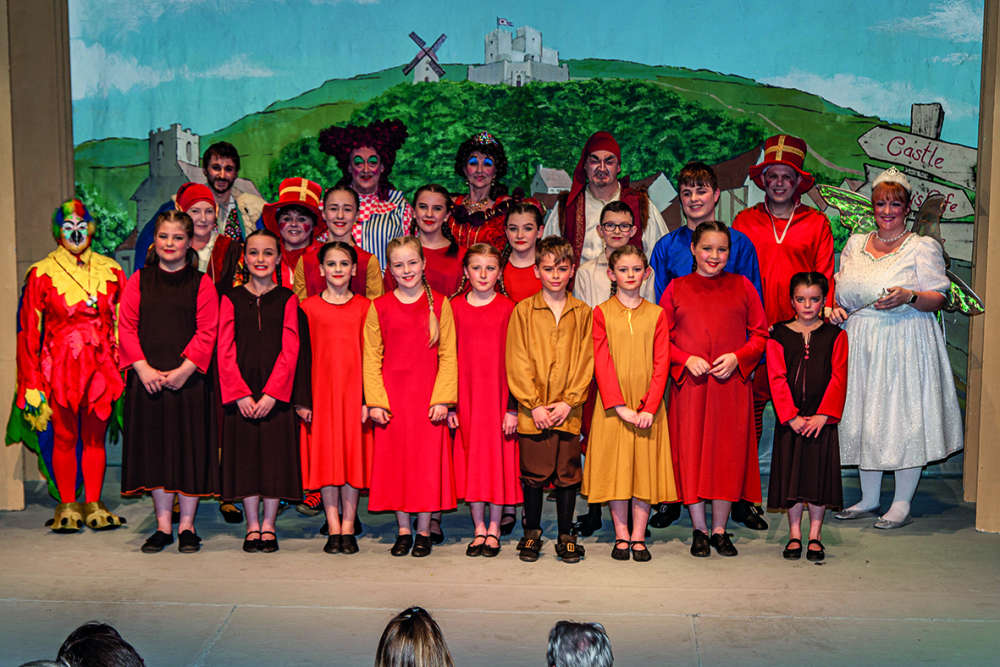 ON STAGE: The cast of Rumpelstiltskin. Image: John Parkins.
Partington Players' pantomimes always signal the start of Christmas in Glossop and after a Covid-enforced lay-off last year, fans were clamouring for tickets.
Days before Rumpelstiltskin hit the road, practically all 1,900 seats for the 10-performance run had been sold and the 'house full signs' went up outside the Henry Street theatre.
With tickets in short supply I sat in with an audience of around 50 mainly children at last Thursday's dress rehearsal.
Hand on heart I loved every single second of this super full of fun Christmas show.
The noise was deafening as the kids booed the bad guys and cheered the goodies.
Their enthusiasm was infectious and even the oldest in the audience (probably me) found ourselves joining in.
Rumpelstiltskin is hardly one of the nation's best known Christmas shows, but all the traditional panto magic is there in huge dollops. There's a dame, her daft son and his crazy mates, principal boy and girl, a scary baddy complete with henchmen, a queen and a fairy who speaks in rhyme.
Plus a varied assortment of singing and dancing villagers in colourful costumes who hold the show together with their all-action routines with everything from ballet to Irish dancing.
The jokes and some of the sketches probably came with cobwebs hanging off them, but hey, it's panto and that's what it's all about. But to the children it was all new and they were enchanted and that rubbed off on all of us.
Partington veteran Harry Lee, who restricts most of his stage appearances these days to panto, was again a firm favourite as the be-wigged, outrageously-dressed dame Dolly. James Done, who has been writing Partington pantos since 2016, also directs this one and is also the kids' hero as Dolly's son Billy, greeted with wild shrieks every time he runs on stage.
Stephanie Deering is the sweet rhyming fairy, Mark McDonough the roaring, strutting Rumpelstiltskin, with Skye Tupholme and Sam Scott everything you would expect from a principal boy and girl.
Pantos depend on quality comedy and my favourites were Ellen Mangan who played Diddly, the palace parrot Polly in the capable hands of Ally Livermore and Jayne Skudder, who was the creeping, not too scary Dimplebad. All bouncy, bubbly characters.
Congratulations too to Brandon Sharpe as Squat, Julia Taylor as the Queen and David Wilson as her general factotum Norman, who all played a big part in the panto's success. But they were all stars.
This panto is as Christmassy as mince pies and turkey dinners.
Read more from the Glossop Chronicle
Click here for more of the latest news
Click here to read the latest edition of the paper online
Click here to find out where you can pick up a copy of the paper