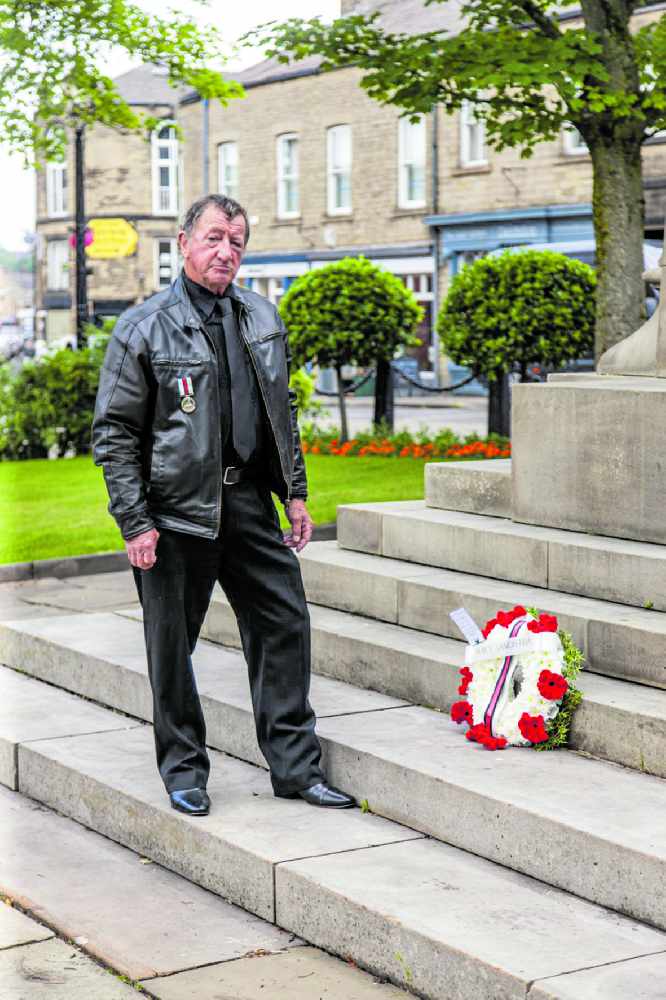 The anniversary of a Second World War atrocity that claimed the lives of Glossop soldiers was being remembered yesterday (Wednesday) on the steps of the Norfolk Square cenotaph.
Around 4,000 people were drowned or died from their injuries when enemy aircraft bombed the troop ship Lancastria, on June 17, 1940.
It was evacuating British Expedition Forces personnel - plus men, women and children - from the French port of Saint-Nazaire when the bombs fell. Many of the men were members of the Signals Regiment from Glossop.
One of the survivors was the late Signalman Allan Dewsnap from Wellgate, Old Glossop, whose son Michael laid a wreath in memory of his father and other Lancastria heroes on the 80th anniversary of the sinking.
It was an act of war that was so horrific that Prime Minister Winston Churchill ordered a news blackout fearing the devastating impact it would have on the morale of the British people.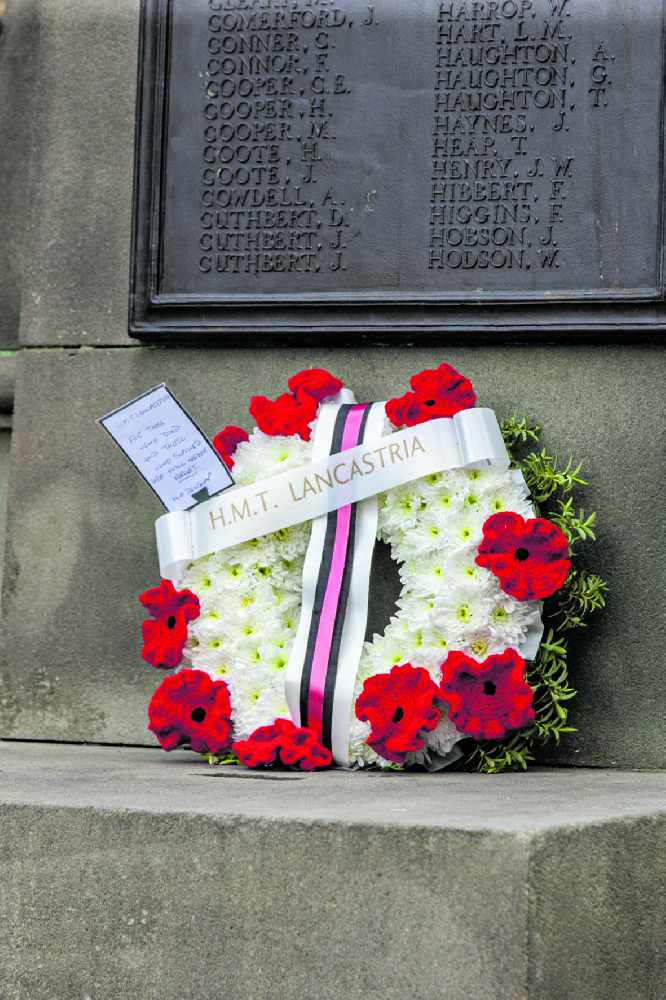 The Lancastria wreath laid at the Norfolk Square cenotaph
Michael, 71, who lives on Primrose Lane, said his father was reluctant to talk about the experience.
He said: "But he told me of being in the sea and having to swim through burning oil, he swallowed some of the oil which affected his chest."
Also swimming for their lives were other Glossop signalmen including Bill Bamforth, Len Dicks, Ernest McGowan, Jimmy Cuthbert, Tommy Booth, Eric Dyer, James Drabble, Clifford Holland and John Jones. Sadly, not all of them made it back home.
Many were on deck when the bombs struck, including the late Len Dicks, another survivor.
Len, from Queens Drive, spoke of the nightmares he had after the sinking.
Michael recalls his father telling him that others who had slid down the sides of the sinking ship, suffering horrific back injuries from barnacles on the Lancastria's side.
Michael and his father, who died when he was 69, worked at Dinting Vale Printworks alongside another Lancastria survivor John Hampson.
For Allan and the other Lancastria survivors the war wasn't over when they were picked up by rescue ships. The regiment reformed and they were sent back to Europe to fight until the last battle was fought.
Main image:
TRIBUTE: Michael Dewsnap lays a wreath in memory of those who were on the Lancastria when the bombs struck.