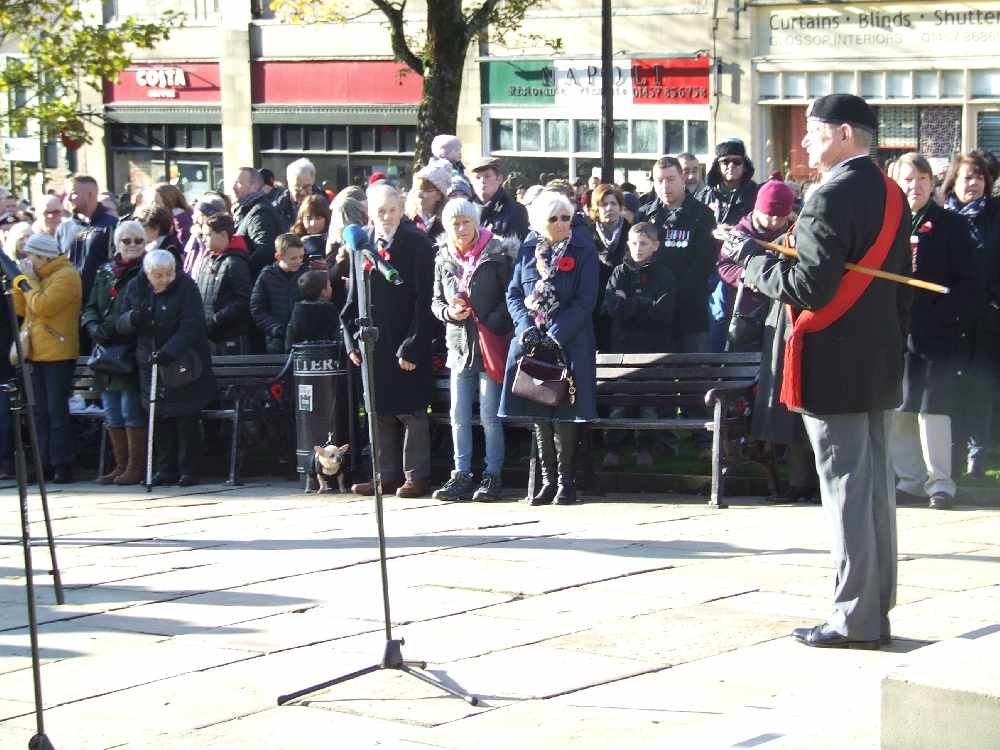 A council's promise to have Glossop Town Hall clock chiming again on Remembrance Sunday was fulfilled.
As an added bonus, High Peak Borough Council had removed the security wrap from the front of the town centre building.
The result was that the clock rang out loud and clear on a cold, crisp and sunny Sunday morning.
The huge crowds packing Norfolk Square and lining the streets were able to look up to see the fingers pointing at 11am and count the chimes.
With a shortage of marching bandsmen, the procession had paraded from the market ground to the beat of drum.
Amongst those on parade were former servicemen, their medals recording past campaigns, fresh-faced Glossop Army Cadets, police, firefighters, councillors, Scouts, Guides, Cubs and Brownies.
Members of Glosssop Band were on the square, playing the music for traditional hymns of Remembrance, a bugler sounding the Last Post and Reveille.
Once again Glossop people of all ages turned out in force to pay tribute to the local heroes who fought - and in many cases lost their lives - in two world wars and other conflicts.
Glossop Royal British Legion members entered the square, which was ringed by knitted poppies entwined in the iron chains, behind their standards. All parts of the Glossopdale community wards were represented.
One of the oldest people on parade was Cyril Worsdale who, at the age of 95, would not miss the opportunity of taking part in the service, as it was a chance to remember old colleagues, many no longer alive.
Cyril, who lives in Glossop, spent three years as a petty officer in the Royal Navy during the Second World War.
An engineer, he was part of a team maintaining and repairing landing craft, working closely with the Royal Marines.
He said: "We followed them in from the ship to the shore to repair them if they broke down - although we never landed."
Cyril lost two brothers, both in the RAF, during the war, one when his Lancaster bomber came down, the other from typhus and dysentery in Java, while fleeing from the Japanese who had overrun Singapore.
Families were well represented in a gathering of more than 1,000 people taking part in Sunday's commemoration.
The traditional and moving service was jointly led by the Rev Norman Shaw and Father Martin Sylvester.
Leading the wreath laying were Derbyshire's Deputy Lieutenant David Holtom and the Deputy Mayor of High Peal, Cllr Paul Hardy.
Following on were people representing Glossop's wide range of clubs and organisations. From young footballers and children laying wreaths on behalf of their schools, to war veterans.
In minutes the stones of the memorial were filled with wreaths of poppies and wooden crosses - a sign that those heroes would never be forgotten.