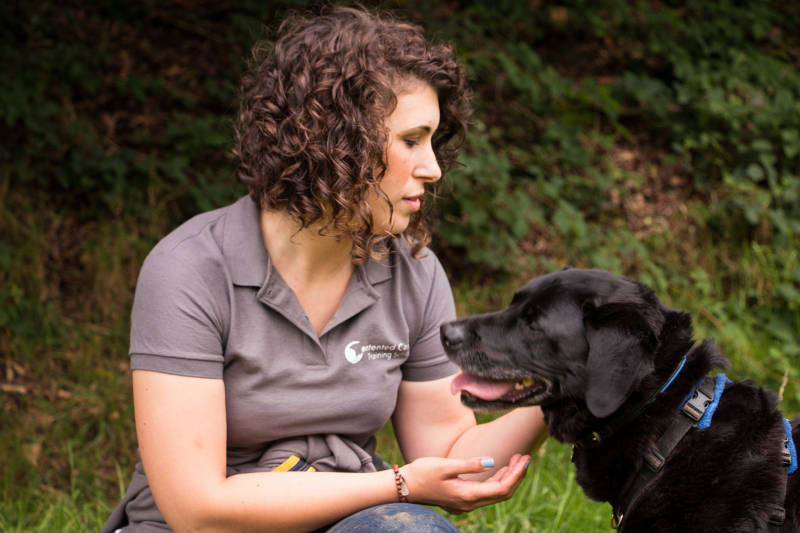 A Glossop woman has had her first book published on puppy care.
Entitled 'The Puppy Nanny', author Nicola Davies has used her own experiences to help others train their puppies.
She told the Chronicle: "Raising puppies is hard work and can often seem like an overwhelming responsibility.
"I was the puppy owner sitting on the floor of my living room in floods of tears because my arms were criss-crossed with bite marks and scratch marks.
"I was exhausted from night-time toilet breaks and constant supervision. I was scared that I had made a huge mistake and I was stressed and worried because I had no idea how to raise a puppy.
"Fast forward 14 years and I have found out everything there is to know about puppies!
"I have worked with my own dogs and hundreds of clients' dogs to fix their puppy problems."
Nicola, from Bexley Close, gave up her career in architecture to concentrate full-time on dog training.
She said: "Although I had grown up with family dogs I quickly realised I was completely out of my depth and knew nothing about puppies.
"I loved my puppy to bits, but I quickly realised I needed a lot more than love to raise a puppy.
"So I started taking him to dog training classes and I loved it. I travelled around the country working with different dog trainers, learning different training techniques, and in my spare time I started reading everything I could find about dogs, dog training and behaviour.
"This went from being a hobby to an obsession, and I went from studying to setting up my own puppy training classes, and eventually leaving the world of architecture completely behind."
Nicola offers a range of courses which enables dog owners to train their puppy to become a healthy, well behaved and happy adult dog.
She says her book will offer guidance on:
Which toys and training equipment not to waste your money on
How to make sure your puppy is the right fit for your family
What to do in the first 24 hours of puppy pick-up
Easy ways to keep your puppy out of mischief
Why a routine is the secret to your perfect puppy
How to easily solve the four most common puppy problems
Why socialisation can save your puppy's life
Easy ways to teach the most recommended puppy training exercises.
Nicola also runs the Contented Canines Training School in Glossop.
Read more from the Glossop Chronicle
Click here for more of the latest news
Click here to read the latest edition of the paper online
Click here to find out where you can pick up a copy of the paper