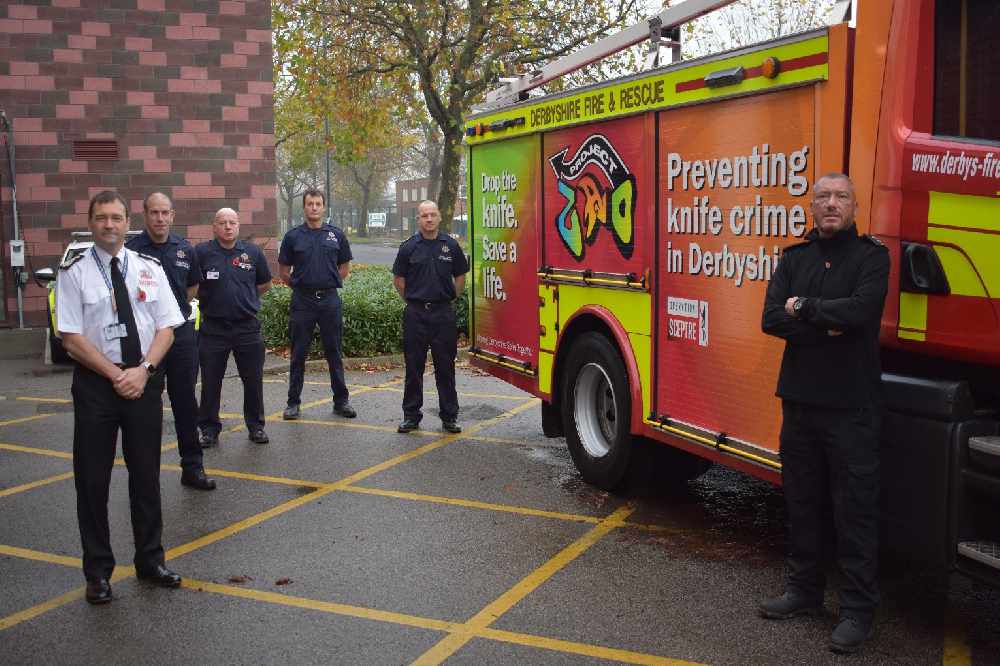 Emergency services in Derbyshire are taking action to tackle knife crime across the county as part of a national campaign this week. 
Derbyshire Constabulary is joining other forces across the country taking part in the national 'Operation Spectre' - a week-long range of activities against knife crime.
The planned knife amnesty had to be postponed but officers will be targeting those suspected of carrying knives, taking part in public place knife sweeps, and visiting local shops to give advice on the laws on selling knives.
The force is working in partnership with Derbyshire Fire and Rescue Service, which has wrapped one of its fire engines in a safety message in support of reducing knife crime across the county.
Derbyshire's Chief Fire Officer/Chief Executive, Gavin Tomlinson said: "Sadly knife crime is an issue that is reported all too frequently in the news.
"Last year we saw the Knife Angel, a statue made from over 100,000 seized knives, come to Derby Cathedral as part of a national tour to raise awareness of the dangers and issues associated with knife crime.
"As part of our ongoing collaboration with our colleagues at Derbyshire Police, I am proud that we have been able to support their anti-knife crime message and carry on the legacy of the Knife Angel's visit to Derby, as the fire engine and its important anti-knife crime message is seen across the city."
Inspector Rich Keene, operational lead for knife crime at Derbyshire Constabulary, said: "Operation Sceptre is a vital tool in our fight against knife crime and the causes of it and links closely with our on-going Project Zao.
"The action we take this week compliments our year-round campaign of education and enforcement on weapon enabled criminality. Derbyshire has been at the forefront in the battle against violence and its causes, with knife crime being one of our key priorities.
"We will be targeting those that carry knives and hope it starts up a positive dialogue between young people, their families, carers and educators. The message is clear - If you carry a knife we will focus on you relentlessly and when you are caught you will be subject of prosecution with positive action taken in every case.
"The safety of residents and strong communities are our priority and we will continue to work tirelessly with yourselves and partners to ensure that this is the case. We cannot afford any more lives being tragically and senselessly lost through knife crime and its potential effects on us all."
People worried about someone they think is carrying a knife should contact police via the following methods:
Facebook – send a private message to /DerbyshireConstabulary
Twitter – direct message the contact centre on @DerPolContact
Website – complete the online contact form at www.derbyshire.police.uk/Contact-Us
Phone – call 101.
You can also anonymously contact the independent charity Crimestoppers on 0800 555 111 or by visiting www.crimestoppers-uk.org