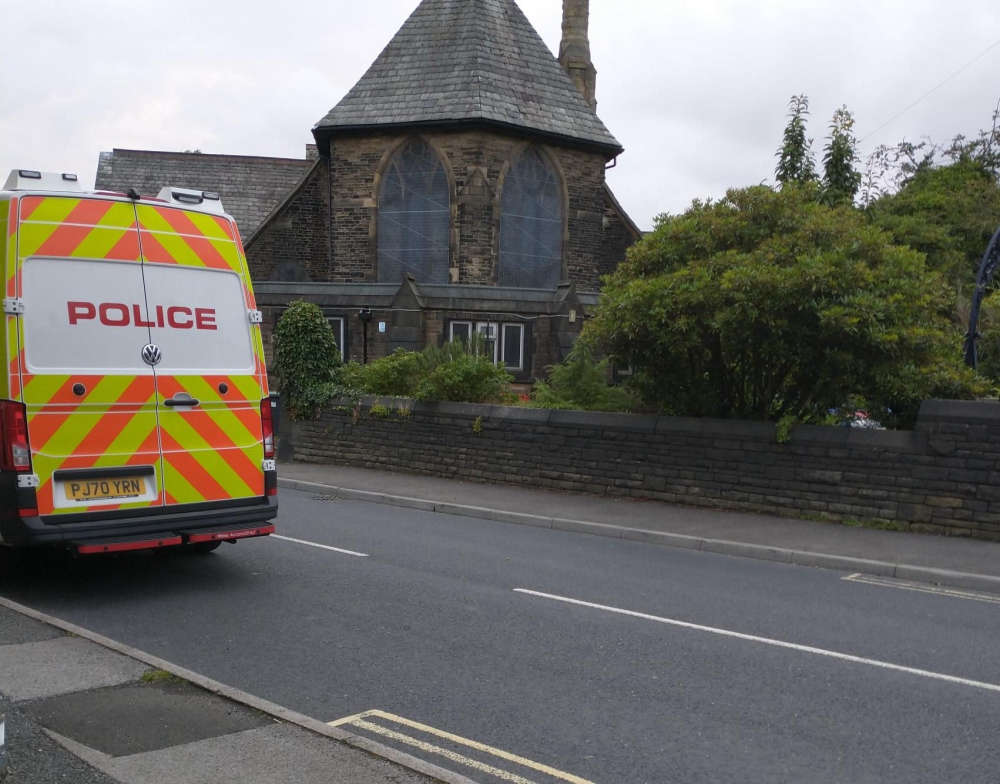 Image: Glossop Police SNT.
Anti-social behaviour in Hadfield is on the rise, with numerous reports of gangs of youngsters causing trouble in the area.
Until recently, they were just a nuisance but now they have started causing damage.
Local High Peak borough councillors have held a meeting with local PCSOs.
Padfield councillor, and the borough's deputy mayor, Ollie Cross was there.
He said: "Anti-social behaviour isn't new in Hadfield, but at the moment it is different because the perpetrators appear to be fearless. It's at the stage now that it is far worse than just being a nuisance to local people.
"These kids are actually causing harm to people's property. Recently an industrial sized wheelie bin was pushed down Wesley Street. It damaged several cars on the street. But if you challenge the youngsters involved they just talk back."
PCSO Brian Buller, of Hadfield Safer Neighbourhood Team, and PCSO Lee Baker, the PCSO Supervisor for the High Peak, alongside Cllr Becki Woods for Etherow, Councillor Stewart Gardner for Simmondley and Councillor Ed Kelly for Hadfield North all attended the meeting.
Cllr Cross added: "It has been deeply distressing to hear how the recent anti-social behaviour has affected local residents, especially in the past few weeks. I do recognise that Glossop Police SNT have increased patrols and have been working tirelessly to identity the perpetrators and take what action they can take with the finite amount of resources available to them."
"Rest assured, local councillors are liaising with other agencies and taking steps to try to organise and improve provision for young folk in Hadfield, Padfield and Tintwistle. All parties will look to work with local community groups based in our local community to try to make this happen.
"I'll be upfront with folk - there's no silver bullet or easy answers when it comes to addressing this issue. Maybe they need more to do in the evenings, but at this moment in time that would almost be like rewarding their bad behaviour.
"Cllr Ed Kelly, Bob and Edward your councillors for Hadfield South and I will be holding a surgery on Saturday 4 September at Hadfield Methodist Church, starting at 10am. I believe that there will be a representative from Glossop Police present, and I would strongly encourage as many local residents as possible to attend so we can listen to your concerns."
The advice from police is to report any incidents of bad behaviour and not try to intervene yourself. The more reports officers receive, the better the picture of the problem that needs tackling.
Cllr Cross believes that there are several groups of youngsters causing trouble, but the ones who are causing the damage are from all over Glossopdale, not just from Hadfield. He also believes some are travelling from other areas to cause trouble here.
He told the Chronicle: "We all have to work together as a community to tackle this behaviour. We as councillors are doing what we can and obviously the police are aware of local concerns."
Read more from the Glossop Chronicle
Click here for more of the latest news
Click here to read the latest edition of the paper online
Click here to find out where you can pick up a copy of the paper