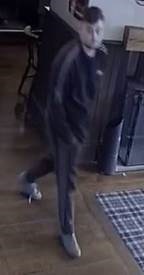 Derbyshire Police have released CCTV images of two men that broke into a gaming machine at the Norfolk Arms Hotel in Glossop.
A police spokesperson said: "At around 12.20pm on Thursday, August 15, two men went into the Norfolk Arms Hotel, in Norfolk Square, Glossop, and broke into a gaming machine in the bar.
"They emptied it of cash and left. We would like to speak to the men pictured.
"Witnesses or anyone with information should contact PC Patrick Haley, quoting reference number 19*432632."