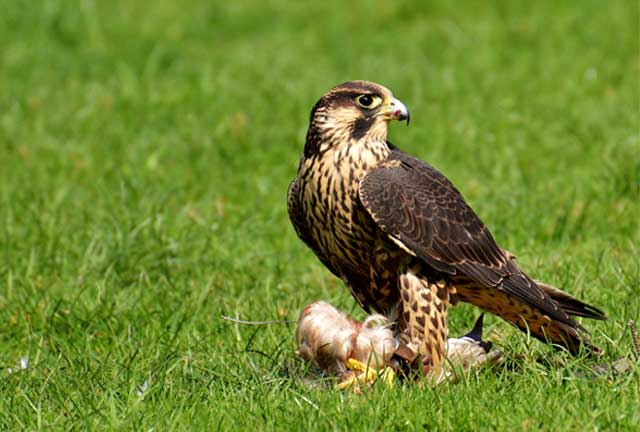 The Peak District National Park has responded to calls from the High Peak Green Party for the authority to do more to tackle wildlife crimes. 
The party say it is "disappointed" with the authority's response to what it describes as a dramatic increase in raptor persecution during the coronavirus lockdown, and a perceived lack of criticism of landowners where evidence of wildlife crime exists.
The RSPB has reported an increase in the illegal killing of birds of prey and have involved the police in incidents, including some in the Peak District National Park.
A buzzard and a peregrine falcon were discovered dead in a wooded area of Longnor last month, while another bird of prey - a buzzard - was shot twice near Diggle earlier this month.
A National Park spokesperson told the Chronicle: "We are aware of a number of wildlife crime incidents that have been reported this year across the Peak District. These range from incidents involving the shooting of birds of prey, to the theft of eggs from peregrine falcons at nests within the White Peak.
"All of these represent criminal activity that is wholly unacceptable within our National Park, regardless of the perceived impacts on our countryside as a result of Covid-19. We understand these cases remain ongoing investigations, and will continue to offer our full support and assistance to the police and other agencies as required."
Councillor Joanna Collins commented: "The Peak Park's first purpose is to conserve and enhance the area's natural beauty, wildlife and cultural heritage.
"The Park's inaction as people use traps and snares to kill wild animals totally ignores this purpose."
The National Park point out the use of snares and traps can be a legal activity if done so in accordance with national guidance and legislation, but confirm that no permission has been given for these activities by third parties on their land at Stanage North Lees estate.
The High Peak Greens also claim that the National Park hasn't met its yearly targets to increase numbers of birds of prey to "at least the numbers present in the 1990s", and tagged birds are disappearing on the moorlands.
They added: "In many cases, numbers of breeding birds are incredibly low - only a quarter of the way towards the target number.
"The failure of the Peak Park to address these illegal killings has led to gamekeepers acting with such impunity they have even set up unauthorised animal and bird traps at North Lees on land the Peak Park actually owns."
In response, a National Park spokesperson said: "The Peak District Bird of Prey Initiative is already bringing together the police, landowners, moorland managers and volunteers from raptor groups to build healthy and sustainable raptor populations in the National Park.
"The work of the Initiative is reported annually and made available to the general public, including identifying the many factors faced in achieving these aims, such as illegal persecution.
"Anyone witnessing wildlife crime should call Crimestoppers or the police 101 contact centre."