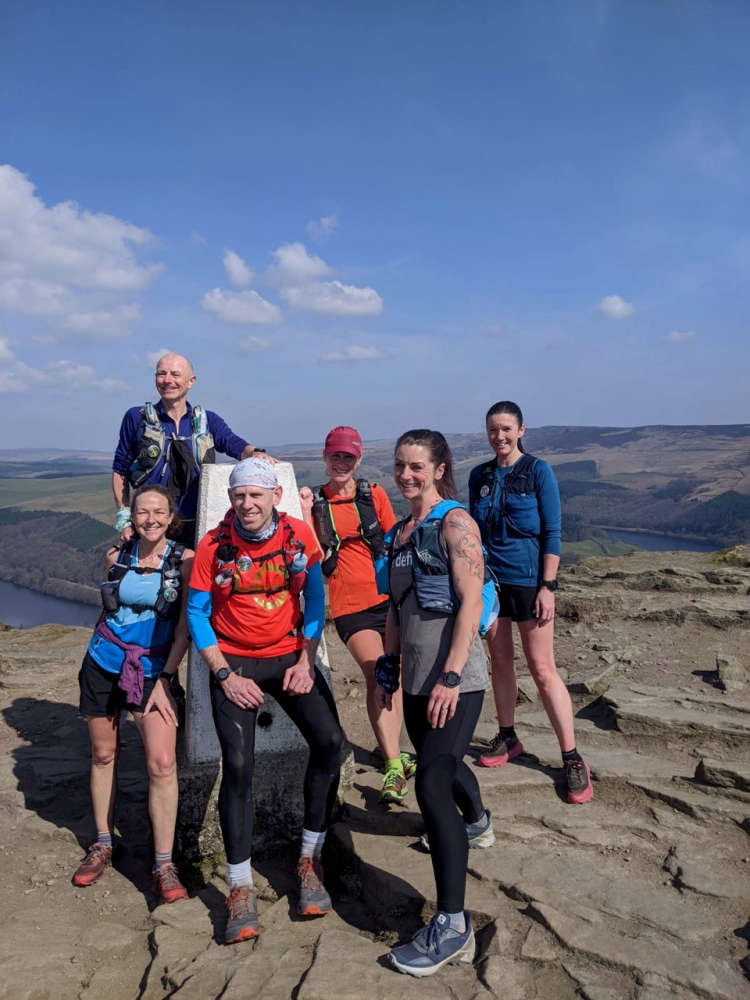 BEST FOOT FORWARD: Members of the Peak Running community who love to run in and help protect the Peak District National Park - Fiona Dyson, Chris Duro, Sam Pearch, Emma Roe, Laura James-Hutchinson and Catharine Crossley.
Generous runners and walkers have raised more than £4,000 to help the Peak District National Park Foundation fund vital habitat restoration at the iconic Stanage North Lees.
The Run for the Birds challenge was organised by Derbyshire-based Peak Running – which will also support the foundation on Friday (9 July) in a special 'run and talk' event, taking in Stanage Edge and surrounding estate, as part of the Sheffield Adventure Film Festival (ShAFF).
Peak Running launched its virtual Run for the Birds challenge as part of the Peak District's 70th birthday celebrations on April 17. From then until June 25 – 70 days – people were invited to run, hike or stroll distances which suited them.
In total, 278 people took part, plus a whole school – Ashbourne Hilltop. Runners and walkers clocked up more than 88,000 kilometres, raising more than £4,000 for the Peak District National Park Foundation.
The money will be used to fund woodland restructuring and tree planting on the Stanage North Lees estate. This will boost feeding and breeding opportunities for woodland birds such as the Tree Pipit, Redstart and Pied Flycatcher, as well as foraging opportunities for the Ring Ouzel, which nests at Stanage Edge.
Now Peak Running - which helps people to improve their fitness, learn new skills and explore the outdoors in a safe, responsible way - is planning to highlight and support work at Stanage in its run and talk event tomorrow.
TheWayfarer Lite Run Special includes a guided run of around five miles with a chance to learn more about the foundation and the #RunForTheBirds campaign to improve biodiversity and bird habitats in the Stanage area. Those with ShAFF film tickets get a discount. Profits from the event will support the work at Stanage.
Andy Brooks, of Peak Running, said: "With our normal events still restricted this spring due to Covid, we felt that #RunForTheBirds would help to keep people active through these tough times, with the added motivation of putting something back into a place we love. So, a massive thank you to all who took part, making it such a success."
Foundation manager Sarah Slowther added: "We'd like to say a huge thank you to Peak Running and everyone who took part in #RunForTheBirds for helping to raise such an amazing amount of money. Every penny will help us to look after these vital habitats at Stanage North Lees.
"We're also delighted to be working with ShAFF – with whom we share our passion for the great outdoors and the endless possibilities for adventure. Working with ShAFF, their partners and community, we hope to inspire people to Explore, Enjoy and Support their National Park."
For details of the Stanage Wayfarer Lite Run Special, visit https://www.peakrunning.co.uk/bookings-checkout/wayfarer-lite-run-and-talk-special
Tickets for the Wayfarer Lite Run Special are £7.70 (£5.70 for ShAFF ticket holders – contact info@peakrunning.co.uk for a discount code)
Read more from the Glossop Chronicle
Click here for more of the latest news
Click here to read the latest edition of the paper online
Click here to find out where you can pick up a copy of the paper