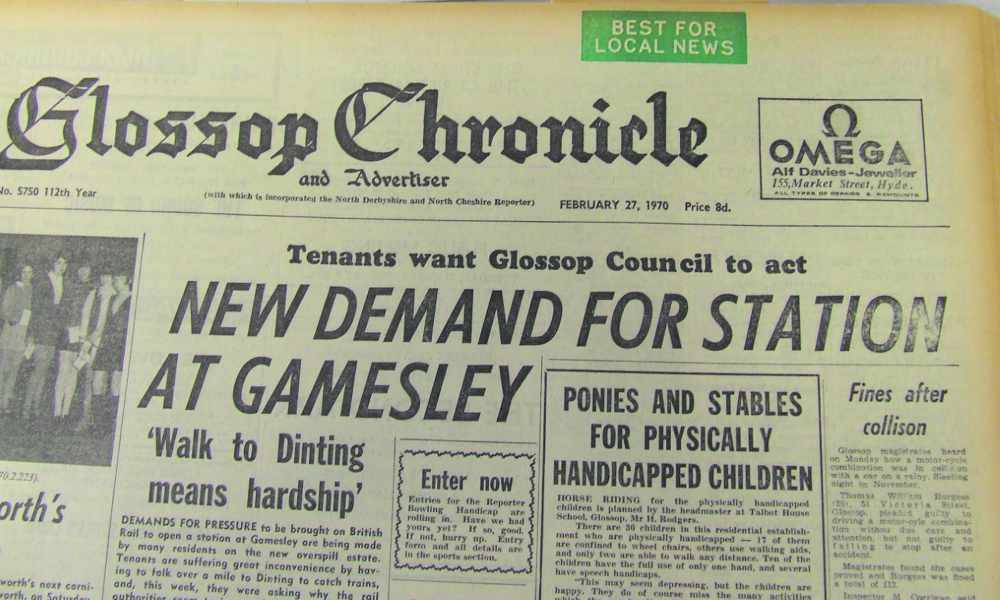 Some stories never seem to go away and here's one of them...
Screaming out from the front page of the Glossop Chronicle, dated February 17, 1970, is another call for a train station at Gamesley.
With the headline writer calling it a 'new demand,' it makes you realise the need has been championed for a lot, lot longer.
The story says that 'demands for pressure' on British Rail - who were in charge of the railways then - for a station at Gamesley were increasing.
It was said that tenants on the new estate were suffering great inconvenience because they had to walk more than a mile to Dinting to catch trains. The questions they were asking was why the railway authorities seemed to be ignoring their hardship.
Older Gamesley folk were backing the tenants who had been moved to the estate by Manchester City Council.
They also expected that British Rail, who for decades had rejected their pleas for a station, would change their minds with the influx of more than 1,000 people into the village.
A residents' spokesperson said: "We are surprised that Manchester Corporation did not try to exert more influence on the rail authorities to consider making a station before the estate was built, but such facilities appear not to have concerned the corporation."
That was 50 years ago. Moves since to get that station, on land behind the Bluebell Wood pub, have been many.
The responses from those who could provide one have been minimal.
Robert Largan is the latest MP to make it his business to give Gamesley the transport it clearly needs.
The High Peak MP has been particularly active, so hopes are high.
But people will only believe it is here - when a train on Hadfield, Glossop to Manchester Piccadilly line, actually stops at a Gamesley 'Halt'.