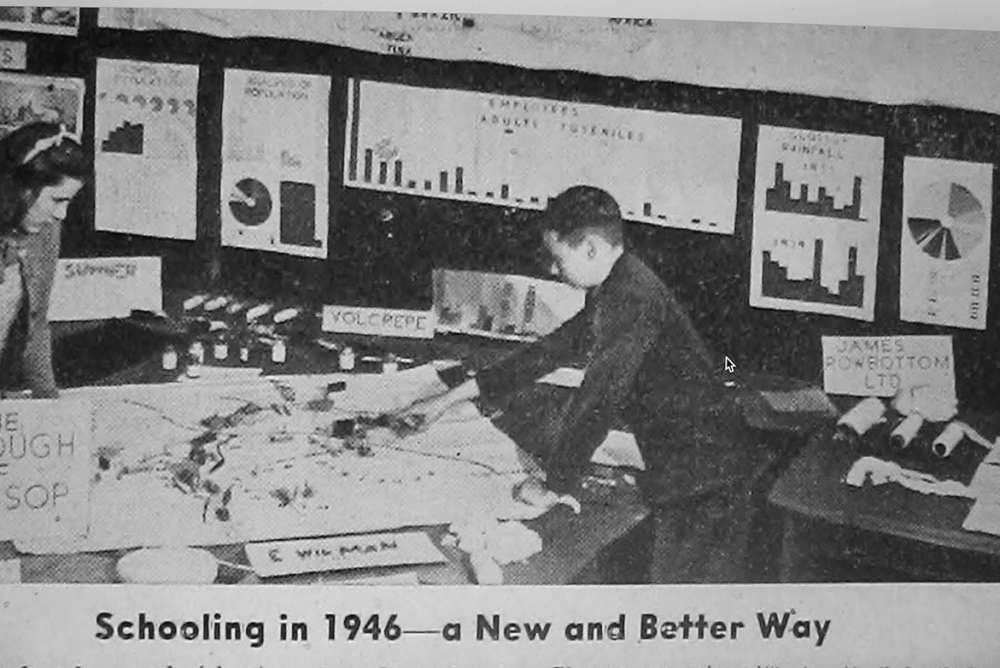 A revolutionary way of teaching was being trialled at Hadfield's Castle School which if successful could be rolled out throughout the country.
At least that was what the Chronicle was reporting 75 years ago.
What was called 'project teaching' was being experimented by headmaster Fred Booth and his staff in the summer of 1946.
It was a world away from the usual 'chalk and talk' method of learning, where a teacher would stand in front of a class and talk.
Pupils were involved in the planning and structure of their lessons, which involved such teaching aids as maps, models, diagrams and pictures.
One classroom was devoted to a project called 'Our Way of Life' which was devoted to Glossop's part in the world and the countries it traded with.
On one wall was a map of the world, drawn by the children, showing where Britain (and Glossop) exports went to and where we buy from.
Pinned on each country were cut-out drawings of the food imported and exported and their nutritional values - revolutionary at the time.
Pupils could also learn at a glance all about proteins, fats and carbohydrates.
There were maps of Britain and Glossop, linked to photographs and statistics showing what they manufacture for the home and export market.
Displays dotted around the classroom featured models of all Glossop's factories and there was a diagram of the town's public transport links, listing bus and train times, areas covered and the fares.
Although there was a teacher in each classroom, the children were encouraged to use the information to solve problems and in by so doing teach themselves.
Mr Booth said the project was a huge success, but admitted there had been teething problems.
He said that initially the scheme had played havoc with the teaching of basic subjects and that pupils could not be bothered to multiply correctly and 'just slapped their compositions into exercise books'.
He said: "For a whole day the scheme was stopped and the school did nothing but arithmetic and English. But after that there was no more trouble, seven sevens became 49 again and spotless writing appears in exercise books."
Read more from the Glossop Chronicle
Click here for more of the latest news
Click here to read the latest edition of the paper online
Click here to find out where you can pick up a copy of the paper