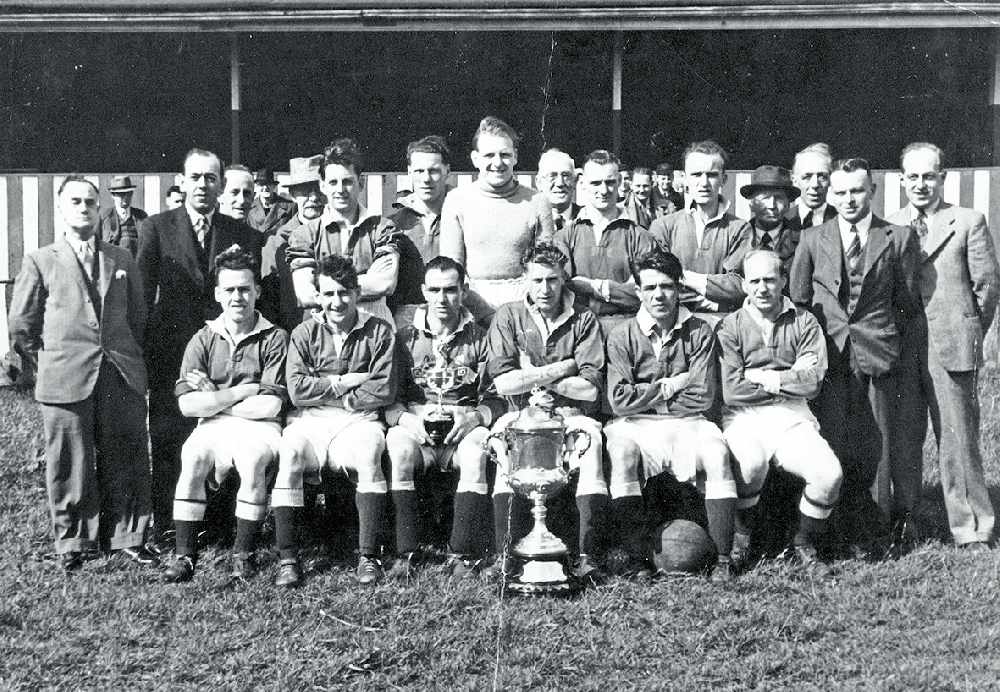 Football fan Owen Russell has come up with some fascinating information on the Glossop Gilgryst Cup winning team we reported on recently...
Owen, who lives in Glossop, has shone a spotlight on the picture and story which we featured.
He writes: "I was interested to see the item and as a keen supporter in those far-off days I can add a few details from my own recollections, not all of which agree entirely with what is said in the article.
"But first the players.
"On the back row left to right they are Steve O'Connor, Ernie (?) Ricketts, Chappell, Broadley and Ramshead, the latter pair full-backs.
"Seated are Joe Leah, Cliff O'Connor, unknown, Ernie Owen, Davies and Stansfield.
"The two O'Connors were brothers - Steve being a talented right winger who played in the Third Division for a while but was eventually released and came back to Glossop a second time.
"Davies, who usually played at inside-left, was a skilled ball-player – 'a good dribbler' as people put it in those days.
"Ernie Owen played at centre forward and had a natural goal-scorer's knack of being in the right place at the right time; he always played with his shirt-collar turned up (see photo) almost to his ears, and was perhaps the most popular member of the team, along with the O'Connors, who were local lads.
"As for the rest, I recognise Jack Harcourt at second left (dark suit), on his right with light hat and moustache, partly obscured, Arthur Goldthorpe, between Chappell and Broadley Dr Allan who was the club's medical officer, and at the extreme right Cyril Cullen.
"Arthur Goldthorpe, a local estate agent, put up the money for the present Surrey Street premises, which was originally known as the Arthur Goldthorpe ground.
"The photo was taken in front of the wooden stand at North Road, the familiar vertical stripes being clearly visible.
Pyegrove
"Glossop left North Road about 1951 after a disagreement with the cricket club, who owned the ground, and for a while they played at Water Lane before moving to Pyegrove.
"But as for Frank Swift, the immortal 'Big Swifty,' his career was long since over by this date; he retired in 1949, and worked as a football writer for one of the Manchester papers; he lost his life in the Manchester United air disaster of 1958.
"I do remember Manchester City A coming to North Road with a very promising goalkeeper named Ron Powell, who took over for a while when Frank Swift retired, but he didn't last long, being replaced by the remarkable Bert Trautmann, who was unpopular at first because of his German nationality.
"It is correct that Glossop played in the Manchester League, but I never remember Mosley Common being in the top spot," Owen writes.
"The league was totally and completely dominated by one outstanding club, Goslings, who won it in every season they took part; captained by Ernest Shepherd, an English Amateur International, they were in a class by themselves, and were notable also for a fearsome full-back known as 'Killer' Davies.
"The club was disbanded about 1950. The Gilgryst Cup had its own slightly peculiar history.
"The donor was a former referee who, on some unspecified occasion in the past, had been chased and roughed up by a section of the Glossop crowd, presumably because of a dubious decision – it is said that he was smuggled out of North Road in a skip.
"Hence when donating the cup he stipulated that Glossop should not be allowed to take part, but by the date of the photo he had passed away, and so Glossop were permitted to compete.
"Mention of the date reminds me to add that Glossop won the Gilgryst Cup in 1949, not 1946 as given."
Main image:
CHAMPIONS: Glossop FC with the Gilgryst Cup.
Read more from the Glossop Chronicle
Click here for more of the latest news
Click here to read the latest edition of the paper online
Click here to find out where you can pick up a copy of the paper