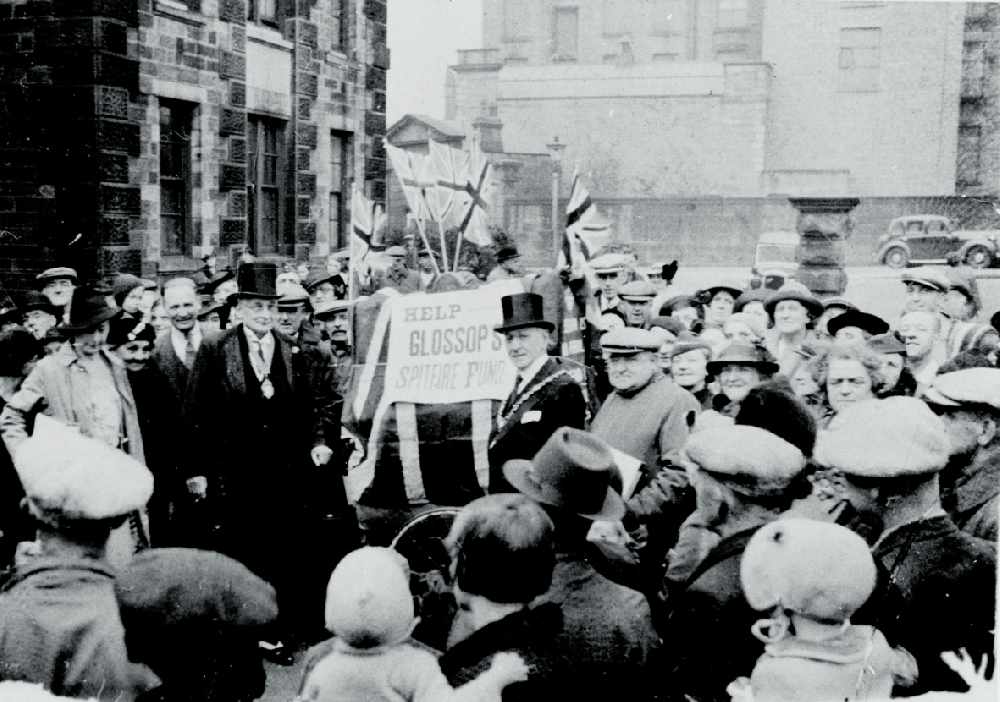 Towns all over the country held cash-raising events to buy Spitfires during the dark days of the Second World War.
But when it came to original ideas it would be hard to beat that of Glossop's Alderman Richard Sellers.
He rolled out his barrel organ and played it on a tour of the town that took him more than 18 hours!
The extrovert alderman must have cut an imposing figure as - with a team of supporters hauling the organ - he started his tour in the summer of 1940.
The 70-year-old was described as wearing 'a shining top hat, well-cut frock coat, well creased striped trousers and white spats.'
Ald Sellers' money raiser was launched on Glossop Market Ground by the Mayor Cllr JC Cuthbert who started the Spitfire Fund and it soon became apparent that it would be a huge success.
Workers at nearby Woods Mill dropped coins in a collecting box, with other people eager to support Glossop's War Effort followed, High Peak MP Lieutenant Hugh Molaon sent £25 and it wasn't long before the fund topped £100.
Well into the 'tour' Ald Sellers told our reporter: "We have not done a quarter of the borough yet.
"I have been amazed by the tremendous welcome given to us.
"We are having a glorious time. I am enjoying it as much as I would a week in Blackpool."
Ald Sellers and his team of 'haulers and (barrel organ) handle turners' got a great welcome in Charlesworth and Chisworth and, despite the heavy rain, villagers were pouring cash into the collecting cans.
After a week of walking and playing, Ald Seller was sporting a bandaged finger, the Chronicle reporting 'it had been rubbed by turning the handle'.
Not surprising, as over the days he had put in those 18-plus hours of handle turning.
How much the barrel organ tour raised in total is unclear, but it was at least £200 and with events including a charity football match between Glossop's butchers and licensed victuallers (publicans and off-licence owners), the Mayor's Fund brought in thousands of pounds.
Whether it was enough to buy a war plane we are not sure, maybe our friends at Glossop Heritage Trust, can search their files and let us know.
But it was an amazing show of generosity from the people of Glossop and nearby villages who were eager to play their part in the war effort.
Main image:
PLAYING HIS WAY: The top hat wearing Alderman Richard Sellers (left) and Glossop Mayor Cllr JH Cuthbert with a crowd on the market ground. Picture courtesy of Glossop Heritage Trust.