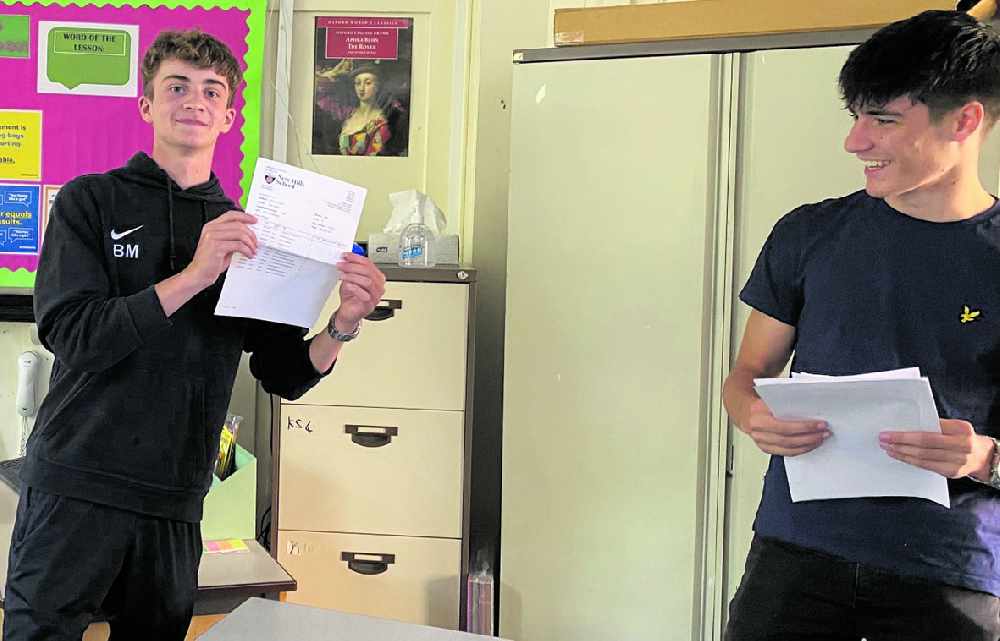 Year 11 students returned to New Mills School for the first time since 20 March, when it closed for the coronavirus lockdown, to collect their GCSE results last Thursday.
In contrast to then, the mood was upbeat as many had opened emails containing their results before they came in to collect the all-important envelope.
Caroline Jesson, the school's co-head, said: "This is an important landmark for our students and their GCSE results mark the pinnacle of their studies and the milestone of the end to their compulsory education.
"We wanted them to have the option to join us on site and receive their results in person if they wanted to.
"Unlike other years, very few staff were present because of the priority to keep everyone safe, but it was fantastic to meet with these students again and a good proportion of them joined us to mark this special day."
"There was lots of good news to share and it was lovely to see students see for the first time the outcome of their studies."
Alison Barker, co-head, added: "After all the national uncertainty in the build-up to 2020 Results Day, it was great to see the students relieved about the outcomes of their time with us and buzzing with excitement for their next steps.
"All the staff are so proud of them; not only for their academic achievements, but also for the resourcefulness and resilience they have shown in this extremely unusual year."
The students were delighted with their results which acknowledged the hard work they had put in over the last five years they had been at the school to for GCSE success.
Charlotte Emmet, with a grade 9, 8, two 7s, three 6s, a grade 5 plus a BTEC grade to come, was one of the top achievers.
She said: "My family will be thrilled. This year has really taught me to appreciate my time in school."
Co-head Caroline Jesson added: "Like Charlotte, many of our students are having to demonstrate their resilience and patience again today.
"The announcement late on Wednesday last week to revise the BTEC grades in light of the decisions made about GCSE and A Level means these grades have not been issued yet.
"The good news is that the awarding body, Pearson, have confirmed that none of the remaining grades will go down and some may go up."
The second most progress was made by Jake Hanney, who achieved three Grade 9s, two 8s, three 7s and a 6.
Jake acknowledged he might be celebrating after picking up his results but thanked his teachers first!
On seeing her 'well-deserved, excellent results', Bea Dean, head girl, said: "I'm happy, shocked and thankful! I have been so scared waiting for these results and I'm going to phone my mum and tell her about my Maths which was my biggest worry but I got a '4'. Thank you all for believing in me."
Bea's other grades ranged from 5 to 9 and she too awaits a BTEC grade.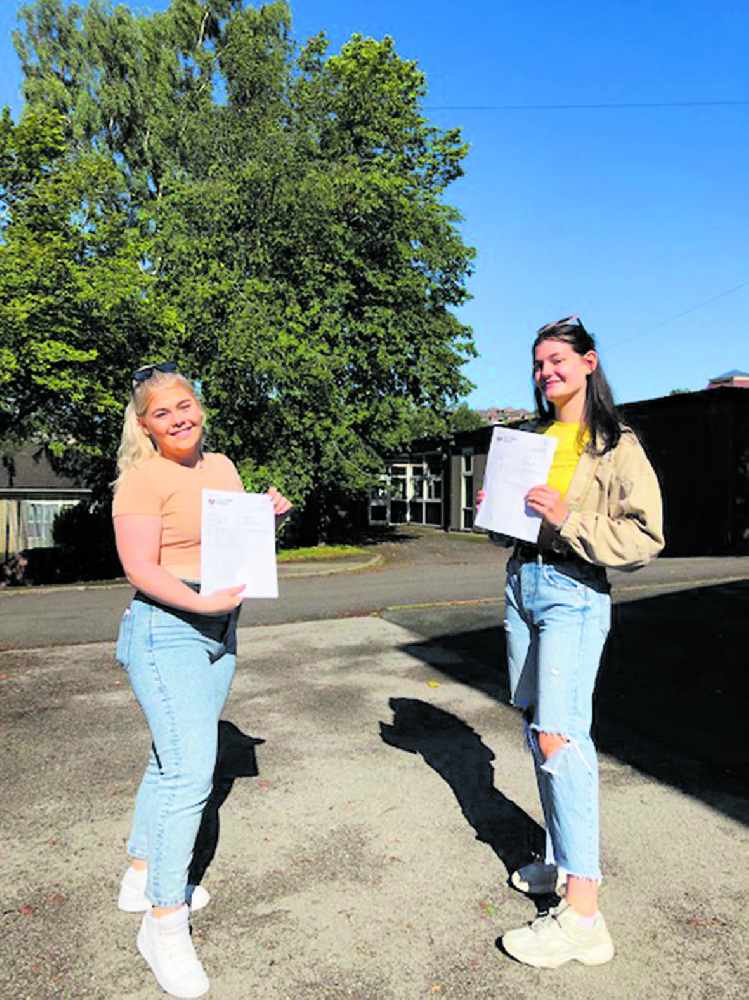 BELIEF: Head girl Bea Dean with Emmie Parsons celebrating their GCSEs.
Louis Millard, deputy head boy, told us: "It just proves that hard work pays off. My family are ecstatic and proud and I'm ready for my next steps at college."
Louis also made excellent progress at New Mills, achieving a grade 9, seven 8s and one grade 6.
The co-head commented: "At New Mills we focus on progress and student development, not simply attainment. Grade 8s and 9s are great, and some of our students achieve these, but we want all our students to make as much progress as they can from their starting point in Year 7.
"To us, that's the most important thing we do as a school".
Harry Norton, thrilled to see six GCSE passes in his envelope, said: "My mum's going to be so proud. You never know what will happen and it shows how important it is that you revise for your mocks and try your best at every hurdle".
Ben Mellor is also an example of what you can achieve when you put your mind to it.
"I'll take that," he said looking at his six strong passes, knowing that he has two strong BTECs still to come.
Student Owen Caldwell, another achiever, who only joined New Mills School late in Year 10, said: "I can't wait to tell my Dad. I'm proud. I was a bit nervous to be honest. When I first came here it looked like I was going to fail, but I passed everything."
Main image:
'I'll TAKE THAT': Ben Mellor (left) and Ben Brown (right) celebrate their GCSEs.